2023 Acura Integra
The long-awaited modern 200 horsepower Acura sport sedan is here (and everyone's got an opinion)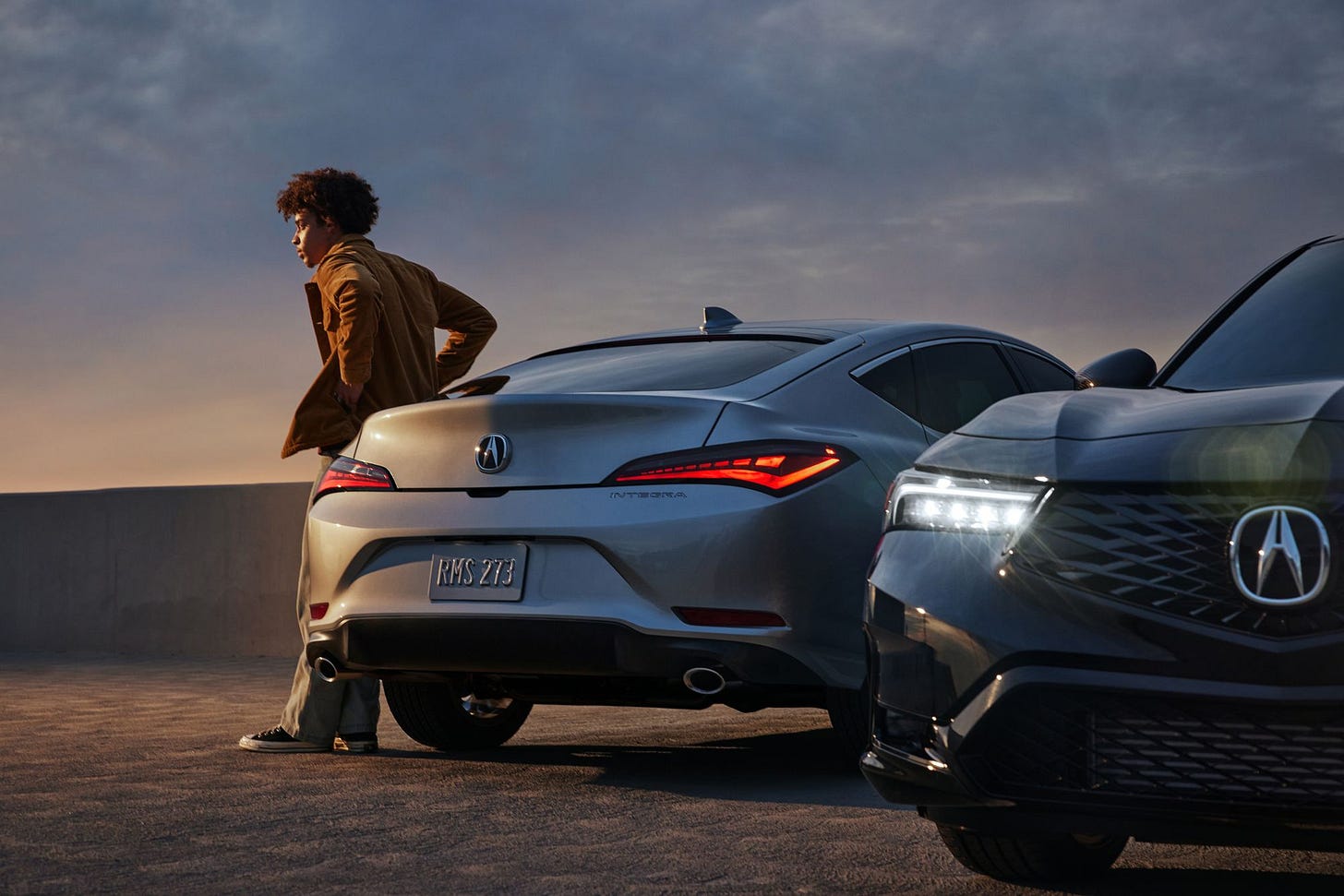 In North America, where every other vehicle is a truck or SUV, here's a refreshing way to move people around: a compact sports sedan. It's called the Acura Integra—ever heard of it?—not a forgettable alphanumeric name like EL, CLX, ILX, TL, TLX, or TSX. It's based on a Honda Civic platform and arrives this spring with a 200 horsepower, 1.5-litre 4-cylinder engine and an available 6-speed manual transmission.
Yeah, the (model) year is 2023.
Here's where I say: if you're not the kind of person to get excited about a made in America 200 horsepower (Honda), you can leave now and go tell your mom you love her or something.
The rest of us are staying here with our thinking caps on backwards, mining the available information for forum-worthy factoids.
Let's dive in, shall we?
Acura is fitting the Integra with more than a few driver-focused features. For starters: if you opt for the manual transmission, you'll get a standard helical limited-slip differential.
All Integra models get the Acura Integrated Dynamics System (IDS) as standard, offering three driving modes—no prizes for guessing what they're called†—that tweak the electronic throttle, transmission (CVT), and gauge display. Fake sound is available as an option (really). Drivers can add a custom IDS profile; nice.
Available adaptive dampers with three settings—ahem†—can also be setup to the driver's preference, again, a nice feature to have. There's nothing more annoying than a car that defaults to near-factory settings once it's powered off.
The engine! Almost forgot: VTEC. DOHC. 1.5-litre. Turbo. 4-cylinder. Its 192 lb-ft of torque (SAE net) is claimed to be near-flat from 1,800 - 5,000 rpm, impressive from the factory and surely ripe for tuner experimentation.
Worryingly, however, the press release has this line: "The short-throw, close-ratio 6-speed features automatic rev matching for the ultimate in precision driving."
Rev matching? Can it be turned off…?*
If you know the 2023 Honda Civic Si and Civic Type-R, the Acura Integra won't be a huge surprise.
Tomato sauce is tasty on pizza, it can become something else with spaghetti and meatballs, or as the basis for a curry or chutney. That's the Honda Civic and its derivatives, that's what has brought the company success…and that's what seems to still sell people on cars versus SUVs or crossovers.
Don't like the new car? Wait a few months and the aftermarket will start to release improvements. Or wait a little longer for a mid-cycle refresh. The important thing here is simply: Integra is back.
After 17 years, we'll find out if anyone is still waiting.
Keep reading with a 7-day free trial
Subscribe to may I drive your car? to keep reading this post and get 7 days of free access to the full post archives.