2023- Volkswagen ID. Buzz
The ID "bus" joins other ID models as part of Volkswagen's long-anticipated assault on the electric car market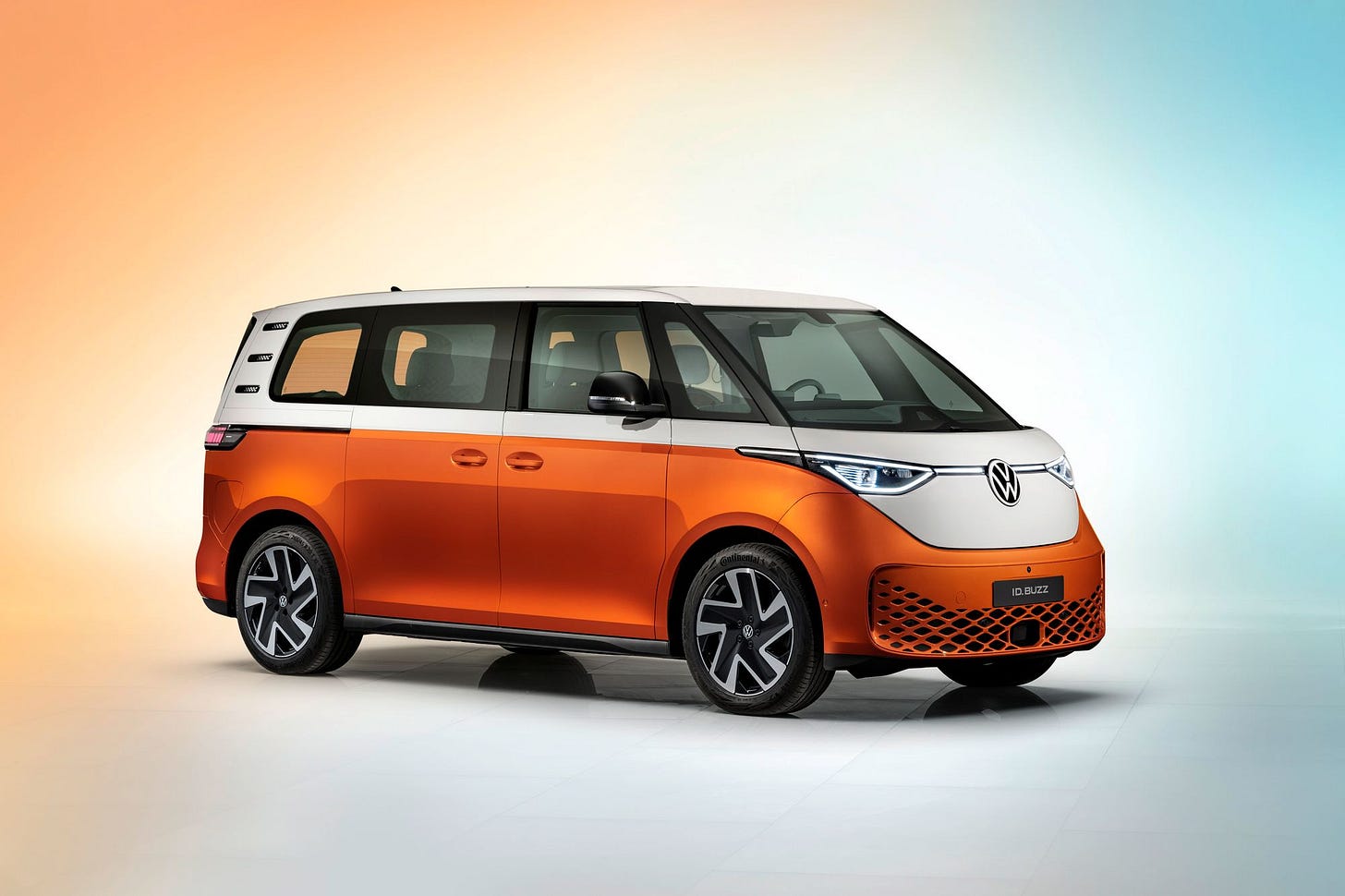 It's not like I'm counting, but the ID. Buzz concept was first shown at the North American International Auto Show in Detroit, in January 2017. When an automaker shows a hotly-anticipated concept like the original ID. Buzz, five years seems like an eternity.
Now, Volkswagen is showing us the European version of the 2023- ID. Buzz and ID. Buzz Cargo vans, surely some of the most compelling and mainstream electric cars we've seen yet. There's an adage to never meet your heroes—could you imagine trying to reinvent one?
Note: this story is based on initial information about the European model.
⤵️
jump to ID. Buzz, ID. Buzz interior, ID. Buzz Cargo, ID. Buzz details, ID. Buzz concept (2017), specs, launch video
No, the range hasn't been quoted yet—but if the typical Volkswagen Bus (T1) owner is anything to go by—who cares? Just figure out a way to camp out for weeks as a rollable solar panel array trickle charges the 82 kWh battery. More on this in a moment.
Set to grow slightly in size when it does come to North America, this European version will ultimately set the stage for a vehicle that may serve reignite the minivan market.
---
---
ID. Buzz
Volkswagen didn't change much from the concept…and that's probably a good thing. Translating the dramatic, clean lines from the original concept into a production-ready product was skillfully pulled off (I think) by the design, engineering, and production teams at VW—this is not easy to do.
From recycled materials to interior mood lighting, it's clear the company isn't just dropping a van body on its existing MEB electric car platform that's used in a wide range of other vehicles—from hatchbacks to SUVs—and expected to sit underneath approximately 80 percent of all electric VWs as early as 2025.
Question is: are we finally seeing what many electric car observers predicted? That once a large manufacturer figures out a so-called "skateboard" chassis where the battery, motors, and key components go, it'll free the company to build better cars on top.
---
ID. Buzz interior
I think so. VW seems to (finally) be letting its hair down with this design and will even offer an optional 3rd front seat (as on the Cargo) for short-wheelbase passenger van versions. Expect the North American versions in 7-seat configuration once the long-wheelbase debuts.
So yeah, you can get it with massage seats.
From two-tone organic paint-based colour palettes to a few Jeep-like interior trim "Easter eggs", there's a lot to cover with the ID. Buzz. As usual, I'll stick to what's important and link to the rest: there's a huge amount of cargo space, there's no leather used (replaced by an alternative), and recycled materials are used throughout.
---
Not that drivers and passengers will have much stationary time to enjoy the interior: DC fast charging is claimed to deliver a 5-80% charge in 30 minutes.
---
Being electric, it will not run on vegetable oil, hugs, or drugs—but it could probably power a few USB-C lights or charge your laptop.
If that's not enough, with its standard 82 kWh (77 kWh net) battery pack onboard from 12 modules VW has built in bi-directional charging capability, aka vehicle-to-home. With power transfer and communication using an optional DC (bi-directional) wall box, this will at least open up a number of possibilities for property owners of remote cabins.
Infotainment is handled by a 10 or 12-inch "Digital Cockpit" display. Expect over-the-air updates that add functionality from what is mentioned in the release linked below.
---
ID. Buzz Cargo
Not that drivers and passengers will have much stationary time to enjoy the interior: DC fast charging is claimed to deliver a 5-80% charge in 30 minutes. I'll be sure to share the first road tests from Europe on the speedster.news Front Page as soon as they're available from a reputable source.
It'll surely be quicker than most other VW vans, but no rocket ship. Figure a 201 horsepower electric motor, driving the rear axle and maximum torque of 229 lb-ft, with a top speed limited to 90 mph. Beyond the specs, VW says: "More battery versions with various power output levels are expected to follow in 2023."
Translation: all-wheel-drive is coming.
Be sure to enlarge the gallery images below, read the official sources…and get ready: if VW has its way, the ID. Buzz is poised to push #vanlife into the future.
Keep reading with a 7-day free trial
Subscribe to may I drive your car? to keep reading this post and get 7 days of free access to the full post archives.