Discover more from may I drive your car?
A contemporary car blog & newsletter.
A reputation comes standard: 2023 Toyota Tacoma TRD Pro
In the last year before a major refresh, is the Tacoma midsized truck better than ever?
As a reviewer, there's nothing that would tickle me more than to spend a week with a vehicle and instantly feel at home. (No shame—it doesn't happen often.)
I spent a week with the 2023 Toyota Tacoma TRD Pro…before I get removed from Toyota PR's mailing lists, fear not: this is a family friendly story. Still, y'all aren't here to get bottom of the funnel car buying advice from me—you're hoping to learn or think of vehicles in a different way.*
A 2023 Tacoma just happens to fall into a very specific place on our roads in North America as a comforting force. In these trying times with rising interest rates, thriving DIY culture, and uncertainty around electrification, I think the Tacoma's perceived durability, reliability, and long-term value is how an infuriatingly average product transformed itself into a beloved best-seller.
If a Tacoma is the silvery, grey, faded built-but-unstained back deck made from pressure treated wood that's somehow survived 14 years behind your starter home…
…think of this 2023 TRD-outfitted test vehicle as the first backyard barbecue on that DIY wooden deck.
---
All photos by Michael Banovsky copyright May I Drive Your Car?
What you're looking at is the outgoing Tacoma, one that's been in production since 2015.
Its engine is a direct injection 3.5 litre DOHC V6 w/VVT-i, aka Variable Valve Timing with intelligence that sounds fancy but first appeared in 1995.
Add off-road niceties like crawl control for controlled descents, "Multi-Terrain Select," which are drive modes for various terrain, a locking rear differential, front skid plate, automatic limited-slip differential (Auto LSD), and of course, part-time selectable 4WD with a 2-Speed electronically controlled transfer case and you're off-road with nothing to do but air down, pack lots of water, and share your location with family.
Horsepower and torque are 278 hp @ 6000 rpm & 265 lb-ft of torque @ 4600 rpm—maybe having the truck operating at a higher RPM helps to keep internals clean over the long run, but it's jarring to be on cruise control near the speed limit and have the truck kick down aggressively because it was now trying to accelerate back up to my chosen speed.
I'm a proactive driver and so ended up ~10 km/h above the posted limit on highways, gently adding throttle for hills and coasting whenever possible. I myself don't mind taking a more active role behind the wheel, however, it means driving around quirks of a high-revving V6 for one's life with a Tacoma.
Midsized trucks have all gone to turbocharged 4-cylinder engines and have placed more emphasis on achieving low Noise Vibration and Harshness (NVH) metrics—this is where a newer truck (including the all-new 2024 Tacoma) is going to be an immediate improvement over my test vehicle.
Unsurprisingly, despite my best efforts, fuel economy was loathsome—this is an area where the new Tacoma shows a marked improvement. In my light-footed testing, 13.67 L/100 km. Rated by Toyota? For 11.9 L/100km (24 U.S. mpg).
This means I spent $11.33 more on fuel and sent an extra 16 kg of C02 into the atmosphere. Apologies for that last one.
Earlier in my career, here I would have inserted, "this area is really hilly and that will affect mileage," which is true. But I'd now say: any similar Tacoma with that powertrain will return that number or worse—I was driving in the real world, no?
Add a load, lift kit, more aggressive tires, or install a rack that affects the freestream of air around truck, and decreasing range between your fuel stops may only add anxiety in the years to come. The good news? Its front disc brakes, rear drums, and hydraulic power steering will remain easy peasy to repair, like, forever.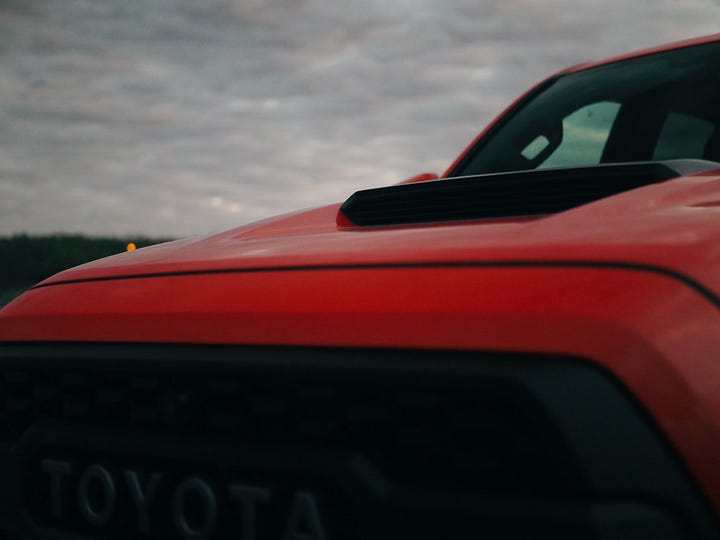 As for other features, it "has" navigation, Apple CarPlay, Android Auto but they were slow and a pain to use; it "has" adaptive cruise control but it was flummoxed by literally anything so I left it off; it "has" steering wheel controls and automatic high beams and and and I really just wanted a big button labeled "TRUCK" that turned everything off except for the fuel gauge and speedometer.
Two standout features: the pearlish, Gatorade sports drink-coloured Solar Octane paint and the cab's power sliding rear window.
Strong opinion time: rear windows that open are one of a truck's true luxuries and I personally wouldn't buy a truck that didn't have one. Full points here.
Are you the type of person to believe that some things get better over time? I am.
Not only is the 2023 Tacoma platform nearly 20 years old, but Toyota build quality means we'll be seeing them around for at least another 20. I'm very much of the mind that our resource-intensive vehicles should be built to last once, not disintegrate once the warranty's up—and be fixable with low-cost tools and affordable parts. A Tacoma should ace this test.
Projected longevity doesn't change the fact my test vehicle would benefit massively from changes time (and a future loving owner) may bring: more road-focused tires, aerodynamic modifications, poly bushings, re-valved shocks, an ECU tune…maybe one day, faster and more intuitive infotainment software.
I know this is all possible. How? With one swipe through a 2005 Tacoma owner's Instagram feed or the #toyotatacoma hashtag, uh…anywhere.
A 2023 Tacoma may have the potential to be a vehicle I'd happily recommend—but I did spend much of my week with this truck noticing a weird detail and subsequently wondering what people actually see in it—and I have to be honest about that.
To receive new posts and help me cultivate a positive self image as someone with thousands hundreds of readers, consider becoming a free or paid subscriber. ;)
---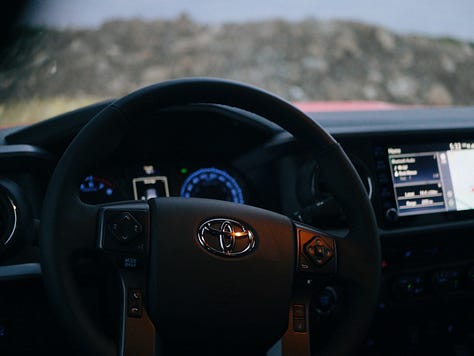 In this case, while I didn't enjoy driving it one bit, I think the Tacoma is a terrific way to talk about how a long-lived product can be both bad and good when it comes to reviews.
It's possible for a negative first test drive to be just as valid as an owner's long-term love letter threaded out over years, buried in a niche forum somewhere. Both can be factually true—the difference is time.
Over the Tacoma's generations, competitors like the Ford Ranger, Chevrolet Colorado, Nissan Frontier, and others have come and gone, which has only strengthened demand for Toyota's midsize truck. Fewer model changes mean more parts compatibility. A steadily growing fanbase leads to ever-larger owner forums and aftermarket parts options.
In the 2023 Tacoma's case, it's the final model year of a famously well-built truck—and one of the final vehicles from Toyota that doesn't have an interior built around a large touchscreen display. For popular products, being among the last of a generation before significant change can be a strong selling point.
I had it for a week, which puts me at a disadvantage to what an owner might discover over their truck's lifetime—I will keep dipping in and out of Tacoma forums for the foreseeable future in the hopes of learning where the 'N300' fits into Tacoma lore.
Want to talk Tacomas? Tell your stories in the comments or a reply. ;) Want the full spec sheet on my test vehicle? Here it is: