𝙕𝙡𝙂𝙕𝘼𝙂 𝟘𝟚𝟜: All's well
⟿ AEHRA Italian crossover EV, HiPhi crossover EV, and building Porsche 356s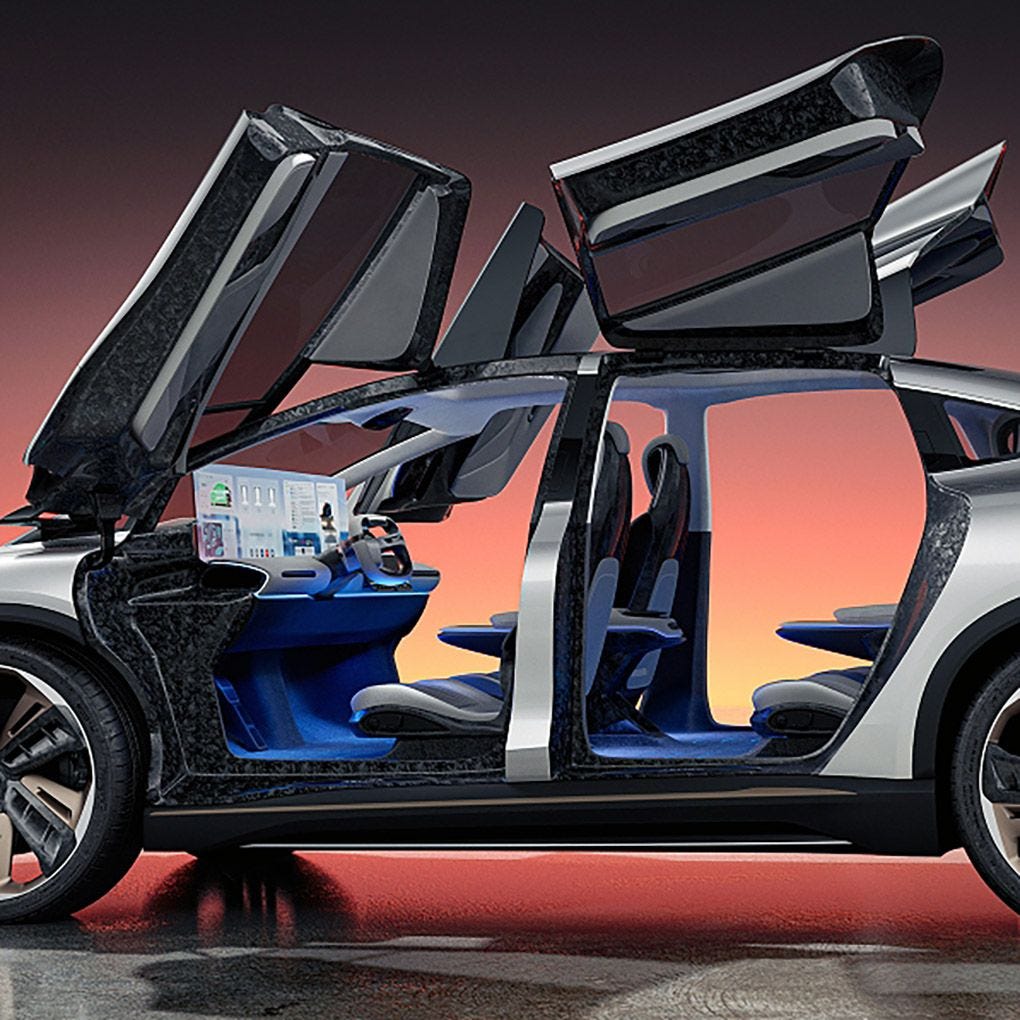 ⚑ You know that electric vehicles are finally becoming mainstream when new automakers begin to appear from (seemingly) nowhere.
A few weeks ago, I wrote about the Liux crossover from Spain. This is the AEHRA crossover SUV from Italy, just announced (above). And every few hours, one crossover or luxury EV emerges from China—this week, it's the HiPhi Z.
Not to worry, there's space for all of them here at speedster.news, beginning with the AEHRA.
cont'd below…
#️⃣
#carsforsale #jdmcars #carsofinsta #dreamcars #racecars
---
Atypical name? Check. Gimmicky forged carbon aero inserts? Check. A cab so far forward you'd swear it's a mid-'00s Chrysler? ✔︎︎︎✔︎︎︎✔︎︎︎
At least they're starting strong: there's no denying AEHRA's SUV (it's called the AEHRA SUV, officially) is a striking-looking electric vehicle. Coupe-like in profile, with four upward-folding doors (front butterfly, rear gullwing), the SUV is said to accommodate "four full-size NBA players".
I'm now wondering: In Europe, can you get 1/2 size NBA players??
The design was led by Filippo Perini, a talented former design director at Genesis Motors; before that, he worked at Alfa Romeo, Audi, Lamborghini, and Italdesign—all brands that are known for projecting a strong presence while on the road. When its front and rear active aerodynamics are deployed, I bet AEHRA's first model here will look quite striking irl.
Its Cd is quoted as a strong 0.21—though we're the first to admit a single Cd figure is never the whole story.
Inside the SUV, a rising screen separates the car from driving mode and theatre mode. Four or five-seat versions are planned…and that's about all I can tell you about the interior so far.
Looks are one thing, what are its specs? I can only go by what has been quoted: range of more than 800 km, a top speed limited to 265 km/h, up to 600 Kw of power (~800 horsepower), and a price of at least $160,000 Usd.
In its press release, AEHRA touts itself as "substantially self-funded so far, and is finalizing its first external investors round" so this project is by no means a done deal. Still, it's nice to see new brands and seasoned automotive pros put their own spin on the same old SUV.
see also :: ❍ ALL-NEW AEHRA SUV REDEFINES IN-CAR EXPERIENCE WITH UNPRECEDENTED CABIN SPACE, MATERIALS AND TECHNOLOGY • AEHRA :: ❍ New Aehra electric SUV to arrive with 805bhp and interior movie theatre • Auto Express UK
---
---
MEMBERS ONLY
beyond this point
Keep reading with a 7-day free trial
Subscribe to may I drive your car? to keep reading this post and get 7 days of free access to the full post archives.