Discover more from may I drive your car?
A contemporary car blog & newsletter.
Out to prove that electric cars have mass appeal: 2022 Ford Mustang Mach-E
Living with this dual-motor, California Highway 1 edition electric crossover
It's a Ford, it's a Mustang, and it's electric; I'm in my late-30s, I'm a bearded white guy, and I write about cars. Six facts that—depending on your perspective—may be absolute deal-breakers. 
Where does an aging car writer even start these days? 
Ford revolutionizes its Mustang namepl– 
Thanks for reading may I drive your car?! Subscribe for free to receive new posts and support my work.
No.
Finally, a Tesla-rivalling, American crossover…
Nah.
Swallow this: the best-performing daily driver Mustang that Ford has ever made happens to be four doors and rocks an electric powert–
Ugh.
The environment? Polarizing. Muscle cars? Same. Electric cars? Conversational hemlock. Only thing people now seem to agree on are crossovers: beauties, all of 'em.
If I'm honest, stepping out of a 2010 Toyota Highlander Hybrid (in this context, a peak old-world SUV) into a 2022 Ford Mustang Mach-E press car for a six-day test made me thankful I haven't yet been prescribed reading glasses.
Did it age me—or did I reawaken my curiosity for where the auto industry is heading?
---
First on sale in late 2020 as a 2021, considering the global pandemic (and no significant changes), please forgive me in counting this 2022 Ford as a "new" car even though 2023 Mach-E models are beginning to arrive on our roads. 
It's NEW TO ME, dammit, now get off the shared lawn in my apartment complex.
Speaking of, one of the reasons I picked my building was the 120v plug for each parking place, allowing me to keep the Mach-E's large 92 kWh battery pack trickle charged—range, charging speed, all that noise was of no concern. I would unplug the car, leave one end gently dangling over a 3 ft snowbank, and run errands—easy. 
Next, hopping in and out of the crossover was no problem, but the Mach-E designers had me going from a low-slung-ish driving position, to swinging my legs out wider and higher than anticipated because of the packaging—there's tall floor for a battery pack, wide sills for safety compliance, and a raised platform because: crossover.
Once seated in the Mach-E, it's all Mustang. Getting in and out is 100% city-slickin' SUV. 
I lie. No other Mustang has a something-point-something infotainment screen—I won't even tell you the size because it ultimately doesn't matter…
(Go here for relevant specs and its window sticker.)
Roads near me are undulating, hilly, and brutal during the winter months, with potholes that will swallow a Yaris and ask for seconds. 
Before reigniting my auto writing career (or at least pouring lighter fluid all over my cold, stiff fingers and praying for an ignition source), I'd read countless stories, first drives, test drives, reviews; I've watched dozens of YouTube videos on this topic and I promised myself I'd avoid falling into the same new trap of complaining about the newfangled infotainment screens rapidly multiplying across automaker lineups. 
Like fungus, there's a lot of love to give these touchable, button-less dashtop screens. You can make mushroom soups! Risotto! Healthy vegetable broths! Mind-expanding, transformative experiences! Rarely, a bad trip or taking a chance on poisonous ones to end up a frothing, writhing mess.
Er…mushrooms, not the screens. Large interior screens have more plusses than negatives, but I'm not going to list them—one over-the-air software update and features can be giveth or taketh away.
Happened to me: the Mach-E updated the night before I was to return it, and on a snowy early morning drive I was being advised BlueCruise was available—but the underlying cruise control function was inoperable. 
At one point, after mashing every steering wheel button 145 times, I pulled over to cycle the car on/off and to clean the exterior cameras—always keep your camera lenses clean, kids—this didn't fix it. 
Later, on Twitter, a follower told me this kind of issue is often solved by leaving the car off long enough to completely power cycle. I want to believe this, and have no reason to think it's untrue, but it's suspiciously close to the unsatisfying first step any underpaid electronics call center support staff will suggest: "Unplug your __________ and plug it back in again".
(I tried BlueCruise several times prior to this, but the wintery conditions all week meant it was often skittish and prone to disengaging without much warning—confidence-inspiring it was not. I'll reserve judgement until I can try it in more typical weather.)
---
---
Promise: I'm not the type of person to dislike new technology simply because it's new.
I am, however, a longtime gamer and "always online" type of person who's acutely aware of what the auto industry is giving up in order to give customers what they apparently want: more cutting-edge technology.
This thought deserves a longer post, but few automakers have the institutional desire to build sustainable technology into their vehicles—and Ford is no exception. Customers may "want" Android Auto or Apple CarPlay, but to me this is evidence that Ford looked at its IT department and software teams, and concluded it couldn't offer these features without embracing wares from 3rd party providers.
For everyday drivers—and for the automakers that cater to them—it would be wrong of me to blanket condemn the steady march of in-car infotainment toward button-less tech.
I think it's more a distraction than anything, for automakers and for drivers: with a decent amount of processing power, software-defined vehicles have near-limitless potential in what they're capable of showing onscreen. 
Six days of shuffling through various sub-menus, playing the car's included "games", and trying multiple settings made me wish this car's software development budget had been spent on creating the world's first four-door electric Mustang that allowed its occupants to focus on the simple joys of going for a "car ride"—not on a confusingly laid-out touchscreen slab that dominates every drive.
Heated seats? Touch the screen. Pairing a phone? Touch the screen. Selecting drive modes? Touch the screen. Maybe this sentiment would fade with ownership, but even with my phone paired, on the drives I simply hopped in and took off still had me removing my right hand from the steering wheel and glancing over toward The Screen to make adjustments.
In addition, the car offers surprisingly little information within The Screen on its efficiency—there are a few basic bar graphs and energy used per KM numbers, but important statistics on trending consumption, to-the-second kWh (or Wh) readouts, and historical data beyond Trip A and Trip B are nowhere to be found. 
---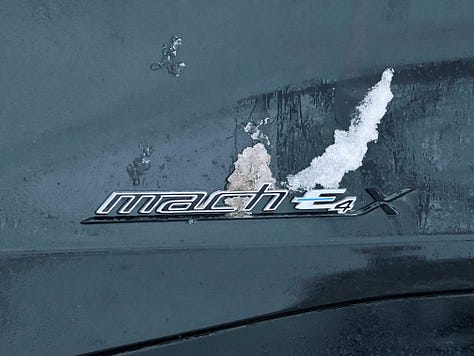 How the Mach-E drives is, I think, one of its best qualities—I'm sure that in warmer weather the car feels like it could handle nearly anything. In January, in Canada, it has a few rough edges.
Roads near me are undulating, hilly, and brutal during the winter months, with potholes that will swallow a Yaris and ask for seconds. 
My test car, wearing 18-inch (225/60R 18) Michelin X-Ice tires, comfortably handled low to mid-speed driving, but playing Ken Miles…er…doing my best Ken Block (RIP) impression quickly overwhelmed the car's available grip: this feels like one heavy car. 
"Understeer" in this context is me deliberately putting the front tires on slushy portions of road and seeing what happens; the Mach-E's dual motor 'e'AWD wasn't able to magically save the crossover from plowing straight; more or less steering did nothing—I had briefly, easily, turned this low CoG1 steed into a 2,107 kg (4,647-lb) curling stone.
No shade intended on the weight, by the way: it's within a carry-on bag's weight of the 13 year old, 7-seat Toyota SUV I would normally be driving. Surprising? Kind of.
Lacking a third row but packing a battery pack and two electric motors, one front and one rear, I actually disliked how quickly the Mustang accelerated in everyday driving. Kept mostly in its most sedate 'Whisper' mode, I found the car leaned too far into its Mustang DNA and built speed too quickly. 
At first, subtly pressing the throttle and seeing a near-instant +20 km/h (12.5 mph) increase was addictive. Then, trying to be a Good Citizen, it was annoying—especially with 1-pedal driving turned off. Whereas a more traditional (read: gas or hybrid) SUV has drivetrain noise and engine braking built in, the Mach-E always seemed to want to gallop—especially at city and B-Road speeds. 
To many, speed limits are suggestions, but in an electric vehicle they're decent markers for the most efficient way from A to B. In cold weather, air is denser and requires more energy to move through it. In cold weather, climate control and battery conditioning takes additional energy. Sticking at or near the speed limit is an easy way to limit energy consumption. 
---
Excess speed in an EV is the enemy of range; the Mach-E seemed eager to trot at 5-10 above posted limits, despite my gentle inputs. 
On the return trip to drop it off—without cruise control, remember—the hilly, snowy highway drive had me cursing its lack of decorum. I left early in anticipation of cruising at 1-2 over the limit, and I needed all available energy to maximize my range. 
I have range calculations in my test vehicle spreadsheet, but I don't think the Mach-E (dual motor)'s range is lacking—it simply requires drivers to do more pre-planning and to educate themselves on the best chargers en route and options at their destination, lest they get frustrated at arriving at a public EV charge station with all spots taken and too little range to go anywhere else.
Overall, the 2022 Ford Mustang Mach-E is a solid first attempt at delivering a mainstream electric crossover. The underlying bones of this Mustang are thoroughly well-bred, but with so much software onboard, whether or not it'll stand the test of time like classic Mustang models is, sadly, out of its control.
Only you can judge if its purchase price, ease of servicing, and your day-to-day needs fit within the scope of the Mustang Mach-E crossover's abilities.
If you feel you're in the target market, at least drive it: it's a Ford, it's a Mustang, it's electric—you might really enjoy it. Without ending on yet another horse-related pun, I was encouraged by how this first-generation model performs—and I hope Ford doubles down on making future electric Mustang models even better.
---
Thanks for reading my review on the Mach-E! Subscribe for free to receive new posts and support my work.
---
But for now… please Like and Subscribe this one:
Thanks for reading may I drive your car! Subscribe for free to receive new posts and support my work.