Discover more from may I drive your car?
A contemporary car blog & newsletter.
The 2022 Mercedes-AMG GLB 35 is a rally car you can live with
Sometimes, the sum of a car's parts create an unexpectedly familiar—and desirable—package
Don't take this the wrong way, but the Mercedes-AMG GLB 35 4matic _
takes a deep breath
_ is the nicest Forester that Subaru never made.
Before you rat me out to Stuttgart or block my socials—allow me to explain.
In its day, the first and second generation (1st: 1997-2002; 2nd: 2002-2008) Subaru Forester was one of the most car-like crossovers you could buy. It presented a then-strange but compelling mix of three key attributes: a rally car-like (available in certain markets) turbocharged 4-cylinder engine, a standard all-wheel-drive system for a surefooted feel, and a large SUV-like upright cabin.
Other vehicles have had those features, but the Forester tied it all together in a package that simply drove and performed really well in daily use. Commuting, road trips—you name it—the first few Forester models hit that sweet spot.
Since then, Subaru has grown the Forester in both overall sales and physical dimensions (99.4-inch wheelbase from 1997-2008, now up to 105.1 in 2023); this isn't surprising. As a smaller manufacturer, each Subaru model must carry its weight in delivering results, plus expand (like all cars have) as nameplates are laden by safety requirements, more features, and customer expectations.
For a massive manufacturer like Mercedes-Benz and its in-house tuning arm, AMG, a smaller, less expensive, shared platform crossover model relative to its other offerings puts the GLB on more relaxed footing.
Within Mercedes, the GLB is one of 10 middle children within a vast family of models; on the street, it's the nicest Forester that Subaru could never have developed.
---
Eh?
As someone who started my career washing cars and schlepping around a small Subaru dealership just as the first and second-generation models were turning people into Forester fans, I immediately noticed a few broad similarities between it and the Galaxy Blue metallic Mercedes-AMG GLB 35 I recently drove in nasty, snowy conditions for an entire week (see photos).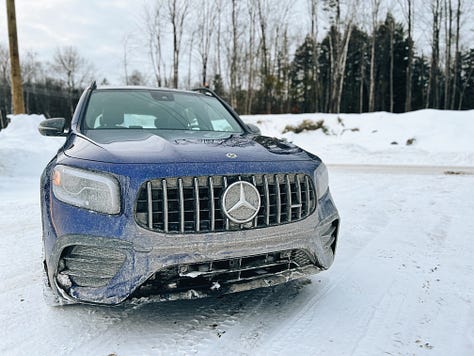 Starting at $61,700* MSRP here in Canada (mine was $70,990 as-tested), the price alone keeps the AMG'd GLB off of many shopping lists—its comparison here to the Forester is as a more familiar reference point and to share that I've always enjoyed how those early Subarus drove.
Besides: 'round here in the icy North of North America, being Forester-like is, generally, a good thing.
Indeed, to support my stance that the GLB is essentially a Forester from an alternate universe, when I pulled up the external dimensions and weights, I noted the current GLB is within 0.3-inches in length, 0.7-inches in width, and a ~300-lbs passenger of a 2023 Forester's specs.
The AMG'd GLB starts to show its performance credentials when you examine its height, as well as its drivetrain.
Whereas a standard GLB only 0.3-inches taller than a first-generation Forester, the lowest and most car-like, a 2023 AMG'd GLB model drops another 5.2-inches in height for better on-road performance (57.4-in vs 62.5 for the never-sold-in-North America Forester in STI trim).
may I drive your car is a reader-supported publication. To receive new posts and support my work, consider becoming a free or paid subscriber.
---
Inside, where it counts, a classic Forester next to a GLB is like comparing a simple backyard trampoline with something like a Peloton stationary bicycle.
You can use either to pump up your heart rate, but only the latter comes with presets to tailor your pulse.
Presets, presets, presets—screens next to screens, to get the most out of an AMG GLB you'll want to dig deep through the menus and configure settings for your, well, everything. More on this later but here's what Mercedes-AMG says about AMG DYNAMIC SELECT:
"Four modes (Comfort, Slippery, Sport and Sport+) alter the throttle response, shift points and steering effort, as well as the characteristics of ESP, 4MATIC all-wheel drive, and available AMG RIDE CONTROL suspension. A fifth "Individual" mode allows you to create a mode of your own, even letting you set the transmission for purely manual shifting."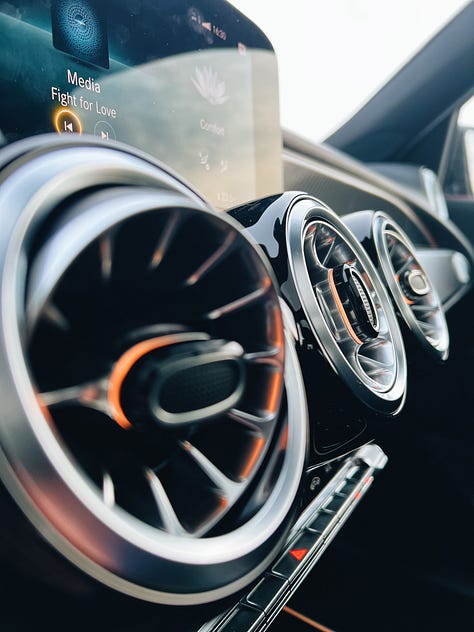 I tested it on the modern conveniences I enjoy: music and navigation. My phone was connected to Apple CarPlay (worked fine) and nearly to Android Auto (didn't work, but the problem might have been on my end 🤷‍♂️), so listening to music streaming via Spotify, using navigation, and futzing around the menus was intuitive…once I'd climbed a bit up its learning curve.
Because I don't get out much, I imagined myself at the helm of an AMG GLB as trying to master a trendy, Hollywood-style vodka bar: first, bounced from the line; then let in, and bled dry by its exorbitant demands; acceptance into the VIP section; finally, to the owner's suite overlooking the dance floor behind 1-way glass. Eventually, I could even toggle between interior lighting colours without triggering the lane keeping assist.
Crucially, the interior looked and felt great, day or night. Premium-feeling materials, metal where it counted, and a grippy Alcantara steering wheel elicited feelings of having "made it"—this is a Mercedes-Benz, after all, and sitting in the driver's seat only enhanced that impression.
Yeah, its doors shut with a satisfying thud.
In daily driving, however, I think that one of the least expensive AMG-branded models available in Canada may be a sleeper hit.
Finally, its mechanical setup and driving behavior are where this Mercedes-AMG GLB 35 will either delight or leave you wanting more.
I felt that in everyday driving, in winter conditions and in snowstorms, I was never wanting for power or torque. I put it into the category of being deceptively quick—passing and speeding are easy, but in ultimate performance this is still a 2.0-litre turbocharged 4-cylinder engine powering a stocky mid-sized SUV.
Horsepower stands at 302, backed up by 295 lb-ft of torque. It's plenty quick in real-world conditions where the 5-0 are always around the next corner, anyway…
Where this GLB let me down was more in the slow-speed maneuvering, where even in non-Sport driving modes its 8-speed dual-clutch transmission was jerky in some situations. Similarly, when using the (nice) steering wheel paddle shifters, clicking down through 3-4 gears when exiting a highway, say, felt out-of-sync with how I expected the car to behave…so I didn't use the paddles much.
A problem where I live: snow, ice, and torn-up roads. I'm delighted to say that I kept all four of its 21-inch AMG alloy wheels and 255/35R21 Michelin Pilot Alpin PA4 winter tires out of any roadside assistance claims. Does the car ride very well? Let's just say I suspect that even in warmer climates I'd prefer the standard 19-inch wheel and tire combination. Less expensive to replace smaller tires, too.
I appreciate the desire for Mercedes-AMG to want to allow drivers to personalize their experience with settings for suspension, transmission, steering effort, stability control, all-wheel-drive, and throttle—but this clashes with the GLB's utilitarian vibe.
So? Ideally, this would all be optimized, giving the car one default setting, plus the existing "Individual" mode that allows for additional fine tuning. In my time with the vehicle, my Individual settings had the GLB set up to be softer overall, with crisper throttle response.
With a wide range of options here, I would caution shoppers, test drivers, and even passengers to reserve judgement only after double-checking where, say, the transmission and suspension had been set. A few options can really affect how this AMG behaves on the road.
If you look at the Mercedes-AMG GLB 35 for its outright performance, you'll be wanting more. If its squared-off shape makes you confident of its utility…look elsewhere.
In daily driving, however, I think that one of the least expensive AMG-branded models available in Canada may be a sleeper hit. Not too big, not too ostentatious, and fitted with a genuinely nice interior, it's the perfect Mercedes-AMG to take to and from the track—while you go and watch other people race.
---
Note: This test vehicle was provided by Mercedes-Benz Canada for a week-long evaluation, with a full tank of premium fuel. I returned it with a full (60L) tank of premium.
You're here but you're not subscribed?! Join hundreds of other readers now: