Discover more from may I drive your car?
A contemporary car blog & newsletter.
Even I will admit the Ford Bronco Badlands 'Sasquatch' is excessive in the best kind of way
After driving a 2022 Ford Bronco Badlands incl. Sasquatch package, I still have questions about the pluses and minuses of modern 4x4s.
Who doesn't love a Ford Bronco, right?
I enjoyed this truck, and I think it will make many buyers happy—with some extra props for how it drives on the road.
tl;dr: If you'd like to get straight into Bronco technical details, I highly recommend skipping ahead to the drivetrain portion—I reached out to Ford and was able to put together a few reasons why this SUV was better than expected at handling everyday on-road driving.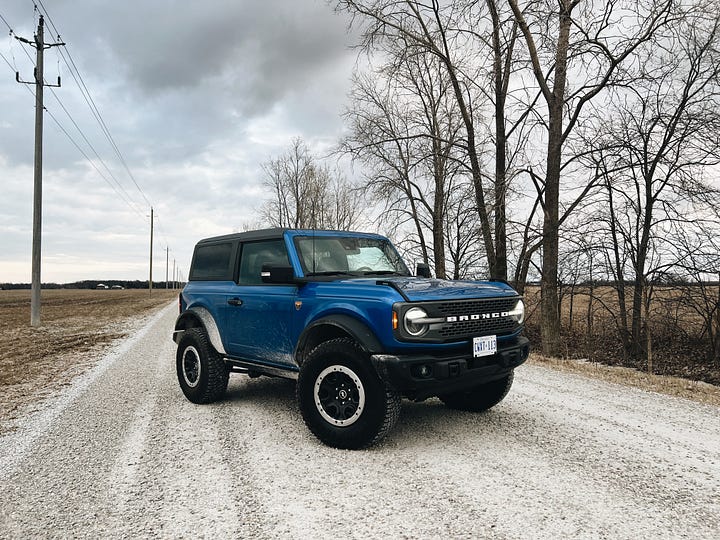 ---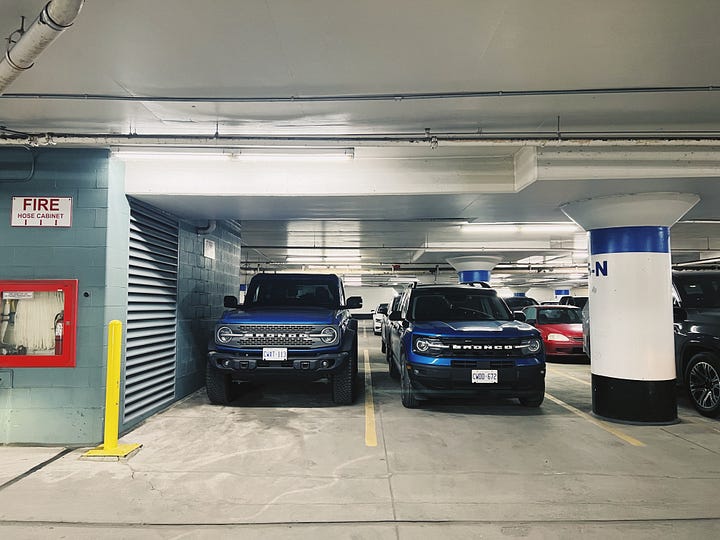 IN EVERYDAY DRIVING
After a long day at the Canadian International Auto Show, I got back to this test vehicle, a 2022 Ford Bronco Badlands with Sasquatch package. As you can see, I was treated to the unexpected and inevitable: a less expensive, much less "capable" Bronco Sport crossover SUV parked beside me.
Same colour, too.
Capability is a state of mind, mind you, because that person's smaller Bronco was, in that moment, just as capable as its larger sibling. Actually, everything I did in the larger Bronco could have been done better by a less expensive Bronco Sport—highway driving, light dirt road use, and city maneuvering included.
So why do I fantasize about a big, bad Bronco of my own, but am less than excited about its crossover-minded stablemate?
For starters, because all levels of Ford Motor Company were clearly excited about the idea of bringing the Bronco back, and it shows.
Distinctive looks, a wide range of customization for those using either the Build Your Own page or dealer order book (unless you want a manual transmission…) and solid performance in the conditions I experienced gave me the impression that Ford intends to make this body-on-frame, off-road SUV a success.
Before you assume this is a rough and tumble utility vehicle for the everyperson, my tester stickered at $74,289 Canadian dollars, before any markups or dealer fees.
This is a lifestyle vehicle, for those who want to live the Bronco lifestyle. Giddyup.
---
DETAILS, DETAILS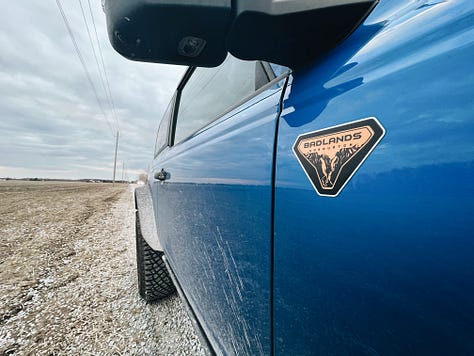 During my 1,188 km test I saved $45.40 on fuel and 85.76 kg of CO2 compared with what the Bronco was rated at by Natural Resources Canada (vehicles.nrcan.gc.ca)
INSIDE THE BRONCO
Read the Good & Bad at the end for more about getting into and out of the Bronco, but once you're inside there's an upright windshield, shorter-than-normal dash, and a feeling of being in a hilltop bunker thanks to, simultaneously, a higher floor and lower roof than a unibody vehicle. Owing to its body-on-frame construction, removable top and rollover protection, there's simply less space inside for people and their things.
However…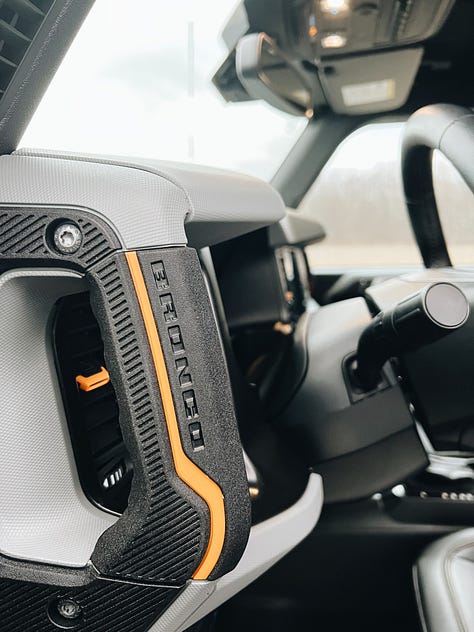 It's a nice interior. Controls are decent, materials are great, and the extra effort spent on flourishing the air vents, grab handles, and door cards with orange accents made me feel like I had become ruggedized and more likely to hike the Appalachian Trail, buy a canoe, or take up archery. Now that the Bronco is gone, I daydream about how fun it'd be to remove its rear seats, pack supplies, and go on a long road trip far from major highways and attractions.
Back in reality, frequently-used controls were easy to operate and didn't cause me any problems, though it was odd to have the 4x4 settings on the dash, far from both the transmission selector and the off-road rotary dial used to select one of the Bronco's "G.O.A.T." modes. Moving the little-used selector up in future versions could help to free up storage space between the front passengers.
The screen and UI (I tried both the built-in Ford SYNC 4 and wireless Apple Carplay) was slower than expected and difficult to operate when on less than perfect roads.
It's not natural for driver or a passenger to brace their hand near the screen, meaning tasks that would otherwise be a few button presses like changing a satellite radio station can be more difficult to execute. The dash is moving at one speed, your fingers are moving at another, it's not ideal.
Many controls can be operated by the driver with steering wheel buttons, which is what I did most of the time.
---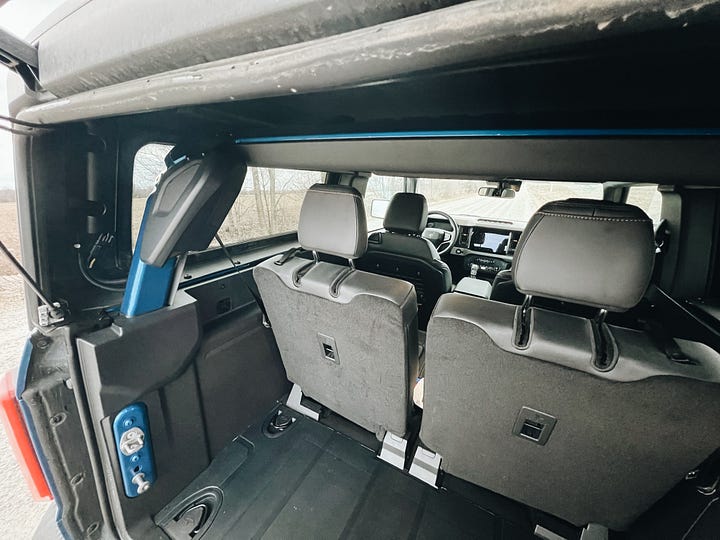 CARGO AND WORKABILITY
I'll name a few things you can see in the photos: cargo tie-down points, hard plastic load floor, folding rear seats, accessory mounting points on the rear tailgate, integrated rear bumper steps, split folding rear hatch, and trailer hitch. If you can't find a way to haul it with the Bronco, you might want to consider switching hobbies.
I wanted to go and buy mulch to haul, or hook up a trailer loaded with an ATV to go off-roading with, but reality presented me with a bunch of luggage for my wife and I and our cat, which it handled just fine.
---
DRIVETRAIN AND FUEL ECONOMY
I wasn't expecting much: optional 330 horsepower 2.7L EcoBoost V6 engine, 10 speed automatic, and the aerodynamic profile and weight of a large shed.
I try to drive efficiently, but like many people I find it's often tough to get close to official fuel economy estimates. Here, I smashed the official city / highway estimate of 14.1 L/100 (16.7 US mpg), managing an average of 11.5 L/100 km (20.4 US mpg), and seeing as low as 10.4 L/100 km (22.6 US mpg) from time to time.
Onboard fuel economy displays are sometimes off, so I tallied up the fuel receipts and they put my figure at 11.4 L/100 km. I was still skeptical, so I checked owner-submitted data at fuelly.com and…yep—my numbers aren't unheard of.
What does that actually mean? During my 1,188 km test I saved $45.40 on fuel and 85.76 kg of CO2 compared with what the Bronco was rated at by Natural Resources Canada (vehicles.nrcan.gc.ca).
Hooray! But compared with, say, a Bronco Sport's rated fuel economy, I could have saved an additional $33.71 and further reduced my emissions by 54.88 kg of CO2.
---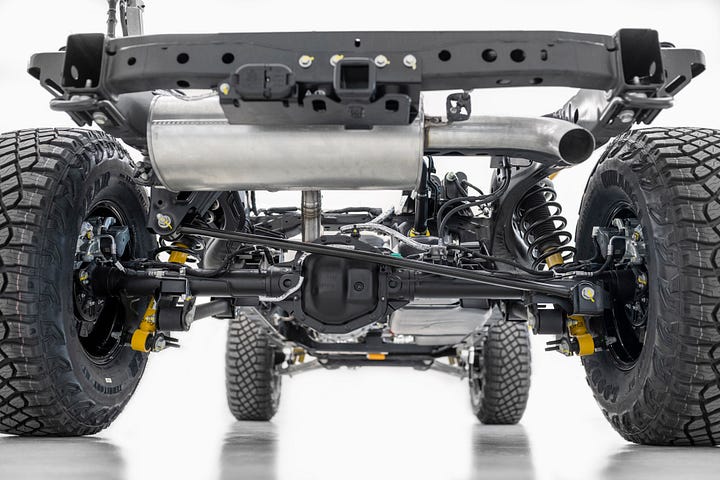 DRIVING THE BRONCO ON THE ROAD
I hope my Ford reps know I was genuinely surprised with how well it rode and handled, and that's why I reached out to learn more from Bronco engineers. Here are the main points sent back over email from Ford:
How high on the list of Bronco priorities was on-road performance in everyday driving?
On-road performance is always important.  Although Bronco off-road performance is a key brand tenet, we know that customers spend a lot more time on the road. The team worked hard to ensure a proper balance between on and off-road performance.
Do the Bilstein ESCV shocks contribute much to on-road performance? If so, which on-road situations would they outperform a typical shock absorber?
End stop control valves allow for increased control near the ends of wheel/shock travel. It does allow the vehicle to be tuned for a bit more comfort in the "normal" ranges of travel and shock speeds, due to increased control that ESCV provides at the ends of wheel travel (for protection from events like potholes, large bumps).  In a normal shock, damping forces may have to be increased for lower shock velocities, which affects ride comfort.
From press photos of the chassis, I noted the five link rear axle & front aluminum lower control arms (A-arms)—both seem like they would add to on-road performance rather than detract–is this correct?
IFS and 5 link rear suspension platform allow for a good balance of performance between on and off-road performance. IFS particularly allows for greater control of wheel-end kinematics through the range of suspension motion with fewer error states, resulting in more predictable steering and response linearity. 
I drove a 2-dr Bronco Badlands, Sasquatch equipped w/a factory 3" lift (and 35" tires, LT 315/70R17 M/T) in cold + winter conditions and thought that it felt quite planted on the road; what about the chassis/suspension combination would have helped that feeling in my pretty typical highway/rural route commute?
The development team ensures that all of our vehicle configurations meet our standards for various weather conditions, including significant time in snow and winter conditions optimizing the chassis and chassis controls. 
What would be its biggest compromise for on-road driving vs other Bronco trims? [see my tester's window sticker here]
Sasquatch package and MT tires provide off-road capability but have some on-road trade-offs. But we believe customers have been very satisfied with the on-road manners of the sasquatch package, and that the trade-offs were made in the right way.
Seat of my pants: it felt to me like the spring rates were pretty soft but there was a lot of damping, would that be accurate?
One of the benefits of the end stop control valves is the ability to run slightly lower levels of damping in the main zone (for on-road comfort and isolation) than would be possible with a conventional shock with only one damping zone.  Spring rates were optimized to meet all of our on-road and off-road performance targets.
Psst…I'm trying out a trial offer—your paid support is essential in allowing me to continue creating content…
DRIVING THE BRONCO OFF OF PAVED ROADS
On country dirt roads travelling at elevated speeds, in mixed snow & ice conditions, and over heavily potholed Toronto streets, the Bronco shrugged and seemed bored.
I did not get a chance to lower the tire pressures and risk body damage by taking it on "proper" trails, so if you have a Bronco and go off-roading, please include me in your future plans and I'll happily participate if possible.
---
FINAL THOUGHTS
As one of the most capable—convertible—body-on-frame vehicles available at any price, the Ford Bronco comes with many trade-offs compared to a similarly-sized crossover or SUV, and is most at home off-road. In my opinion, using one as a daily driver in an urban environment is socially irresponsible and a total waste of the Bronco's capabilities—but who am I to judge? Maybe buyers are coming from a trailhead, are on their way to buying a tent, or just binge-watched a dozen MRE review videos on YouTube. Or ~big brain thoughts~ maybe they're keeping it nice for the second, third, or fourth owner who will undoubtedly do some sketchy shit off-road with it, eventually…
The good
It handles well, for what it is.

Fuel economy was decent, and no, I can't believe I'm saying this but fair play, Ford 👏 While I was making an effort to drive at and around the speed limit, I wasn't hypermiling or holding traffic up.

Solid design details everywhere, from the rear camera to the (silly) hood-mounted gear grips, make the Bronco feel special.
The bad
Getting in and out is ridiculous. I'm 6'1 and can comfortably execute a few dozen yoga poses tougher than corpse, but one low dash-mounted grab handle on each side is just…why? Why make it more difficult than it needs to be? I started dreaming of (safely) drilling holes within the door frame and mounting additional braided handles made from tactical rope…

For me, watching every passenger, including my mother-in-law, struggle to get in and out of detracts from the experience of having a vehicle that people seem to actually like the look of and want to go for a drive in. Depending on your social circle, "Let's take the Bronco!" is something you may only have to say once.

Visibility, as in there is less of it when you need it most. If you're not good at parallel parking, best of luck.
Correct spec? Let me know in the comments!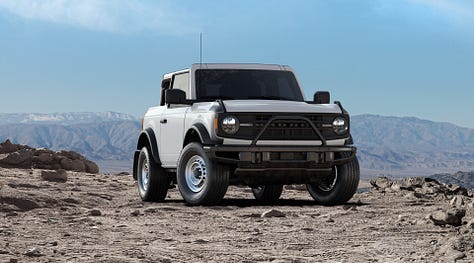 You've made it this far: may I drive your car is a reader-supported publication. To receive new posts and support my work, consider becoming a paid subscriber today.
---
Edit: An earlier version referred to fuel economy ratings coming from Transport Canada, when in fact they come from Natural Resources Canada (vehicles.nrcan.gc.ca).