Discover more from may I drive your car?
A contemporary car blog & newsletter.
The Chrysler Pacifica PHEV makes me nostalgic for a hybrid future
I drove this fuel-efficient minivan to find out if PHEV van life really is the good life
And just like that, you're reading a review about a minivan and wondering why you clicked on such a bizarre title. Eating grandpas in maple syrup?
Ex-squeeze me?
Technically, I ate grand-pères au sirop d'érable, and they were delightful. Deeply maple, with all its flavor coming from the delicious, rich sauce that chewy dough balls were simmered in. All the sweetness of a living room candy dish paired with the energy-sapping digestive properties of syrup-boiled white bread batter. 
Now, you're here, which means you're my real family and I feel comfortable letting my guard down a little bit. Not only will I explain why having this meal was so important to me, but why the minivan itself may still be a compelling choice in 2023…if the price of membership into the hybrid minivan club doesn't first turn you away.
---
A lowercase 'w' warning for anyone sensitive to familial thoughts or cooked meat, including pork products—my dinner photos from À la Cabane Au Bec Sucré are ahead.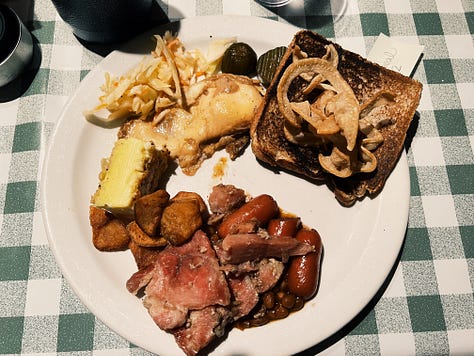 My sugar shack perspective is one of a total outsider.
I won't get into why my wife and I are living 1,000 kms away from our hometown, and if that's a good or bad thing. It'd certainly be easier if more than one family member had decided to visit us since we'd moved so we weren't always the ones making the trip, you know? Or that a global pandemic hadn't conspired to upend our work-life-live-laugh-love balance. Mentioning I'm a millennial here is as much a drive for subscription revenue as a publication of one (can I just say—you'd look great as a paid subscriber) as it is to remember seeing September 11 coverage on a CRT television wheeled into my high school art class. Adulthood, world events, family, recessions, career, sickness, health; my last day with little responsibility was probably working my shift as a passenger ferry captain on a small Ontario island later that disaster-filled day, marveling at how quiet, blue, and perfect the evening was. I ordered a small pizza from my favourite spot for dinner, and drove home in my late-model Volvo.
Now, I'm here, years later, a wife, cat, and no children, looking forward to driving a hybrid minivan. Never thought I'd be here, exactly, but here I am.
Is life supposed to be constant reinvention, or what I experience as shoveling sand? Entrenching a path and checking progress only to see it wash away, or be erased by wind-wreaked deposition. Am I allergic to putting down roots, or to watering them?
Call me old-fashioned for roleplaying here as a minivan owner, but when's the last time you saw a happy person driving one? Either hurried, harried or hangry, I must see minivan drivers at their worst times—rushing between Costco and a kids' second (nonrefundable) extracurricular of the day. "AIDEN!! Why are you sniffling?! Do you have a runny nose??"
There's no celebrity spotlight for the captains of these chairs; minivans aren't popular choices anymore; and what person chooses to drive a van without first committing to three children, a side hustle, or #vanlife? Ours is now an era of V-P-Ns, not V-A-Ns.
When it becomes an all-electric nameplate, does Stellantis double down on the Grand Caravan / Pacifica model's increasing complexity, and set the price accordingly? Or does it flip the script and return the range to what made the early Chrysler minivans great: a low price and lots of practical features? If sales keep sliding, does product planning show minivans the door?
In a world where so much of our time, finances, and identity is committed to maintaining a car-centric lifestyle, minivans are both end-to-end encryption to anonymize people in traffic…a way to grow older to the soundtrack of dual power sliding doors. A waiting room on four-wheels, always the place you have to be before you get to where you'd rather be.
Like its competitors, the Chrysler Pacifica PHEV I drove was objectively well-optioned and looked attractive inside and out; it had all of the features, space, and performance most people would ever need…and yet only 2% of people choose a minivan, down from as high as 10% of Canadian market share. In 2023, Toyota, Honda, and Kia are splitting a shrinking maple sugar pie.
Why do I keep seeing well-loved minivans, then, in the parking lots of discount stores, grocery stores, Quebec family restaurants, malls, and sugar shacks like this one?
---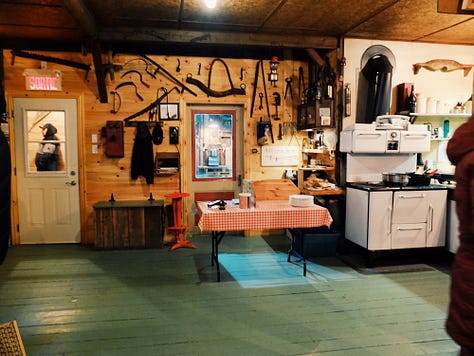 …for most of my childhood, minivans had doors that only opened on the passenger side.
VISITING A SUGAR SHACK
Once I learned about Quebec's sugar shacks as a teenager, I became obsessed with someday visiting one—and after a few years of virus-related restrictions, this was my first true dine-in experience.
We were seated by reservation among more than 100 other diners spread across two open floors and interconnected, sprawling buildings that looked artisan-built. We had all come to a location in the middle of a forest—most diners in large groups—for a buffet-style meal of rich food steeped in familial traditions.
Staff ranging from teenager to senior, in matching red aprons, offered table service and managed the process between explaining how beverages worked (bring your own hard or soft drinks), to serving complimentary water, tomato juice (for some reason), and starting every diner with an appetizer of ham and pea soup. 
This ham and pea melody reminded me of a more smokey version of the Habitant pea soup I loved as a kid, and that feeling of warmth continued through the meal, then to the Chrysler Pacifica PHEV as I lovingly drove my dearest home in comfort through the desolate pitch blackness of rural Quebec B-roads in February.
Winter tires fitted, speeds kept well within reason, and the front-wheel-drive Pacifica felt like it could motor through nearly anything. A safe space. We still had enough room in the van left over to fill 1/3 of a banquet table back at the sugar shack. Screens in the back for streaming shows, heated seats, a flat floor for a sense of spaciousness and enough room to maneuver between rows in winter boots, a heavy coat, and thick gloves.
This trim level, the Pacifica Limited Hybrid with 'S' package, didn't have the popular Stow 'N Go second row seats, fitted instead with a pair of broader, folding and reclining seats with armrests on either side. It also lacked the cache of raised ground clearance, an AWD badge, and parking lot presence of a larger and less efficient crossover or SUV—other than that, the Pacifica PHEV was very well-equipped and felt better built than I had been expecting. 
During my frugal middle-class Caucasian Catholic upbringing, before SUVs had filtered down to the second-hand market, a basic family minivan was the transportation. Aerostar, Windstar, MPV. Other families rolled up in Caravans, Astros, Lumina APVs, or Ventures, and a few households went with a more exotic Quest, Villager, or Previa. 
Consider this: for most of my childhood, minivans had doors that only opened on the passenger side. Whereas this 2022 Pacifica drove me more than 50 kilometers on electric power alone…while I played with the stereo, touchscreen settings, large glass roof, and adaptive cruise control. 
---
---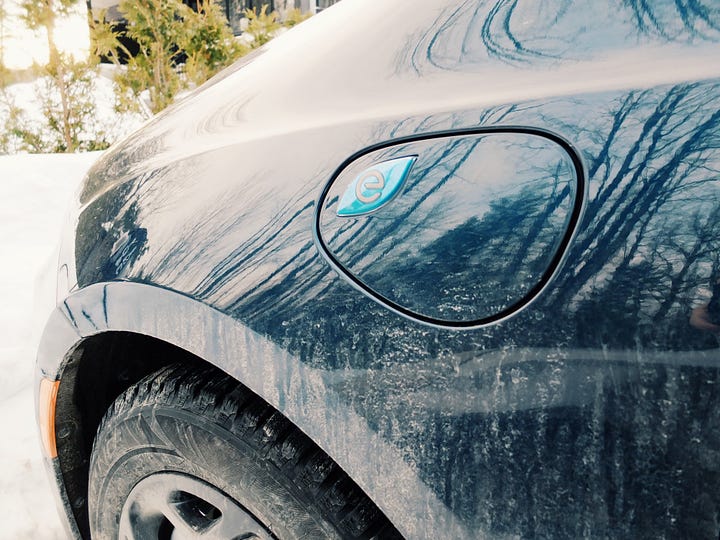 IT'S A VAN (THAT'S A GOOD THING)
For the price—more on that in a second—owners get a familiar 3.6 L Pentastar V6 engine and two electric motors (114 hp for the primary drive motor and 84 for the starter / generator), integrated into the CVT transmission and outputting to the front wheels only. Because the electric motors are part of the transmission, it's not a simple 1 hp + 1 hp = 2 hp; Chrysler states total system output is 260 horsepower, although in other non-hybrid models the V6 is rated at 287 hp all by itself.
Two hundred and sixty is nowhere near the *checks notes* 485 horsepower a Pentastar + EV parts would add up to, so what's the point? Like Toyota's approach to hybrids, the key is in having the most efficient operation at all times. Both driving around town and on the highway, this approach means there's little hesitation, little noise, but plenty of power. I didn't load it down with family, friends, or friperie finds, but it got out of its own way just fine.
How was the plug-in part? I plugged it into the 110V outlet at my place when I came back from a drive, and it charged overnight. Then, with a full battery, I could drive about 40-50 km on electric power alone while running errands, up to a speed of about ~120 km/h.
Instead of confusing you with the Natural Resources Canada 'Le/100km' numbers, the Pacifica is rated at 8 L/100 km in combined city/highway driving with all that hybrid help; non-hybrid versions are closer to 10 L/100 km in typical conditions.
Range for the PHEV is one of the most impressive features, at least to me: more than 700 km, even on a bad day.
The conditions I tested this van in were closer to -20°C (-4°F) winter weather, minus a few degrees for the wind. That said, even with snow tires equipped, I easily did 7.1 L/100km combined…and I wasn't holding up traffic all week, that's for sure. This is why plugging in to refill the small battery for EV-only city driving often pays off significantly in the long run—if I had just been shuttling around the city in EV mode, the week's fuel bill would have been much closer to $0 than the $60.79 at $1.579/L I had to pay.
Looking back over receipts, this saved me $7.80 over the week, and represented 11.3 fewer kg of CO2 into the atmosphere compared with the van's 8 L/100 km Natural Resources Canada rating.
I felt a sense of both beginning and ending—the first plug-in hybrid minivan I'd ever driven, and possibly one of the last old-school minivans we'll see in North America. A product society considers undesirable, that in some ways still managed to exceed my expectations.
I won't claim it lit my hair on fire, but it's unquestionably an improvement on minivans of old. This powertrain has been on sale for five years and has been fitted to hundreds of thousands of similar vans, and it's largely similar to other CVT-based hybrid transmissions from other manufacturers. Owner-reported reliability issues seem focused on overall build quality (paint, seat mechanisms, and not much for the hybrid powertrain)—and recommending adding the extended warranty just in case.
My tester's list price of $64,075 doesn't include government rebates (here, currently around $8,000), and the price is my single biggest complaint about this product. Of that total, $895 was for the 'S' package that blacked out exterior trim and gave unique wheels and interior trim, $2,595 was for the uConnect cinema package that added rear screens, and $395 for deep blue pearl paint. I liked the 'S' stuff but could have done without the other options.
Arriving to Canada next year, the long-awaited all-electric Volkswagen ID.Buzz is expected to cost a little more—nearer to $70,000—but will be the antithesis to yet another invisible minivan. Will families suffer yet another bump up in price in exchange for an EV experience with a scoop of cachet on top?
The Pacifica and related Grand Caravan models are at a crossroads. When it becomes an all-electric nameplate, does Stellantis double down on the Grand Caravan / Pacifica model's increasing complexity, and set the price accordingly? Or does it flip the script and return the range to what made the early Chrysler minivans great: a low price and lots of practical features? If sales keep sliding, does product planning show minivans the door?
Perhaps the most shrewd move will be the potential to build under license an attractive electric van design from China. Profitable, maybe, but would represent yet another admission the van market no longer revolves around a segment led by the pros in Auburn Hills.
---
In the last 20 years, while I've had my head buried in app feeds, rental after rental apartment, part-time projects and the rare full-time job, always in the red, away from the connection of family, friends, and nature, minivans—the ultimate place between places—have only gotten better. Minivan sales, however, have only gotten worse. 
As commercial demand for maple syrup heats up, food scientists use artificial flavors and fillers like flavored corn syrup—there's only so many trees and producers doing it the very labour-intensive old fashioned way. But so long as the knowledge and equipment are around, people in this area will be making pure maple syrup well into the future.
With the rise of SUVs and crossovers, automakers can be accused of layering gimmick after gimmick on their most profitable models, steadily raising prices, weight, complexity…but asking customers to shoulder lower efficiency, higher prices, and more involved maintenance procedures. 
Syrup and minivans have this in common: for a long time, honest, pure, and everywhere—then gradually diluted by other, newer, easier to market and produce alternatives that provide few consumer benefits but nevertheless pad profit margins. Go looking for pure Quebec maple syrup in your local area. (There should be only one ingredient.) Chances are, you'll find pancake syrup, not maple syrup—the blended stuff outsells the real thing more than 5 to 1.
Shopping for a family cruiser that's spacious, practical, and efficient in everyday driving? Chances are, you won't be among the 2% to choose a minivan.
Driving the Pacifica PHEV made me both nostalgic and curious to try its direct sliding door competitors, then, sad 0.02 seconds later when I remembered only three other manufacturers build family-friendly vans in 2023.*
Whether owning and driving a minivan truly does bring you one step closer to your death, triggers positive nostalgia, or delivers a baby nine months after you folded the seats flat and laid down a blanket, I can't say. I felt a sense of both beginning and ending—the first plug-in hybrid minivan I'd ever driven, and possibly one of the last old-school minivans we'll see in North America. A product society considers undesirable, that in some ways still managed to exceed my expectations. My first sugar shack meal as a Quebecer, and my last as a 30-something. An inescapably tough winter and the small hope of meeting my family again, but for real one day.
---
View the window sticker here (sorry, it's in French!)
The good
Fuel economy!

Space, features, driving comfort (if you don't mind the classic upright seating position behind a short van nose)

At this point, vans are so uncool as to be cool again. Well, maybe not now…next week, probably.
The bad
In mixed company, the polite phrasing is "Honey, I bought a van and spent six-teen thousand dollars," not "…six-ty four thousand dollars."

I'm not a fan of Stellantis switchgear or its uConnect infotainment, but it all worked fine and did what I needed it to do: connect wirelessly to Apple CarPlay.
* And yes, Mercedes-Benz
What's the correct spec? Existing and paid subscribers, let me know in the comments!