Discover more from may I drive your car?
A contemporary car blog & newsletter.
Yes, people will drive while wearing Apple Vision Pro headsets
I'm not here to argue the safety aspects of wearable computers—I'm here to talk about the possibilities.
Apple just revealed its first wearable spacial computer, the Apple Vision Pro, to be released in early 2024.
The concept car above? A Renault Laguna, from 1990.
So don't blame me for thinking someone's going to wear this thing while driving a car, 'cause I'm far from the first to envision it—designers were sobering up out of the '80s with the help of copious Gitanes and still managed to style a wearable computer into a photo shoot.
Did I say someone? Sorry: thousands of people will wear Apple's Vision Pro headset (and upcoming similar devices) while operating motor vehicles.
I'm not here to argue the safety aspects of that—I'm here to talk about the possibilities beyond renting a Ferrari 412 and cosplaying as Thomas Bangalter or Guillaume Emmanuel (Guy-Manuel) de Homem-Christo from the defunct duo Daft Punk.
Don't take this as an Apple fanboy's Christmas wish list, instead, take it as a hint that when other manufacturers start to compete against and provide compelling alternatives to the Vision Pro, we all win.
As a first generation product, the $3,499 Usd. Apple Vision Pro has a long feature list, none of which explicitly support its use in or around cars. 
Basing my impressions on existing, similar AR (Augmented Reality) / VR (Virtual Reality) headsets for industrial use, however, I don't think it's a stretch to Apple's device will quickly find developers, apps, and future use by drivers, motorists, mechanics, designers, media creators, and more…
Just don't let the fact a user can't see through the device dissuade you from thinking the Vision Pro will be worn by drivers hoping to experience the full Cyberpunk 2077 experience…as early as next year.
Get used to wondering what's worse: a drunk (impaired) driver, an "autonomous" vehicle, or someone wearing the Vision Pro headset?
---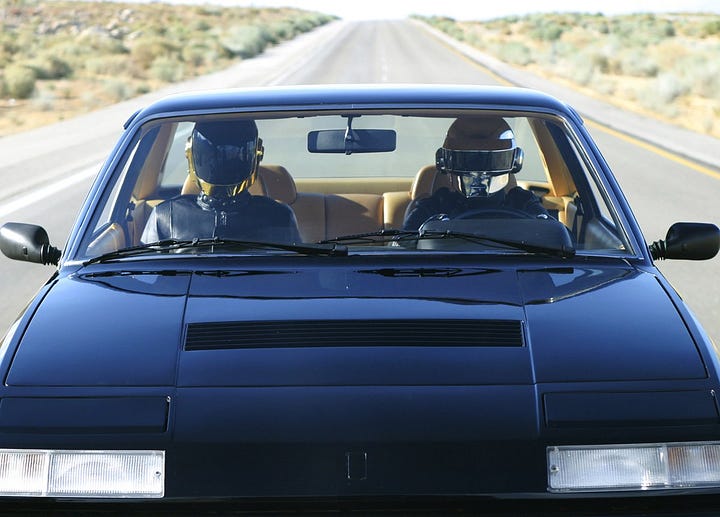 How does it work? Leaving out major details regarding eye tracking and sensors, the "seeing" part is straightforward.
There are cameras on the front that feed two high-definition 'eye' displays that fit so snugly to the face that special lenses for an individual's prescription must be fitted to use the Vision Pro. (Read details of the launch and its hardware at The Verge.)
Because there are no controllers (it tracks your eye, hand, and finger movements) and it has much more onboard processing power than similar devices, it should operate with the least amount of lag. In basic operation, the experience has been described as "magic" by trusted reviewer Marques Brownlee.
Leaving its style and the ethics of "metaverse" remote work aside, there will be upsides for its users beyond its speed.
Since I play in the automotive world, I think it's poised to both find dedicated users and copycat products that maybe focus on delivering one or two aspects of the Apple device. 
Back to the price: go shopping for performance parts with $3,500 Usd., and you'll quickly run out of budget—or end up with 1/2 of a high-end titanium exhaust, 1/4 of a high-end ceramic big brake kit, or 1/10 of a finished performance engine rebuild.
---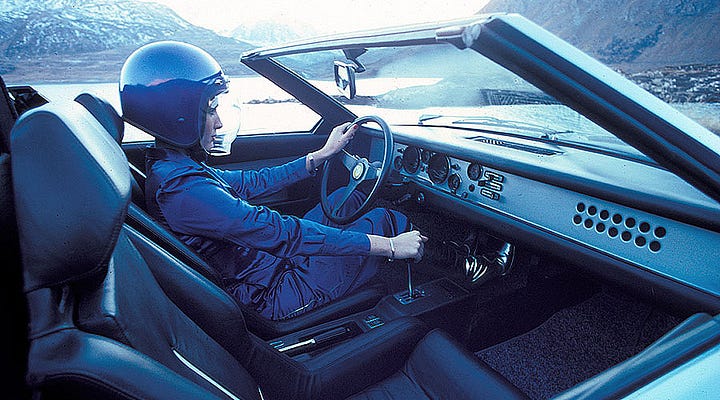 During the Apple WWDC presentation, I noted two car-related products featured as taking advantage of the Augmented Reality (AR) / Virtual Reality (VR) experience.
First was the F1TV app shown within a segment on watching sports, and app partner Jigspace was mentioned specifically during a bit about AR and how the app could interact with the 3D model of a racing car while using Vision Pro.
What else is possible with Apple's all-new computing platform and operating system? The potential app and applications list practically writes itself:
Mechanics & builders
Diagnostic software incl.

Locating components

Tracing wiring

Observe sensors in real-time

See exact location of a fault code

Mirror the display of nearby diagnostic terminals

FaceTime-style diagnostic help from other mechanics or the factory
While charging an EV
View charging and station info in AR

Content consumption & gaming

Work, email, and internet browsing

Hide the surroundings to meditate, do a mindfulness exercise, stargaze, etc.
Delivery drivers (presumably used more as large binoculars vs worn as a headband)
Heads-up last 100ft navigation

Realtime job & order info

Locate packages inside a vehicle

AR QR / barcode scanner

AR display of door codes, delivery instructions
Enthusiasts & racers
Add heads-up display incl. stereo and navigation to any vehicle

Display correct tool(s) and instructions for a repair

Watch & align repair video overlaid on a users' car

Interact with lap timer(s)

Quickly interact with and recall exterior camera(s)

Show AR trace of correct hand motion for reversing 

Driver-focused sensor and data displays

Passenger-focused AR to either mute the drive or show vital information (co-driver)

Crew chief AR display of vital information incl. cars' position within eyeline.

3D record and replay laps / rally stages / spirited drives / test day
Gaming
Sit in a real car, sync car with headset, play a racing game using existing physical controls
Content creators 
3D record and share drives while wearing the Vision Pro

3D record and share auto shows, car reveals

3D record and share racing & track events

True FPV (first person point of view) drone flying & video capture
Health & safety
3D record and analysis of crashes

AR insurance appraisals

AR traffic & parking enforcement

AR neighborhood speed enforcement 
---
In the near-term, besides consumers choosing to break unwritten rules and wear the Apple headset while driving, I think we may see a few things happen.
First, at least one automaker will double down on the technology and show both its industrial use for the device, and an in-car use within a concept car. 
Next, I think we could see mechanics in Formula 1 and in high-level sports car competition wearing the Vision Pro during the course of a race weekend, and when it's just called "Vision" with a price tag under $2,000, there will be a flood of interest in joining the AR / VR crowd.
The device itself is constructed in multiple parts, so it's only natural we'll likely see the actual hardware built into a helmet of some sort, either for off-road (motorcycle) use or for trackday shenanigans.
Finally, I was around when the first iPhone debuted, and even without the ability to copy and paste text (true story), it was head and shoulders above other cell phones of the time.
Don't take this as an Apple fanboy's Christmas wish list, instead, take it as a hint that when other manufacturers start to compete against and provide compelling alternatives to the Vision Pro, we all win.
If and when spatial computing is popular, we'll soon see dedicated headset power plugs, storage areas, and other in-car applications making their way onto our vehicles' options lists.
Silly, sure—potentially useful, absolutely—but at the very least, we will finally be able to look like a member of Daft Punk while driving our cars.
---