𝙕𝙡𝙂𝙕𝘼𝙂 𝟘𝟚𝟘 :: Joke dot AI
⟿ Applied car tech, Acceleration potential, touching the VW Golf Mk. 8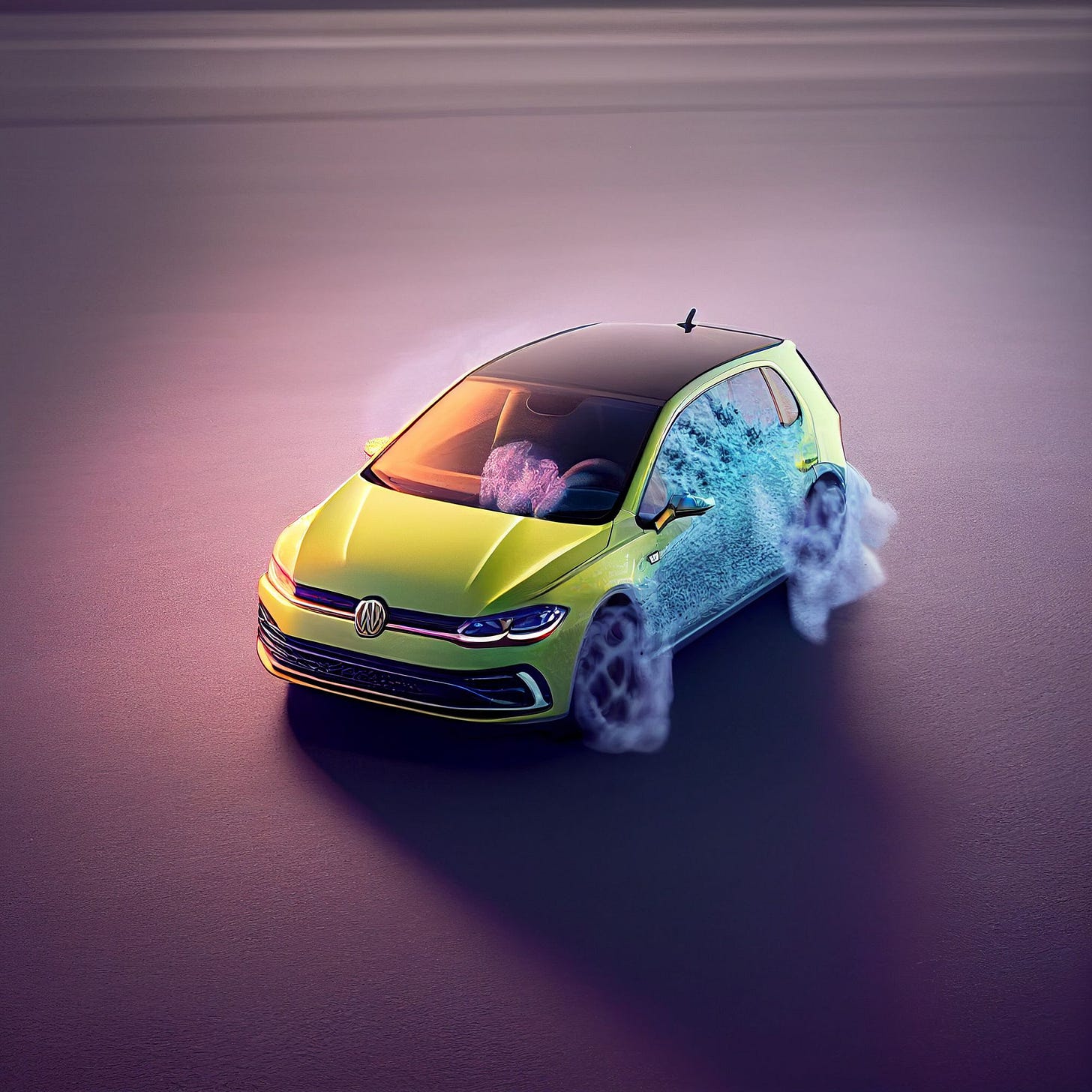 ⚑ Technology.
Love it, leave it—this week, more than one story has approached an aspect of future technology.
For example, BMW is marketing some bizarre, virtualish character that does its own horrible AI art and posts it to social media. Toyota's newest Prius is being reviewed, and for the first time in my life—now that so many cars are hybrids—it's just a car.
Audi is cross-pollinating departments to develop AI-generated concepts, though they're farther along than BMW Dee's designs. This is just the start, mind you.
cont'd below…
---
⟿ TECHNOLOGY HEADLINES
---
Every time I watch the McMurtry Automotive Spéirling do anything, I don't believe it. Having Matt Watson from carwow do a detailed technical overview of the car (with a lead engineer present for the nitty gritty) helps in the believability stakes…
I now know the car is essentially the footprint of a '60s Formula 1 car (cramped)—albeit with much more power and fans for ground effects. One of the reasons the Spéirling is so quick is its system of fans that give full downforce from a standstill.
---
✱ Know of obscure / old / weird automotive footage? Point me in the right direction…
---
Personal coupes are coming back! What else would you call a 4,000-lb + electric four-seat car?
Headline specs are impressive, and no doubt the Neta (brand) E (model) with dual motors and all-wheel-drive would shrug off its 1,950 kg curb weight and launch hard enough to put a Dodge Viper in the rearview. But…like…many cars can do that now.
As Car News China notes, it's the world's first production electric 2+2 coupé. That means China has left the "EVs = economy cars" growth phase and there's now a business case for cars with more power, more range (up to 580 km) CLTC, and less practicality.
Just…don't look at those shutlines…
MEMBERS ONLY
beyond this point
Keep reading with a 7-day free trial
Subscribe to may I drive your car? to keep reading this post and get 7 days of free access to the full post archives.