lunchbox 24
Don't sleep on WhistlinDiesel, Lynk & Co suspends its racing program, and evaluating the current state of Hummer H3s for sale.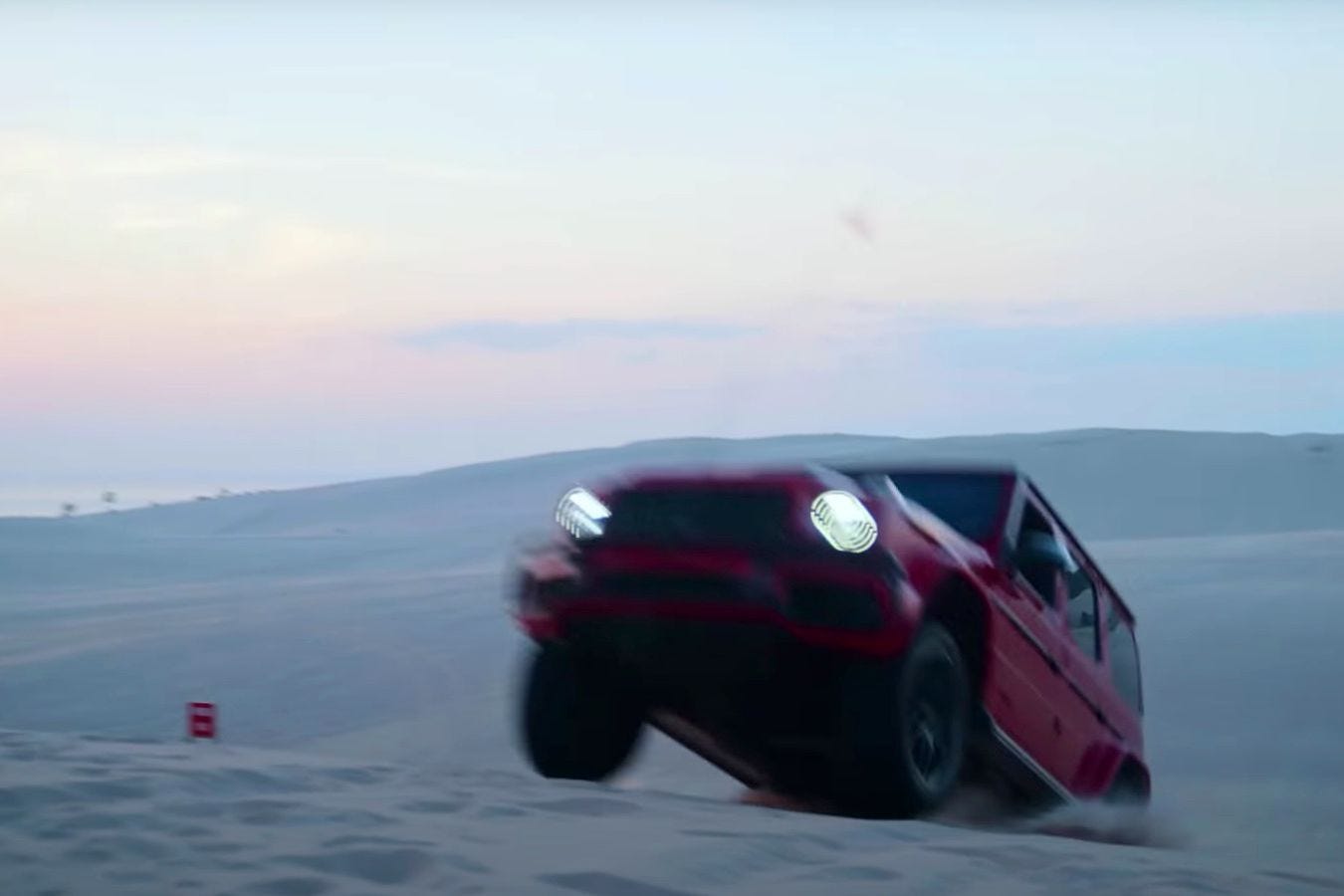 I know it might be tough, but try to sit and actually watch the G video, as well as the Cyan Racing update after the last FIA WTCR race—wow.
---
Here's why Whistlin' Diesel is one of the best YouTubers of his generation: he thrives on haterade. When you wince, he wins.
I've been a regular viewer for a long time, and watching his production quality and storytelling get to this level has been an impressive sight. His methods might be unorthodox, his "stunts" might be closer to causing chaos, and his ability to destroy everything he touches might be cringe, but at 24, Cody Detwiler has a long and lucrative future ahead.
I've been holding back a bit and waiting for the perfect video to share, and this is it: his durability test of a Mercedes-Benz G Class, with SXSblog.com (another of my favourite channels) guiding the crew around the Silver Lake Sand Dunes in Michigan.
Testing the durability of a civilian SUV based on a military vehicle proven over decades? No helmets? Hand me the popcorn—if it was posted, everything worked out OK, right? Right!??
---
When you field as many racing cars as Cyan Racing Lynk & Co. does and are as dominant as Cyan Racing Lynk & Co. is, butting heads over regulations is almost inevitable. In touring cars, success ballast is added—80kg for the 003—which leads to a difficult situation in racing conditions. The series uses spec Goodyear tires: the combination of added weight, hotter temperatures than ever (climate change is real!), and weak tire construction has led to a number of problems for CRL&Co. this year.
As this latest race recap shows (before they announced a change in operations), the 003 is far from the only car struggling with the obvious safety issue. Then, as a constructor, imagine having to rebuild race cars every few sessions…hell no. And it's not like Goodyear can just conjure up some tougher racing tires.
Adding weight to race cars should be a last resort at balancing performance; in cases like this, an inlet restrictor plate, standard ECU, or boost restriction seems like a better way to level the playing field. The climate will keep affecting racing cars, make no mistake, and tire failures seem like a nasty place to start.
After pulling out of several races this year, CRL&Co. is now suspending its five car FIA World Touring Car Cup campaign. Five cars, the drivers, engineers, team support personnel, hotels, flights… Watch this space.
Lynk & Co suspends WTCR programme over tyre safety fears •
motorsport.com
---
2006 Hummer H3, JP¥2,543,000 • The first and only time I was off-roading at the Silver Lake, MI dunes was on a Hummer H3x press junket in 2007. (And survived without jumping anything more than a few feet.) In honour of that, I thought I'd go looking for a Hummer H3 in "Me" spec. Not too modified, if at all, in a subtle colour, well-kept, and as basic as possible.
My god, owners and the aftermarket have done the H3 dirty.
You can look at used car portals in Canada, the U.S., and Europe—the stock of Hummer H3s looks largely beat to shit, and most of the ones in Japan have been pimped.
Although there's a mint blue one in Ohio with reportedly 13,000 miles, I'm choosing this rare hardtop (no sunroof) H3 from Japan. Perfect stance, perfect rims—the automatic is a bummer, but with all the other H3s in the world to pick parts from, a conversion one day shouldn't be too tough.
All it needs now are a few "NO" stickers in the UN font placed on the doors and some bogus markings inspired by the Telstar Logistic fleet & its clever caretaker.
---
Bonus? Look, I was NOT planning on sharing two H3s today, but I've never seen an H3T converted into a camper truck before. The price of €50,000 seems reasonable given the camper shell is new, but:
Going into the wilderness with an H3 that already has 220,000km on the odo is a hard pass from me. via mobile.de

---
---
Keep reading with a 7-day free trial
Subscribe to may I drive your car? to keep reading this post and get 7 days of free access to the full post archives.