lunchbox 31
Sunny side of the Aston Martin DBR22's underbody, hydrogen-powered GR Toyota, and debuting a new way to feature speedster.news images.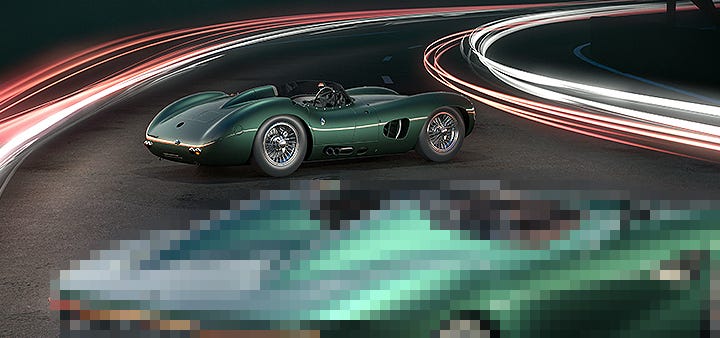 Even though there's a brand-new speedster to talk about today, the real star of this show is a Toyota GR Corolla hatchback powered by hydrogen that isn't slow as shit. When it comes to tailpipe emissions, I'd drink this milkshake…
Correction: McLaren Elva numbers updated, thx to reader Nauman F.
---
This is the first drive of this car by people outside of the Toyota / Gazoo Racing R&D program.
In ~2006, I drove a BMW Hydrogen 7, with a 6-litre V12 running on hydrogen with 256 horsepower. Fifteen years later, here is a turbocharged 1.6-litre hydrogen-powered combustion engine making more than 300 horsepower. Somewhat interesting is their tanks were within 10L of each other, 170L for the BMW and 180L in the Corolla—good for 30 minutes of racing.
Thanks to special injectors and other small parts, hydrogen gas goes in the former gasoline engine. Water vapor and sound comes out of the exhaust pipe. Make no mistake, this is a huge investment from Toyota: "Morizo"1 is listed as one of the car's drivers.
Watch the final attack with the development driver lap a 1'03"72, a very strong time for any Corolla, modified for racing or not. Toyota and GR engineers were confident they'd be shaving much more time from its outings at various tracks in the coming months.
What I want to know is: does the exhaust from this car taste like the Hydrogen 7's? (Kinda nutty.)
---
I like the Aston Martin DBR22 (speedster) for one key reason: only 10 will be produced. Compared with the McLaren Elva (399 249 149) and Ferrari Monza (500), if you see one DBR22 speedster on the street, you're looking at 10% of its total production.
I expected the 715 horsepower from its 5.2-litre V12 engine, an eight-speed automatic, and various small-series parts like the Q by Aston Martin paints and 14-spoke 21-inch rims.
I did not expect that the aluminum rear subframe would be 3D-printed(!) From the release:
"The component is made from multiple 3D printed parts printed from aluminium, which are then bonded to form the finished subframe. The advantages are clear, with a significant weight saving and no reduction in stiffness, plus the ability to make special parts for ultra-low volume models, where required."
Its official debut is at Pebble Beach Concours D' Elegance this week (August 19-21). If you're there, be a doll and inconspicuously lay on the grass for us to take some photos of the rear subframe. You can tell them I said it was OK. ;)
via Aston Martin
---
🤠
VEHICLES FOR SALE • What should I look for? Challenge me with your suggestions: michael@speedster.news
---
1 "Morizo":: Morizo is Akio Toyoda's pen name when developing models and racing. Even as the grandson of the company founder, his racing was not accepted within Toyota. So for much of his career, he put it on the backburner until he was given a strong rebuke by a legend within the R&D team.
"It's annoying that someone at the top like you doesn't know the basics of driving, but just gets into the car and comments on this and that! Test drivers put everything on the line in the name of creating better cars. To talk about this and that without knowing anything just causes trouble."
That was Hiromu Naruse, a Toyota mechanic and test driver for 47(!) years from the Sports 800 to the Prius and the LFA, who told Toyoda after a test that the company's golden boy wasn't a good driver…at all. Toyoda-san took the hint and made learning to drive well a top priority for himself, and later, others within the company.
Not long after those words of wisdom from Naruse, GAZOO Racing was founded in 2007, spearheaded by Hiromu and Akio to train other drivers at Toyota in the art of driving and understanding cars.
Sadly, Naruse died in 2010 at the age of 68 on a road near the Nürburgring during a test, colliding with another test vehicle (from BMW). The other car's occupants were heavily injured, but survived. Everyone had been wearing helmets.
more • Toyota (Toyota Times blog), Hiromu Naruse (Wikipedia)

Keep reading with a 7-day free trial
Subscribe to may I drive your car? to keep reading this post and get 7 days of free access to the full post archives.