lunchbox 33
The world's most important automotive competition just held a 10 hour race, a new crossover from Dodge, Formula 1 driver opinions, and: what are you reading?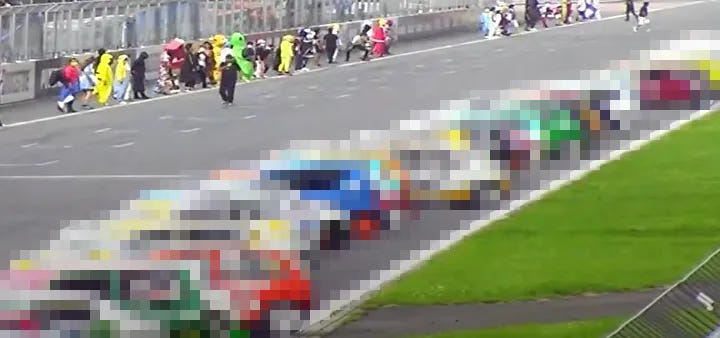 If you're into small racing cars as much as I am, you'll love Japan's K4GP. A grassroots endurance racing series with large grids and big differences between competitors, the largest event is a bi-annual 10 hour rip at Fuji Speedway.
Lucky for us, the 2022 running just wrapped up…
---
🏁 Believe me, if I had the means to cover K4GP for speedster.news I'd still be there now, likely shuffling coins for a BOSS Coffee into a vending machine outside a Lawson near Fuji Speedway. I've been subscribed to the racing series, writing, and tweeting about it for years—one day, maybe I'll get to drive in it for myself.
This is higher on my bucket list than visiting the Nürburgring or Spa-Francorchamps again. So why do I find it so fascinating?
Other than needing an engine smaller equal to or smaller than 660cc, the rules are open. A miniature Porsche 935 and Alfa Romeo Tipo 33 TT 12 compete with full-sized classic BMC Minis, Caterham 7s, and driven-to-the-track Mazda Carols.
New kei cars from Suzuki and Honda go toe to toe with bespoke aerodynamic masterpieces from Mooncraft, a longtime entrant and supporter. As writer and photographer Ken Saito said of the series in 2020:
"I've seen some weird things during my time in Japan but watching a 7-hour endurance with 120 kei cars was right up there as one of the weirdest—just the sheer quantity of them all on track. Because they're so small, they were able to go four abreast on the main straight for some exciting overtaking maneuvers. An hour of this race was more exciting than the whole last season of Formula 1."
With a view to welcome all racers, regardless of experience level or disability, conserve fuel, and remain affordable for entrants, I would love to see (or help) K4GP expand to other continents. (We have no kei regulations, so maybe here in North America engines could hit a whopping 1,600cc?)
This past weekend was the full 10 hour competition, broken up into two parts on YouTube. If you're just looking to watch cars whiz by, definitely jump straight into Part II, which starts at more than four hours in and is mostly a fixed camera with a view of Fuji Speedway's long front straight and pits. Enjoy.
see also: Kei Cars Go Racing? Kei Cars Go Racing! We Visit The K4GP • Motor Trend
---
1988 Italdesign Aztec Barchetta, $450,000 Usd. • It's Monterey Car Week, where many of the world's finest cars and autoficionados descend upon the unincorporated community of Pebble Beach, California for Pebble Beach Concours d'Elegance, plus its events and associated auctions, then soak up nearby Monterey and its Laguna Seca raceway for the Historics events. But what to drive?
So I went looking.
As fierce as it is, it can't be something as precious as a 1927 Avions Voisin C24 painted in this most resplendent livery. A 1947 Cisitalia 202 Gran Sport, revolutionary and gorgeous it may be, is one part failure away from needing a Hertz. Ripping around Laguna Seca in a 1972 Abarth 1000TC would be hilarious fun, but doting around town in a race car without A/C may not be.
Logically, a race-proven 1957 DB Panhard HBR5 is my runner up pick…probably because it's the worst attributes of the cars listed above, has pop-up headlights, and is from a long-dead French automaker.
In light of the above, I figured that the ideal candidate would be this, a 1988 Italdesign Aztek. This is the first of 15 made, now a two owner, 3,700 km car still complete with Lancia-sourced all-wheel-drive, a 2.2 liter 5-cylinder turbocharged engine from Audi, and, essentially: no roof.
Its features preview many future vehicles, looks like a blast to drive, and would snap necks at every turn. With up-to-date maintenance and a sympathetic organizer, I bet it'd even qualify for some kind of lapping through the Corkscrew.
If you decide to buy this, own two matching helmets and need a +1, give me a ring.
via tpejapan.com
---
📚
What are you reading? I've started this thread for books + things; hop in and share your recommendations!
---
Can I let myself off the hook for this one because I covered the Alfa Romeo Tonale earlier this year? No? fiiiiiine.
Well, the Dodge Hornet is a compact SUV that looks and performs in an eerily similar way to the Alfa Romeo. I can't…quite…put my finger on it…but anyway, the hybrid (R/T) or not (GT) look angry, probably sound angry, and will most definitely make their owners angry if the ownership experience goes down and out like a Subway Italian BMT.
Smartly, Stellantis gussied a modified one up with the Goes Like Hell (GLH) moniker so opinion-havers like me would use the most expensive, least attainable version as the lead photo in articles, even though you can't order one directly (it's a Dodge Direct Connection package).
Keep reading with a 7-day free trial
Subscribe to may I drive your car? to keep reading this post and get 7 days of free access to the full post archives.