lunchbox 34
There's an electric muscle car coming, finding fun on a budget, checking out a dash cam buyer's guide, and saluting Doug DeMuro.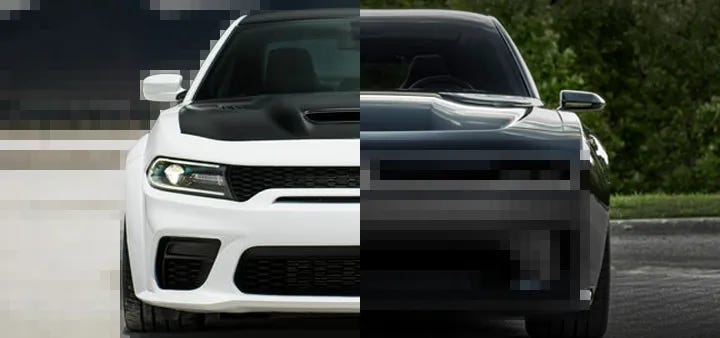 Don't tell Stellantis but putting speakers in electric cars for sound? That's something I've written about in the past, and joked about on Twitter in
2017
,
2018
, and
2020
. Nice to see 'em taking the leap. ;)
---
The Dodge-based family of muscle cars and Hemi engines are always & forever ridiculous, but they're made in Canada—so you bet I'm rooting for the home team's latest word salad, the Dodge Charger Daytona SRT Concept. Over the last 12 hours or so, news about this vehicle has been brimming from every car publication, every social media platform, everywhere. Despite sneaking off with my idea for EV exhaust sounds, you should know this old fuselage body hides some epic new tricks.
R-Wing: a sloping hood meets the top of the bumper, while a frameless "grille" and slim lights help to direct air to add downforce and lessen the car's frontal area.

eRupt: Dodge is being coy on count, but it's a "multi-speed" transmission that everyone's secretly hoping is a 3-speed.

Fratzonic Chambered Exhaust: 126 dB of made-up sound based on a made-up name and made-up symbol, courtesy of an amplifier and tuning chamber under the car. Making fake exhaust sound good is thankfully Not My Problem.

Seats: Four carbon fibre-backed sport seats are always cool.
Have to give it to the Dodge team and Stellantis for not following the template of "bigger battery and motors = better EV" and instead start to develop the technology in a meaningful way.
Dodge says this new concept and its 800 volt EV system, Banshee, already performs better than a Hellcat. We're what, barely 10 years into an EV-minded future, following more than 100 on internal combustion?
If the price is right, Banshee-based electric muscle cars might end up leading their segment for some time…despite its possibly cheesy sound and not very well thought-out name:
also read :: The Gorgeous New Electric Dodge Charger Daytona SRT Concept Comes With An 'Exhaust' System And A Transmission • The Autopian
---
Like me, have you been shopping for but not buying a dash cam since approximately 2015?
I wouldn't normally share a video like this, but what may be a dash cam buyer's guide is actually also an in-depth look at the dash cam market as a whole. Linus Sebastian himself at Canada's Linus Tech Tips dives in and proves why—actually—nobody needs to be spending more than about $100 for their setup. Well done.
---
1995 Mitsuoka Viewt, $9,200 • After realizing I e-spent about $2 million in cars I'd take to Monterey, I vowed to share something more humble today.
Unsurprisingly, locating an inexpensive car for you that I'd want for myself isn't as simple as raising a paddle in front of an online auction and having it show up the next day with a full tank of fuel.
Buying on a budget requires one of my true talents: Worst Case Scenario thinking. The cloud of dread that some or all of a car's mechanical systems, chassis, bodywork, or safety components will catastrophically fail and leave the occupants in financial or spiritual ruin. Or dead.
Using my Only Good Things Below $10,000 search on AutoTempest, I found this 1995 Mitsuoka Viewt (itself a Nissan Micra).
In the U.S., with a manual transmission, in great condition, reportedly a clear title, and a Buy It Now of $9,200 on eBay—score. It'll turn heads, be dead simple to maintain, and inexpensive to run. Speaking of, I haven't seen one of these done up yet in a '60s rally-inspired motif…
---
Doug has posted two videos a week, every week, since 2016. Let me repeat that: two videos a week, every week, for more than six years.  Many speedster.news readers are either in the automotive field, journalism, media, and so on, and as I do, have some experience with creating content for YouTube.
But at this level? There is only one Doug.
The whole video is worth a watch, but a special shout-out to his mention of travel to automotive press events. ;)
When did I subscribe to Doug? More than eight years ago, when he excitedly went hypermiling with a Honda Insight. If he ever sees this: watching your reviews over the years has been time well spent, thanks for the hustle!
---
🤠
Shopping for cars online :: what are your tricks? Do any searches, regions, or services work particularly well? (Or is it all a shambles?) Leave a comment below! Here's the search I use on AutoTempest -mb
Keep reading with a 7-day free trial
Subscribe to may I drive your car? to keep reading this post and get 7 days of free access to the full post archives.