lunchbox 39
Watching real EVs doing actual battery swaps in 2022, and is the Pokémon x MINI Concept Aceman itasha (痛車) enough?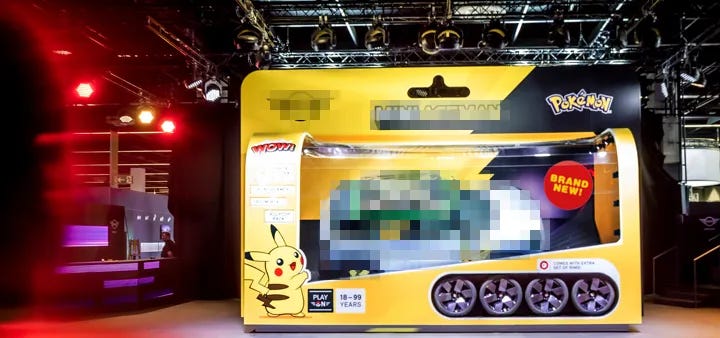 I've been watching (and subscribed to) Bjørn's videos for a looong time. He has published hours upon hours of drives in (often) cold-ass Norway, doing 1000km runs, dealing with charger malfunctions, livestream setups, gas station burritos, electric mileage calculations, banana boxes, trailering with EVs, and reconditioning high mileage Teslas.
The best content is never about a polished presentation but polished expertise.
He can convey more information in three minutes than a manufacturer walkaround does in 15. Did I mention
he publishes test results in a Google spreadsheet
?
Read on for his test of battery swap technology.
---
---
Battery swaps are cool and all, but first, a word.
Once a Pikachu sticker is slapped onto something, I lose all objectivity: the thing, anything, becomes cute as hell. Mugs, Gameboys, and, especially, cars. Pikachu is both a race of Pokémon and a singular character, meaning—like Minions—they have a habit of multiplying into any area of commerce ripe for a collab.
Enthusiasts have been creating all sorts of itasha inspired by Pokémon for years, as seen above; it's not like MINI is saluting the iconic character or anything. And it is definitely, sadly, not styled in the itasha spirit.
The MINI collab is part of its sponsorship of the video game convention gamescom. With more than 300,000 attendees expected, having a boxed up Concept Acemen near the merch area is a solid play.
But if the marketing funnel is brand awareness (display) down to brand interaction (entering the actual VR MINI metaverse), I wouldn't be surprised if the MINI Art Toy sells out instantly despite thousands of interested collectors…and the branded metaverse ends up a ghost town with a few hundred transients.
Have I been able to find this special toy yet? No…but will report back.
And the car? I'm on a personal strike on talking about EV MINIs until the brand's long-awaited EV-only model arrives—expected to look a lot like the Concept Aceman. Check out the 30 second brand video on the car for a look at the (very cute) Pokémon-themed changes.
see also :: MINI Concept Aceman with Pokémon Mode revealed – one-off from special collaboration for Gamescom • paultan.org
---
Bjørn Nyland has done it again. This time, he is testing Norwegian battery swap stations installed by Nio.
A few glitches aside, the auto park, battery swap, and infrastructure helped the NIO ES8 (100 kWh battery) score a significantly faster drive time to 1000 km than any other EV. Faster than a Tesla Model 3 Performance, BMW i4 eDrive40, Tesla Model 3 Long Range (82 kWh), Audi e-tron GT, Mercedes EQE 43 AMG, Porsche Taycan Cross Turismo 4… Bjørn has tested them all.
An unexpected benefit of his hard-earned profile is that the comments are often ripe with interesting follow-ups. One commenter located in China (who also tests cars) was saying that with more than 1,000 bays currently online in China, Nio is now trialing feeding power back into the grid.
Those stacks of stored batteries sitting around in swap stations might come in handy during power outages…
Speed for customers is one thing, but at scale it's another. As Nio's presence expands, battery swapping tech could enable the ES8 to become the de facto airport taxi, VIP shuttle, delivery van, or campervan conversion for anyone looking to cover distance in an EV as fast as they can in a gas-electric hybrid.
Based on what I've heard from others and have experienced with chargers: if they build these battery swap stations and the company is not run like Better Place, the people will come. It's pretty rad. (First battery swap starts about 5 minutes in.)
---
1970 Lotus Europa S2, $19,850 (Buy It Now) or 1995 Ford Mustang SVT Cobra, $22,588 (Buy It Now) • Your eBay Buy It Now choice is simple. Each are listed at well under $25,000 Usd., but here's where it gets complicated. The claimed low mileage Mustang has had 7 owners and the selling dealer asks for interested parties to call.
The Lotus comes with a drive-by video where you're immediately aware it's going to arrive with squeaking brakes. Offered from a "private" wholesaler of classic cars who comes with a solid eBay rating, I'd probably go Lotus on this one.
Keep reading with a 7-day free trial
Subscribe to may I drive your car? to keep reading this post and get 7 days of free access to the full post archives.