lunchbox 42
Coffin noses are back, baby! The WEY Yuanmeng, touring a tiny camper 'van', and dissecting the Prodrive P25.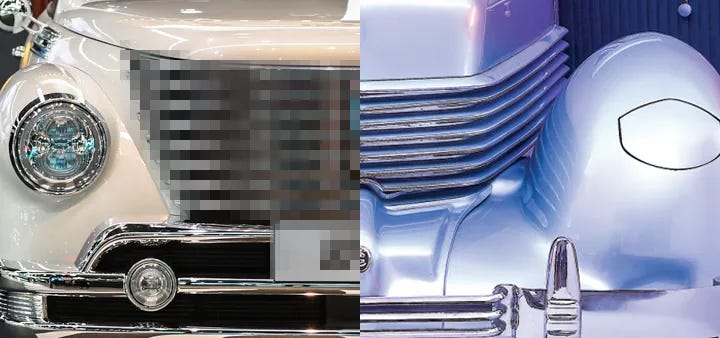 It's fashionable to simply say that awkward-looking retro cars are "ugly", as if we all didn't have eyes. Instead, wonder why it works or why it was produced. It's not like products are created in a vacuum, so there must be a reason.
I think it ultimately comes down to design comfort. The sense that a viewer will be able to look at the object, see its "retro" cues, and make their own connections about whether it looks like an X, Y, or Z.
It's been done (successfully) for years—remember the Chrysler 300C?
---
Who sends me photos, posts, articles, etc. with lifted smart cars in them? Everyone does!
Having owned (and loved) a smart fortwo, I have my own idea of the perfect off-road version…and it's not this.
But did I imagine a guy named Max could transform a fortwo into an off-road campervan, complete with lift kit, roof tent, and table built into the rear hatch? No…no I did not. Hard to fault his use of traction aids as running boards and an external chassis cage to support added components. In other words, if there's ever a smartbnb: sign me up.
---
I don't care what you think, I think the WEY Yuanmeng is a modern Cord 812 sedan. Underneath, however, it has more in common with a Fisker Karma than any Volkswagen Beetle-shaped EVs, including its donor car's shell, from the twin ORA Ballet Cat and Punk Cat—yes, those are the names!
Since we're on names, WEY = Jack Wey, founder of Great Wall Motors. Everything from WEY is supposed to be the best the company can do—that's a literal promise—I'd like to see a Mr. Lexus or Mr. BMW defend his brand like this:
It is not only a symbol or an antonomasia, but also a commitment made by Mr. Jack Wey, the founder of WEY brand, in his own name. That is, he will defend WEY brand with ingenuity, like guarding the highest honor and belief; and he will record the glory and the era with the dream and determination of the Chinese luxury SUV leader. (via WEY website)
All of the company's models released to date have been named after coffee drinks, I shit you not. Anyway…
Significant money was spent on the Yuanmeng interior's materials, layout, design, and rear-seat space. Through a computer screen, it looks absolutely fitting of its name: 'dream come true' in Mandarin. I found a silent walkaround video of the car from its motor show debut in 2021—little has changed since.
If you're not a fan of the chrome, test versions wrapped the vehicle in yellow, making it look like a funny-looking taxi. Odd, maybe a little crazy, but not offensive.
Fisker Karma, you say? This cat may be available with spoked wheels, but it's a plug-in hybrid with 195 km of pure electric range. Backed up by a 1.5-litre turbocharged gasoline engine and 9-speed automatic, WEY claims 238 horsepower and 520 Nm (383 lb-ft) of torque.
I haven't figured out if it's front or rear-drive, but with an all-wheel-drive and pure electric said to be "on the way", I'd wager this is a classic front-wheel-drive luxury sedan…just like a Cord 812. The coffin nose is back, baby!
---
Over the last few years, JayEmm on YouTube has been building up an impressive audience for what I'd call the "classic" car review.
Naturally, having driven so many vehicles, having met so many people, and having formed his own opinions, JayEmm artfully lays out an important case: that some modernized restomods aren't necessarily worth making in the first place.
Unless, that is, you're Prodrive and already have pre-orders for the entire production run of 25. 🤑
For what it's worth, I think he's on the money here. Want to go rallying: get a rally car and go rally. Want a new Subaru with an alcantara interior to thrash on gravel roads: get a 2022 Subaru…?
Keep reading with a 7-day free trial
Subscribe to may I drive your car? to keep reading this post and get 7 days of free access to the full post archives.