lunchbox 45
The Ariel Hipercar test mule, the Ariel Hipercar, and spotting an ex-Sultan of Brunei Ferrari 456 'Venice' GT.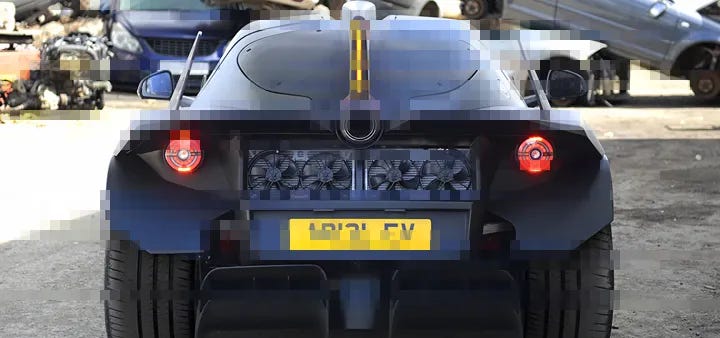 🏁
Apologies to email subscribers for more than one grammar mistake and a missing URL, all of which have been corrected. If you spot anything, hmu in the comments below! -mb
There's so much going on in the world of cars that I thought it'd be important to first examine one photograph buried in a manufacturer's Dropbox link:
---
Banksy-inspired livery? Check. Beat-up old bodywork? Check. Suspiciously racy details—door handles, floor, brakes, taillights, fixed windows? Check.
For all the ink spilled on how the upcoming Ariel HIPERCAR looks, its classic Ford Mustang body-based mule may have just entered history as one of the coolest test vehicles ever.
Two others that stand out by memory for me are the Plymouth Prowler test mule (Prangler) and Ferrari Enzo mule—essentially a really long Ferrari 348. The latter car even sold into private hands, meaning it's out there, somewhere, living out its days as one of the rare mules that survives the development process.
Let's hope this Ariel mule is also saved. I've reached out to Ariel for comment about this car specifically and will update you on a response…
---
High Performance Carbon Reduction (Hi-Per-Car) is a mouthful, but it's also the truth. Ariel Motor Company is well established as the experts in road-legal lightweight vehicles, and for the automaker's first hypercar, the HIPERCAR, it's natural the team approached ultimate performance from a perspective of lowering its weight. So…what does it weigh?
In his first drive, Autocar tester Matt Saunders lists 1556 kg / 3,430 lbs (4WD), 1445kg / 3,185 lbs. (2WD)…neither figure seems particularly light.
That's not to say it won't be quick, but what I was reading between the lines is that Ariel is designing an engaging-to-drive hypercar that feels light on its feet, as opposed to the imposing sort of stiffly-sprung, high-downforce hypercar that's constantly having its low-hanging carbon trimmed chip by chip.
Is the HIPERCAR (electric car) fast? Call its speed "staggering," according to Ariel:
To be available in four wheel drive and two wheel drive variants the 880kw/1180bhp lightweight HIPERCAR offers staggering performance with 0 – 60 times of 2.09 seconds and 0 – 100 mph in 4.4 seconds.  With full torque vectoring these times will be improved so that sub 2 second times to 60mph and sub 4 seconds to 100mph are possible.
Did I mention there's an optional turbine range extender? Worst Case Ontario, Ariel says the car is still good for at least 150 miles (241 km)…not too shabby.
---
It's a channel about spotting cars. At Monterey Car Week. THIS is the ground level perspective I'd love to see more of from other creators that attend events like this… An ex-Sultan of Brunei Ferrari 456 'Venice' GT and a Mercedes-Benz 300 SL Coupé sat in parking garages? Yes, please.
---
There's so much to watch I had to share these, too…
Keep reading with a 7-day free trial
Subscribe to may I drive your car? to keep reading this post and get 7 days of free access to the full post archives.