lunchbox 46
Jonathan Ward details the ICON Derelict 1949 Mercury EV Coupe, smart brabus #1, Suzuki Mighy Boy, and paying homage to Nicola Materazzi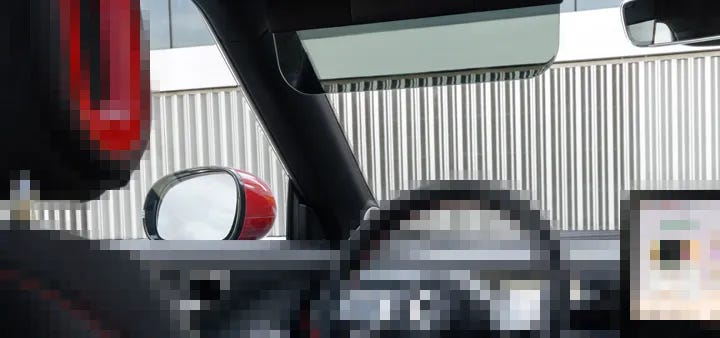 Happy Monday! I've unearthed a few interesting clips and they just happen to be more of a slow burn. If you're into hearing Ferrari F40s at full song, keep scrolling… 💨
---
If the name Jonathan Ward doesn't ring a bell, you're in for a treat. After making a name for himself, along with his wife Jamie, as founders of TLC—North America's leading Toyota Land Cruiser restoration shop—Ward needed more of a challenge. ICON is exactly that: Ward and his team reinvent some of the most compelling vehicles from history. To commission Ward isn't cheap…but his (and his team's) approach is something I wish more builders would emulate.
Both the vehicles and the approach to "marketing" a perpetually booked-up business.
The former child actor doesn't have to produce in-depth videos about ICON vehicles for YouTube, but he does it anyway. I'm glad he takes the time to walk viewers through his now-iconic creations. Recently, he did this 42 minute deep dive on the first ICON EV, a 1949 Mercury Coupe.
Only have a couple of minutes? Start from about five minutes in, when Ward delivers this quote:
"A key thing for ICON is we're trying to upcycle classics, recycle classics in a way that is honoring more traditional industrial design arts with respect to simplicity [and] longevity. Build it standard off-the-shelf wherever possible, but without any of the modern, pencil pusher, focus group, shareholder, Wall St.-driven mandates. Which are more about, "Make it good enough!" …to last the warranty cycle.
"Because unfortunately, like most publicly-traded industries, it's a better business if it falls apart and you throw it away, happily, and you come back and get another one! Keeps the GDP flowing, but it also keeps the landfills busy, and stacked full of crap. So I have always been down with, as much as possible in transportation design, doing like cradle to cradle approach.
"So, not a definitive life cycle, and things are sub-modular so they can evolve over time, because we want these high-functioning automotive sculptures to ideally last forever—or decades, right?"
From sourcing period-correct cloth braiding artfully employed to cover the modern wiring, plus its—working—analog gauges and bespoke billet front motor cover, Ward says the attention to detail pushed this project to finish in about five years.
Two years later than expected, but what's a few years if the vehicle is so purposefully built to last decades?
---
I'm late on this one, please pardon my lack of enthusiasm. More than three weeks ago, smart showed the #1 BRABUS, a buffed up all-wheel-drive ~416 horsepower urban crossover.
First to be offered in China, then in Europe, it's unlikely we'll be able to sample the car's "special augmented soundtrack" as well as genuinely cool translucent sun visors.
Before you ask, yes, I did include all of the specs smart included—its range should reliably hover at around 400 km (250 miles) or more. I covered spy shots of the car and its specs months ago in a feature article about smart's origins. At a claimed less than 4 second 0-to-100 km/h (62 mph) sprint, it's quick—but why does it leave me so ¯\_(ツ)_/¯
see also ::
---
I'm not about to start writing obituaries, however, when the person in question was a legendary engineer and a friend of Didier Cironi—who produced this beautiful tribute film—it deserves our attention.
Nicola Materazzi (1939-2022) may be familiar to Italian car fans, but his work deserves wider recognition. The vehicles he was involved with in chassis and/or engine design was astounding, from Lancia Flavia to the B.Engineering Edonis:
Lancia Fulvia 1300 & 1600 HF

Lancia Stratos Group 4

Lancia Stratos Group 5 "Silhouette"

Lancia LC2 (engine)

Ferrari Testarossa (engine)

Ferrari GTO Evoluzione

Ferrari 328 Turbo

Bugatti EB110 GT

Bugatti EB110 SS
I omitted the car he's most closely associated with, as well as the feature of the short film: the Ferrari F40. People don't just gather at a race circuit to celebrate engineers—but Sig. Materazzi's work is standing the test of time, appreciated for its brilliance. Turbocharged Ferraris? That was Materazzi's work.
Note a portion of Davide's description in this clip about Sig. Materazzi:
I am not going to get into writing everything I could write. I think the interviews we did together are enough to speak for me in this circumstance. In all the last phone calls the Engineer always closed with "David, come see me," and he said this without specifying the implication "that I don't have that much time yet…"
Turn up your headphones: this is one Italian-language clip that speaks in the universal sounds of enthusiasts. Now let me get back to cutting these onions…
see also ::
---
lunchbox reader Brian D. sent over a link to a Suzuki Mighty Boy, which is both a compact Japanese pickup truck and the star in one of my all-time favourite brochures (above). Its commercial? Catchy.
So why not write a tiny bit about it?
A longtime muse of small-displacement vehicle tuners, the 550cc Mighty Boy has one of my all-time favourite names because it answers everything you need to know. What is it? A Mighty Boy. What can it do? Mighty Boy things. Where can it drive? Anywhere a Mighty Boy wants to.
Now legal just about everywhere, any decent importer can source your dream truck, from modified to bone stock—I typically browse on GOONET Exchange (the export-focused version with English menus) to casually pick through what's out there. This tiny Cervo hatchback-based truck wasn't long for the world, but surviving examples and parts are out there.
Keep reading with a 7-day free trial
Subscribe to may I drive your car? to keep reading this post and get 7 days of free access to the full post archives.