lunchbox 47
Formula 1 needs to improve spectator safety, a mint 1996 Geo Prize, and the huge dangers coming soon from in-car technology.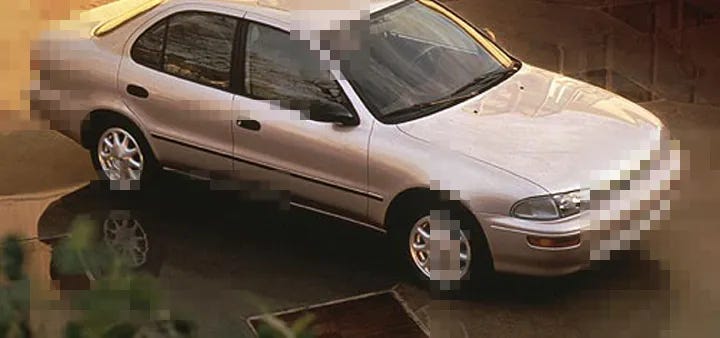 Today's just not a very happy newsletter, and for two important reasons. First, safety at car events. Second, I don't often say you NEED to watch something, but the savagegeese video below about connected cars deserves a wide audience. Ask (force?) your loved ones to watch it, too.
---
"They really picked out the moments when I was alone," she says. "I have never felt so dirty, humiliated and inferior at an event. And unsafe. That is why we went home as soon as possible after the race."
Elizabeth Blackstock, reporting for Jalopnik, featured the quote above from a spectator who was harassed by multiple men at this past weekend's Dutch Grand Prix. The horrifying pattern is that she was far from the only one…and this has been happening more than anyone in power wants to admit or do much of anything about.
This isn't a car thing, it's a person thing: and it's so obviously vile. I'm mentioning it here as a suggestion to a) read her story and b) if you're a speedster.news reader thinks this is not an important topic…that's a clear  🚩. Either examine your own behavior toward women or unsubscribe.
---
"Another talking head video?! Michael!" Hey, don't shoot the messenger.
Similarly, the topic on this one is heavy: data privacy. This must-watch video is also a must-forward and/or must-post-to-the-family-Facebook Group. savagegeese packs a ton of information into 13 minutes, with a clear delivery, simple language, and some of the empathy you'd hope creators have for their audience.
Amazingly, what he's talking about happened to me just the other day: a text message notifying me that a car I'd sold more than a month ago (and one I thought I'd thoroughly deregistered from) texted to tell me it didn't complete its latest charge.
As savagegeese says, imagine this situation five or 10 years after a majority of the cars on the road are fully connected to the internet. No thanks.
---
1996 Geo Prizm, ASK • Sometimes when browsing used vehicles, I stumble upon a mystery like this Geo Prizm. What's it doing in Tochigi, Japan after being sold originally in Westminster, California? I read that off of the OG document sleeve. Speaking of, its condition is…perfect?
I like that the car has more than 130,000 km on the clock and is not some unicorn time capsule kept by a Geo freak. Before today, when's the last time you saw a mint condition Geo Prizm? Exactly; you're welcome.
---
Keep reading with a 7-day free trial
Subscribe to may I drive your car? to keep reading this post and get 7 days of free access to the full post archives.