lunchbox 48
First reviews of the 2023 Volkswagen ID.Buzz, a 540 horsepower Ford Escort (with paddle shift!), and James May crashed an Evo.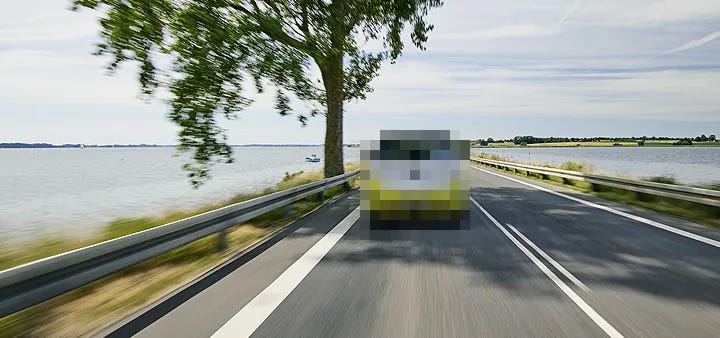 What's worse than crashing a car? Crashing it on camera. After all these years reviewing vehicles—including multiple runs at more than 200 mph—James May has crashed a car in front of his colleagues at The Grand Tour. Thankfully, he's fine, despite telling reporters he'd broken "at least one rib".
---
If you're going to consume anything about The Grand Tour presenters Jeremy Clarkson, James May, or Richard Hammond—get it from its source.
In this short clip, the trio's longtime, ex-Top Gear producer Andy Wilman explains to the celebrity-focused channel It's Gone Viral why people are now talking about how on earth Captain Slow could have ever crashed a car…in a tunnel, no less.
The Grand Tour: A Scandi Flick! special will be released on Amazon Prime Friday, September 16.
see also :: james may nearly crashing his ferrari • pastyitfc123
---
Next up, Jason Torchinsky reviews the Volkswagen ID.Buzz for The Autopian, with a drive in and around Copenhagen, Denmark.
I reckon I could do a decent review, too, but I'd be lying to you (and myself) if I thought I'd be able to approach said story from the wealth of knowledge, hands-on experience, and the love for Volkswagen that Jason has.
I recommend reading his entire—very detailed—story, but I'll leave you with part of the conclusion on this minivan (minEVan?):
"Families, road trips, a space of your own to do whatever in, from camping to drugs to sex to filling full of big dogs to hauling cumbersome objects to mobile workspaces to whatever. It's an open volume of space that's mobile, fundamentally, and that's why the original Bus worked so well, and it's still why this one can, too."
---
When we were colleagues at Petrolicious, Davide Cironi told me his true passion wasn't so much in reporting on car events or even driving supercars sideways around deserted Italian country roads: it was in helping to restore derelict classics to better-than-new condition.
Years later, he's now completed a few bangers, including a ground-up kit "driver's car" Lamborghini Countach and an Alfa Romeo 75.
Engage English subtitles and watch this ban find Ford Escort receive a new lease on life thanks to Cironi, his friend Bulldozer, a 540 horsepower Cosworth engine, sequential transmission, Ferrari F430 brakes, and lots of tuning. Being a very long feature, I'll leave you with a shortcut to the final drive portion. Bellissima!
Keep reading with a 7-day free trial
Subscribe to may I drive your car? to keep reading this post and get 7 days of free access to the full post archives.