lunchbox 49
Touring the 2022 Chengdu Motor Show, examining the KTM X-Bow GT-XR, and a programmer who's building engines virtually.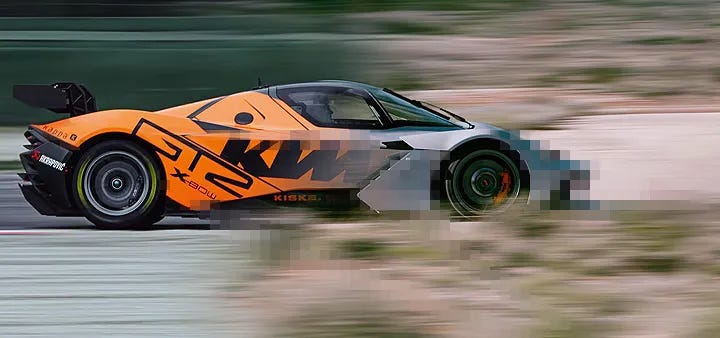 Each of today's topics could be its own book, but the one I'm most interested in is programmer/artist Ange Yaghi's new Engine Simulator. At its most superficial, software can now authentically reproduce engine sounds—not the Dirt Devil-like approximations heard in all other racing games.
Sound designers can get close—plus add audiovisual cues like backfiring, pops, exhaust flames, and so on—but as you'll see, Ange Yaghi's approach already stands a much better chance at blasting past the Uncanny Valley.
---
I most often watch B Sport for the channel's aerodynamic and motorsport videos, and was delighted when this feature on the new roadgoing KTM X-Bow GT-XR appeared. Instead of delving into it superficially as many automotive outlets have, B Sport truly cracks open the clamshell here to reveal a few nuggets of excellence.
Delving into tremendous detail—like where the GT-XR (unexpectedly) gets its tail lights from—this fast-paced technical explainer turned me into a fan of this supercar in approximately 8 minutes. If you're wondering how a race car  can be made road legal, how A/C works on a car with no doors, or how much luggage it carries (a lot!), you're in luck.
Not knowing there was a road going KTM in the works, for the very first lunchbox newsletter, I'd found and featured a race-spec 2020 KTM GT4 made road legal in Germany…which is still for sale at more than €310,000.
With the designed-for-the-road GT-XR now being offered for less money than even a recent race to road conversion, now's the time to sell that Porsche allotment and start stocking up on sweat-wicking base layers (preferably in orange) in anticipation of owning a truly modern race car.
While I think its face is its worst attribute, from front splitter to rear diffuser it's tough to find an ounce of added gimmick in the design by KISKA. A serious supercar, for serious drivers committed to living at the apex of their potential…or something like that.
If I can't afford the car, will they at least sell me some orange underwear instead?
see also ::
---
Author disclosure: I am a Patreon supporter of this project
With more than 1,000,000 views since posting the first video about Engine Simulator a month ago, clearly I'm not the only person who's interested in Ande Yaghi's latest project.
Key here is in the title: simulator.
What began as a programming challenge to generate realistic engine sounds for games is now an impressive piece of software that simulates engines to generate sounds. Yaghi's approach is to mathematically model as many engine parameters as possible, then fire it up and be able to interact with it in realtime—for now, mostly to create basic dynamometer sounds of revving and shifting.
Sounds simple, is not.
There's a rigid body simulation for the fixed components, a physics simulation for the rotating assemblies—including inertia and sliding friction,  a fluid simulation for the air / fuel flow, and it must compute at a minimum of 80,000 frames per second or the software's 1s and 0s output Ohs and Fffs.
All this to calculate a pressure wave—the "exhaust" filters then modify a sound propagation pattern…and you hear a "vroom vroom". Amazingly for such early release software, horsepower and torque numbers from the model are said to be within +/- 10% of actual values.
By modeling additional parameters than what I've listed above, the sim is already able to accurately reproduce effects like the distinct sound of engine braking under deceleration.
What's the point of all this? Better in-game car sounds. Though if I was an auto manufacturer or supplier, I'd be leaving flowers, candy, and cash at his doorstep for equity in whatever it is this becomes.
For now, the strong response to his project means Yaghi's launched a Patreon and (one day) with more development plans to release Engine Simulator as a standalone piece of software.
His GitHub for the early open source software builds will be updated less and less—but all of the code, a Discord server, Patreon, etc. is currently available if you're interested in following.
I urge you to watch Yaghi's explainer video linked below; it's kind of like listening to a conductor that has created an entire orchestra from scratch. We're going to talk about the project soon and I'll bring that interview to speedster.news within the next week or two. ;)
see also ::
Author disclosure: I am a Patreon supporter of this project
---
My voice here is as someone who remembers the heyday of the Detroit International Auto Show held for years at Cobo Hall and was a reluctant witness to its slow decline—someday I'll dig up and share the photos I took in the '90s with my Teenage Mutant Ninja Turtles point and shoot.
Anyway, from International Auto Show…to At Least My Piss Isn't Freezing Outside It's Warmer In Here International Auto Show…and the upcoming 2022 We Finally Moved It To Mid-September International Auto Show, I have a sinking feeling that North American brands will need to somehow rebrand Chengdu, China as the Motor City if slogans like "Imported From Detroit" ever return on merit.
To quote a general news report about the 2022 Chengdu Motor Show, emphasis mine:
"A total of 128 Chinese and international brands are showcasing about 1,600 [vehicle] models at the show. The booth areas combined reach more than 200,000 square meters…"
Whereas the main floor at Cobo Hall was ~ 623,000 sq-ft, the math tells me the Chengdu Motor Show is something like 2.15m sq-ft—eclipsing even the gigantic SEMA show in Las Vegas.
Instead of reading someone else's take on the show, why not stroll the floor and form your own opinion?
This walkthrough doesn't have much commentary, but it shows a substantial crowd, huge array of new models, and a seemingly more optimistic take on how mobility will evolve in the near future.
Oh, and as the screenshot above suggests—good ol' fashioned dance routines to accompany new car reveals. They're never not awkward, but it still beats NAIAS 2008 when I witnessed three herds: reporters, auto executives, and longhorn cattle realize we were all in the wrong place at the same time together in a chilly downtown corridor.
see also :: Auto companies stage new-car extravaganza • chinadaily.com.cn

Keep reading with a 7-day free trial
Subscribe to may I drive your car? to keep reading this post and get 7 days of free access to the full post archives.