lunchbox 50
Jeep flexes its Photoshop muscles, Volkswagen joins the 4x4 EV club, crossing the infamous Rufford Ford, Wal-Mart's van is hot, killer brake dust is not.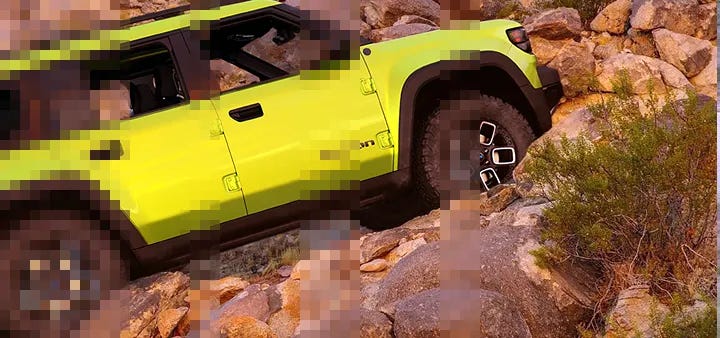 In celebration of 50 issues, today I'm sharing another of my YouTube guilty pleasures: Rufford (Lane) Ford, no relation to Henry or his descendants. You'll remember from school that a ford is where you cross a shallow body of water, like a stream, river, or creek.
This particular ford in the UK is already quite famous, having already been featured by the BBC, The Drive, and a few other publications.
Some things are popular for a reason.
---
Videos shot by YouTuber BENGREGERS at the Rufford Lane ford have already amassed millions of views and close to 100k subscribers. I'm one of them, and after having spent hours watching every imaginable type of vehicle become disabled by this short stretch of waterway I can promise it's addictive, family-friendly car content.
Why? Schadenfreude. Curiosity. Confusion. Triumph. Some vehicles make it—many do not. Water levels naturally fluctuate between a few inches and as much as five feet; imagine going out during a rainy day and your shortest route home becomes impassable. The detour around Rufford Lane ford? Just 4 miles or 6.4 km, so risking it here is literally a fool's errand.
There's a lesson to be learned as well if you're ever crossing a ford you're not able to scope out beforehand. Can you spot watch savvy drivers are performing the technique a few times in each video BENGREGERS uploads?
The key is to slowly enter the water, create a small bow wake and carry that momentum through the ford. This wake keeps the water level lower near the hood, grille, and presumably air intakes. Flying in and making a splash is at best a 50/50. I've done a few fords myself, and they're very fun…provided all goes to plan.
Now that you're up to speed, enjoy the carnage.
+
see also ::
---
I believe Jeep and its desire to stake a claim to a nascent electric off-road market, however…it's not going to be as easy as dropping a series of sexy Photoshop teasers. Although the Wrangler 4xe is the best-selling plug-in hybrid in the U.S., the next generation of all-electric machines may lead to a different result.
Spending way too much time reading everyone else's take on the Jeep announcement of its upcoming Wrangler-sized Recon EV, small Avenger EV or PHEV, and a pavement-focused Wagoneer S, I've decided to spend my time elsewhere and instead send you off to Motor Trend and Autocar's coverage.
Why? There's still a bit too much speculation in the air for my taste. I'm more excited to see final production versions of Jeep EVs for North America.
see also ::
---
Do you have any loved ones who claim good or bad news arrives in threes? In the last few weeks, we've had Jeep's EV teasers, production-ready 1,000 horsepower off-roaders being shown in China, and now a team at Volkswagen has lightly modified an ID.4 GTX for off-road duties, creating the ID.XTREME prototype you see here.
With an obvious lift, brush guard, 3D-printed fender flares, roof carrier, and uprated power figures to 375 horsepower, the key upgrade in my opinion is a ruggedized skid plate and undertray—we wouldn't want the ID.XTREME to be defeated by a wild ford, would we?
---
Race cars go through brakes. Racing brakes make lots of dust. And this longtime issue has been again making waves in Formula 1, where the level of brake dust during races in 2022 has been excessive. THE RACE does a great job of laying out the issue, including health concerns by multiple drivers after coughing up or being found to have their lungs covered in black carbon particles.
I looked into the solution suggested by THE RACE, and it's easy to understand. A company called Tallano Technologie has created an anti-brake dust system for road cars called Tamic.
Equipped with two small ducted fans mounted above the brakes, with intake hoses run closer to the calipers in order to suck particles up and into a canister, at its most simple you could claim Tallano Technologie added tiny vacuums to each corner of the car. Brake pads are slotted to further direct particles toward the Tamic system. Filters inside the canister are changed and recycled after two years or 30,000 km.
At up to a claimed 90% particle reduction, it's something I'd consider adding to my own car, given my long-term view to its continued use…however, Tallano is just getting started and it may be many years before these systems are commonplace. Besides significantly reducing the environmental impact of emissions from brakes, side benefits are cleaner wheels and potentially more effective brakes—provided enough hot air can also be extracted from the caliper area.
see also :: Tallano Technologie
---
I've been putting off writing the Canoo portion of this newsletter (it is 11:58 rn) 'cause, well…it pains me the little bug-busses haven't already infested every corner of our lives. However, that may change if Wal-Mart's trial run of last-mile delivery versions is a success. Two thoughts, first: how frickin' cool is this van?! Second: no matter how new something is, it will eventually be showing up at auction someday…
If private buyers could get their hands on Chevrolet Spark EVs converted by Domino's as last-mile delivery ovens, there's hope speedster.news will one day have a stylish cocoon to operate from. ;)
Keep reading with a 7-day free trial
Subscribe to may I drive your car? to keep reading this post and get 7 days of free access to the full post archives.