lunchbox 54
2024 Ford Mustang and Ford Mustang Dark Horse, YiChe Garage Big EV 6x6, AI-led design, and a homemade Transformer.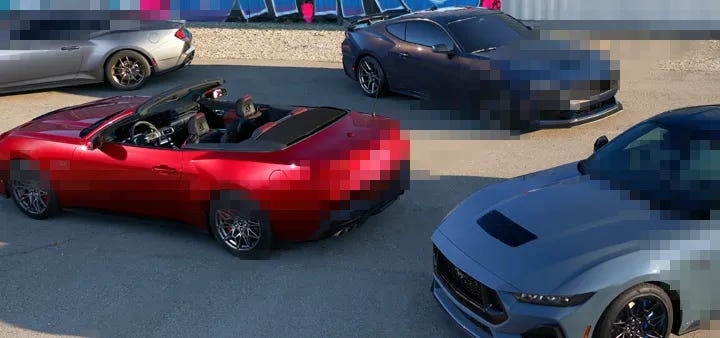 It's new Mustang day, and better yet, new Mustang nameplate day. Ford has smartly decided to add an upscale, race-engineered nameplate called Mustang Dark Horse to compete with other track-ready BMWs, Porsches, and Corvettes. Early specifications suggest the Blue Oval will be spending more time in the winner's circle.
Check out my longer piece on Artificial Intelligence below, complete with car-related scenarios of AI-iterated doom.
---
Here's how I see it. Dodge went very traditional and simple with its (current) muscle car. Chevrolet exerts much effort in melding traditional with modern, and until this latest Mustang was revealed last night, I'd have said Ford was content to do the same.
I'm glad it didn't: leaning into the Mustang's it-has-always-raced past has revealed a new opportunity, one that will continue to separate it from other "muscle car" nameplates.
Mustangs above are, well, Mustangs. The ones below, however, are purosangue.
Called Mustang Dark Horse, Dark Horse S, and Dark Horse R, Ford is finally putting these stallions one hot shoe from the racetrack with standard and optional features like trick Multimatic dampers, a heavily-revised 5.0-litre V8 engine, Tremec 6-speed manual transmission, seam welding, an FIA-compliant roll cage, fire suppression—and a pit lane speed limiter.
No excuse to be speeding through school zones, hear?
Think of it like how Porsche or Chevrolet (Corvette) does it: Dark Horse is the sort of comfortable performance one, a 911 Carrera S. The Dark Horse S is a 911 GT3, and Dark Horse R is closer to a 911 GT3 RS. You'll forgive me if the comparison isn't quite perfect, point is there are now a lineup of impressive road cars to compliment existing Mustang racing programs—giving Ford a stronger business case to keep improving both.
Another smart move, because as an internal combustion-only (for now) vehicle, the Mustang remains one of the few affordable, rear-drive ICE vehicles with a manual transmission. Race on Sunday, sell on Monday.
Watch your competitors fade into the sunset, while you drive off into it.
I'm not in the market for the equivalent Porsche, Corvette, BMW, whatever sports car, but the Ford option is the most appealing to me, at least considering the options here in Canada.
Order the S in an invisible shade of silver, replace its bumpers, skirts, and rear spoiler with massaged base model ones, have the optional carbon fibre wheels painted silver, and slip into traffic with the ability to enjoy a high-performance car without everyone's cell phones coming out…
see also ::
---
Start wondering who holds the computing power of Artificial Intelligence (AI) and what they intend to do with it. As long as there is a person with final say, AI is an ever-expanding tool for us to wield responsibly.
In a longer feature story (with snazzy pictures), I put down some of my thoughts on using AI in design and beyond.
---
Filmed entirely in English, this review of an oddball off-roader is worth a watch. What is it? A Wuling Mini EV, massaged to fit atop a stretched truck chassis and dubbed the Big EV 6x6.
It's cool in ways I least expected it to be—hello, working A/C!—and utterly terrible for things I hoped it was capable of.
Still, this remarkable creation is yet another example of faultless human ingenuity, logic, and craftsmanship: check and mate, AI. Three cheers to Wheelsboy for wrestling with the Big EV 6x6 for a review.
---
2003 Chevrolet 2500 custom, $45,000 Cdn • This beaut was dropped into a group chat I'm in: with friends like mine, who needs enemies? The best thing that could happen to this custom-built show truck is for a car YouTuber to find it, buy it, mod it, and film the entire thing.
Forward this email along and maybe this 'Transformer' will enjoy a new lease on life. Here's the text in full for record-keeping:
"fully customized from bumper to bumper show truck, its a one of a kind. has won 1000s of trophies at car shows. has over 30 speakers, also rope, laser and strobe lighting inside and out real head turner. would make a great promotional vehicle for a business. professional appraisal at $120,000. selling due to health reasons. my loss is your gain. to sell or trade for something interesting of equal value."
• via trader.ca
Keep reading with a 7-day free trial
Subscribe to may I drive your car? to keep reading this post and get 7 days of free access to the full post archives.