lunchbox 55
Today's all about energy: BMW Dune Taxi EV, getting the most from our streets, and $2,000 EVs from China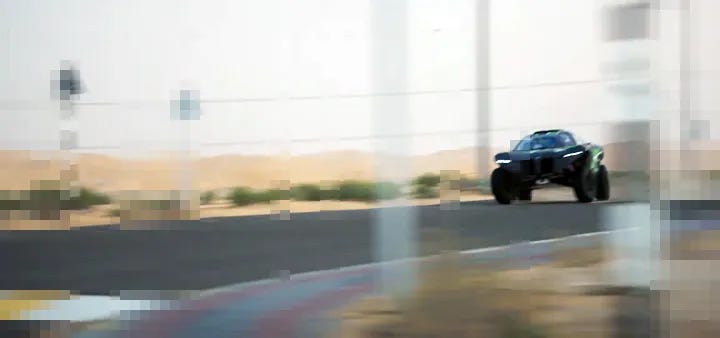 Just…go watch the Dune Taxi film. BMW has released no official information (yet), so use your imagination for why it would under-the-radar launch a serious-looking race-ready electric off-roader in the Middle East.
---
It's Friday, I feel like everything I need to say about this is above and below until BMW releases more info. ;)
see also :: BMW Dune Taxi Electric Prototype Breaks Cover With 536 HP, 738 LB-FT • Motor1.com
---
The creator of Not Just Bikes grew up in Fake London, Ontario, about an hour from my hometown of Sarnia.
I don't know him, but he travels back to Canada from time to time, and it sure is delightful to hear his compelling takedowns of North American traffic infrastructure.
As a walker and cyclist myself, it's undeniable that streets are still designed around garbage ideas, pseudo-science, and lobbying efforts to keep people in cars at all costs.
If you're into roundabouts, merges, and cloverleaf interchanges as much as the next car person, keep in mind I'm sharing this clip because it's enjoyable to watch and not at all the drab PowerPoint presentation on "North American traffic infrastructure" you have nightmares about.
---
Let me first speak to the haters. This is a shitty little EV truck from China that's slow, low-powered, cheaply built, and terrible to drive. It's a man-sized Power Wheels that must have melted on the ship over to the joke state of Florida, where this video was filmed.
Or look at it like this: a ~$2,000 Usd. small electric utility truck with a low gear, dump bed, heater, air conditioning, touchscreen stereo, sunroof, steering wheel audio controls, and a full interior.
Micah at EbikeSchool.com is a longtime expert in, well, ebikes and smaller electric vehicles, so it's been fascinating to watch him and his dad use and improve this little truck.
Now, with the addition of a tiny rooftop solar panel, it recharges most of the power it uses during the day, negating the need to even plug in.
How close are we to headlines that proclaim: Florida Man Invents Perpetual Motion Machine?
see also ::
Note: The solar panel video was posted more recently; if you want to watch in chronological order, start with the 3 month update ;)
---
Keep reading with a 7-day free trial
Subscribe to may I drive your car? to keep reading this post and get 7 days of free access to the full post archives.