lunchbox 56
An all-new Mazda MX-5 speedster(!) from Italy, a minimal off-roader from Romania, and catching up with AI, EVs, and shoddy voice commands.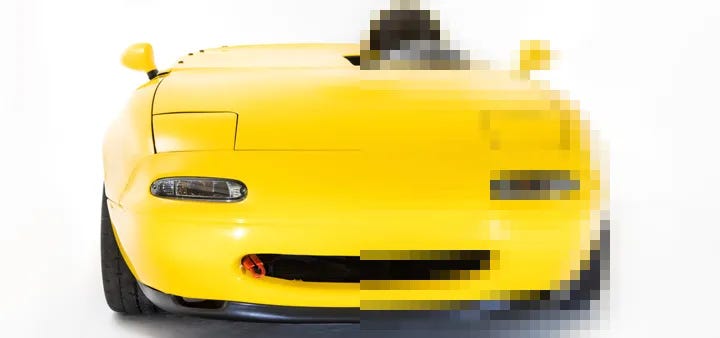 Can't help but notice that as consumer automotive technology gets more advanced, players in the game still tease us with impressive, why-can't-I-buy-one, minimalism-first concepts. There have been so…so many it makes my brain hurt to think of them all.
Today, however, we start with a minimal speedster that's exactly in line with how I see personal transportation evolving in the future: remixing beloved old cars with new materials and technology.
---
You're at speedster.news, and here's a new speedster—the Gorgona Cars NM Concept. Leave it to the Italians (in a company co-founded by an automotive writer, no less) to zero in on how to squeeze the most tangy zest from our roads while we're still inhaling, exhaling, and heavy breathing.
Mazda itself has done more than one MX-5 speedster concept…and never produced them.
Super and hypercar manufacturers tend to create original roofless editions in an unknowable pattern of re-minting history on anniversaries, market signals, moon phases—and price them out of this world.
Why not start from something that's already great, re-engineer what's needed, and, pun intended, make it the singer to a more modern tune?
Under the hood is a modern 1,998cc Mazda Skyactiv G 4-cylinder direct injection engine with 184 horsepower, 6-speed transmission, and all of its emissions controls intact. The rest is simple…but not: one driver's seat, one steering wheel, and a claimed 830 kg (1,830 lbs) curb weight.
Those of you who have read about older open cockpit cars will say: "buffeting is going to be awful," but Gorgona Cars states the revised front section, bottom fairing, and front airflow will help to make the hot seat an engaging place to be.
I'm well aware drivers of monopostos either look really cool, or like a sentient sperm living a fantasy life from trust fund money.
An NM Concept in full yellow exterior and matching yellow driver's helmet is a bit too Adventure Time Banana Guard for my liking, but a full fuzzy green wrap and 8-ball lid? That's the colour of money.
see also :: Single-Seater Mazda MX-5 NA With An ND Engine Looks Like A Lot Of Fun • carscoops
---
If I had $1 for every amazing-looking minimalist off-road concept I've seen, I'd be way too wealthy to want a minimal off-roader.
Herein lies the problem with forward-looking, EV-first concepts like the Dacia Manifesto: its puffy Arc'teryx-inspired seat pads (that double as sleeping bags), bring-your-own-device approach, maintenance-free drivetrain + puncture-free tires, and cork dashboard are too clever to be taken seriously. Where's the profit in giving people only what they need?
The only believable aspect is the Manifesto's attractive recycled Starkle material, made from processed polypropylene, with a flecked effect added—it's coming soon to the next Dacia Duster.
see also :: Dacia Manifesto Concept Is A Futuristic EV Off-Roader For Outdoors Enthusiasts • Carscoops
---
Wholesome Canadian car YouTubers and People Who Follow Me Back, The Straight Pipes, recently discovered a hidden perk of the new Ford F-150 Lightning electric pickup truck: it can charge itself.
The seven stages of emoji are as follows: 🧐🤨😮⚠️😐😏😆
---
Have you seen the recent viral video that begins, "Directions to Manchester Airport…"? According to the description, backstory is that an American BMW M5 owner rented the same car while in the UK so he'd be familiar with at least that. As someone who uses voice commands often, he unsuccessfully tried for two days to have the UK M5 do what his US M5 could do…until he cracked the code.
---
Queued up midway through the review on purpose, note this review in contrast to the BMW above.
The Li Auto L9's combination of steering wheel touchscreen controls, dual SIM cards, and gesture-improved voice commands are much closer to magical. Whereas many voice command systems are easily tripped up by simple destination commands, imagine being able to casually gesture to the sunroof and ask your car to close it. It's no fantasy…
---
In case you missed it, my latest feature concerns Software-Defined Vehicles (SDVs), and why we all might want to be offering a more critical eye to their ongoing, relentless development. Not to deny us technology, but to curtain the add-on Software As A Service (SAAS) approach currently driving subscription-first features.
Keep reading with a 7-day free trial
Subscribe to may I drive your car? to keep reading this post and get 7 days of free access to the full post archives.