lunchbox 57
Today, another speedster—this time born from jets. Tricking AI into designing cars for me, and car prices (womp womp)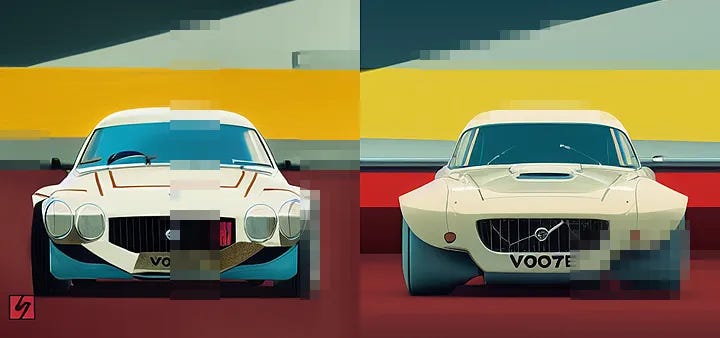 As I explore the capabilities of Artificial Intelligence (AI), consider questions, images, or problems an image generation tool could solve.
So far, I've been preparing articles on road trips via AI, cars designed by AI, and its potential for design / iteration outside of traditional channels.
In other words: have AI design a shape you like within some sort of platform, have the form 3D printed, have the inside components dialed in, and the car itself becomes unique to its owner.
Start with letting people create their front and rear fascias & go from there…
---
---
I'd like to formally notify Delage Automobiles that there's only one true D12, and anything else with that name has impossibly high standards to meet.
The Delage D12 may indeed have a 7.6-litre V12 engine and EV (hybrid) boost, but will its exhaust make you hallucinate and sweat 'til you start losing weight?
It's the first road car fitted with the legendary Mauro Bianchi-designed 'contractive' suspension that led McLaren and Ferrari to dominant Formula 1 World Championships, but does it love scuffles and never hesitates to sock you with swollen knuckles?
You can order this tandem 2-seater it in an impressive clamshell or speedster canopy with an aircraft-style yoke 'wheel' and well-trimmed cockpit; but inside that shit's looking smaller than a decimal.
It has a Focal audio system, but how's the bass drop when tackling the Dirty Dozen?
Road-legal in the U.S. and currently taking orders, for now, the reborn Delage marque and its D12 hypercar (prototype) is best experienced over the shoulder of racing driver Oliver Webb on Instagram.
see also ::
---
I'm spending a lot of time these days exploring AI by "designing" Volvo race cars that never existed. Call them echos of roads never taken, call them bright, unfulfilling fantasies akin to icons on a slot machine, or simply 'cool': I'm shocked at how effective the early stage Midjourney AI tool is.
Starting from a text prompt, you ask the system through a chat prompt to /imagine. In my case, the query is something like:
/ imagine volvo c303, daf turbotwin, volvo truck, volvo Dakar, off-road race truck::10, desert dunes::5, Volvo 4x4::7, racing::4, Dakar::10, cinematic, volumetric, leica m, Volvo semi truck, front 3/4, prototype, photorealistic style, unreal render style, utah, centre in frame
I've been experimenting at a very basic level, and wanted to share these early designs after only a week or so of toying around. I'm confident that through better prompts and source material, Midjourney could be an effective tool for conveying meaning with the speedster.news community and beyond.
This does not mean I don't want to work with AI over actual artists, or that one can somehow replace the other. Get in touch if you have a project or idea to pitch for speedster.news and you're not a sentient computer. ;)
---
I've written dozens of legitimate, researched articles in automotive media outlets about how to buy a car.
Now, with more miles on me, I think it's probably the wrong approach for this topic entirely.
It's not that it's impossible, it's that there's a knowledge gap between what little you can know (before buying a car) and how much you should know (before…).
The more you know, often 1. the less it is you want to know; 2. the less you think you know; 3. so you decide to shut down and figure, "Hey, we're in a fair, free, and just society, this shouldn't be too tough to do on my own…"
I hope my articles helped…but…things aren't getting better out there. Longer explainer videos like this one from Donut are more in line with the type of content we've got to be sharing with our friends and family to help educate them on the basics. As this topic shows, the basics are often far from it.
---
---
Keep reading with a 7-day free trial
Subscribe to may I drive your car? to keep reading this post and get 7 days of free access to the full post archives.