lunchbox 58
The heavyweight Mercedes-AMG C 63 S E PERFORMANCE, lightweight Caterham updates, and Ken Block's latest whip has its tires vaporized.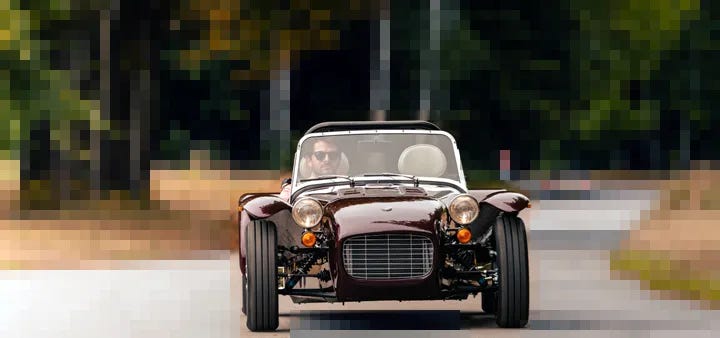 Sometimes, we buy a box of these rectangular cookies where the edges are neatly fluted and a thin, embossed slab of milk chocolate is precisely formed on top. They're delicious, and are eaten pretty quickly.
A few months ago, they were going more quickly than usual—confusingly so. After looking more carefully, I noticed the 2x3 tray used to stack our treats (two stacks across and three down) was made shallower in the middle row. A total of six cookies in the middle rows was, now, only four.
That's what the new Mercedes-AMG C 63 S E PERFORMANCE reminded me of; will those extra cookies even be missed?
---
Officially the most powerful production 4-cylinder engine, the most powerful C Class ever, and first with an electrically-assisted exhaust turbocharger, and Formula 1-inspired 400 volt hybrid system—why do I get the feeling the 2023 Mercedes-AMG C 63 S E PERFORMANCE will make some critics feel like they're getting fewer cookies?
Six hundred and eighty horsepower combined, minus the 204 electric motor gives a 476 horsepower engine. I bet the whole ensemble kicks like nothing else: the electric motor acts on the rear axle, and Mercedes-AMG employs a two-speed transmission that automatically shifts at ~140 km/h.
Why? To keep the electric motor delivering as much power, as efficiently, as possible.
I recommend diving into the entire press release below, which goes into typical levels of Mercedes-Benz detail:
For the direct cooling, the AMG specialists had to develop new cooling modules that are only millimetres thin. Around 14 litres of coolant circulate from top to bottom through the entire battery past each cell with the help of a specially developed high-performance electric pump, also flowing through an oil/water heat exchanger attached directly to the battery. This conducts the heat into one of the vehicle's two low-temperature (LT) circuits, and from there to the LT radiator at the front of the car where it is released into the outside air. The system is designed to ensure even heat distribution in the battery.
Taken as a whole, the quoted fuel consumption figures are 6.9 L/100 km in combined city / highway driving, which is somehow in the ballpark, if not better than what reviewers have been seeing from your everyday $46,600 Usd.++ 4-cylinder, mild hybrid C300 'Benz. In other words, here's a link to C43s at Bring A Trailer, which are still comfortably available for less than $30,000 Usd.
There is also a sedan version.
see also :: 2024 Mercedes-AMG C63 Silences Doubters with a 671-HP Hybrid Wallop • Car and Driver
---
Caterham is relaunching its Super Seven moniker with two cars—but first, what's a 'Super' Seven? Pretty much the elongated front guards, and way more chrome on offer. No complaints here.
Your choice of Super Seven 600 (660cc Suzuki 3-cylinder engine) or Super Seven 2000 (2000cc Ford Duratec engine). The larger number is the most powerful option, at a tremendous 180 bhp. Figure a zero to sixty mph (96 km/h) time of around 4.8 seconds at best and 7 at worst.
Unlike the 'Benz above, the standard features amount to little more than a couple of paragraphs sandwiched between photos of (weirdly, only guys) driving these classic, still-desirable roadsters:
Also included as standard are Avon's ZT7 tyres, chrome finishes on the grille, windscreen and filler cap, a black leather Moto-Lita steering wheel, carpeted rear panel, polished exhaust and LED rear lights.
Given the narrower arches on the Super Seven 600, it boasts 14" silver Juno wheels as standard, while the Super Seven 2000 features 14" Classic-style wheels. When it comes to the chassis sizes, the Super Seven 600 will only be available in the standard chassis variant. The Super Seven 2000 is offered in standard and large chassis sizes.
This is the way. If you're ever ordering alloys for a car in the same diameter you'd order a pizza in, you're winning. More at:
---
As a land of taillight lore, car designers gone wild, and collections of misfit (toy) cars, The Autopian is a must-visit publication for all of us who embrace the weird side(s) of transportation culture. So when site founder Jason Torchinsky posted this piece about a Volkswagen being dubbed the 'most novel', I had to check it out.
With far greater functionality—and sealed front storage—the story of this Volkswagen Dune Buggy homebuilt by a guy named Brandon Smisek (and what's happened since) is arguably just as interesting as the car itself.
see also :: 1968 Volkswagen Smisek Dune Buggy • MARQUED
---
The call to "send it" comes in at around the 13-minute mark. That's when Ken Block gets to unleash his brand new, classically-inspired project, an Audi Sport quattro replica… why am i still typing you've already clicked haven't you… 🏁
Keep reading with a 7-day free trial
Subscribe to may I drive your car? to keep reading this post and get 7 days of free access to the full post archives.