lunchbox 59
Volvo starts to develop in a dangerous direction, the audacity of an American super-truck in the UK, a stunning Porsche restoration, dealer markups, and celebrating the St. Mary's Trophy.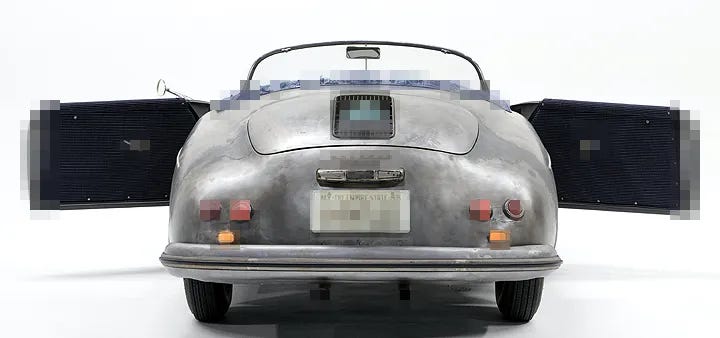 It's tough to get a Porsche restoration just right—especially if you're trying to cut through the noise of the 1,000,000 projects flooding the internet at any one time.
Finally: an inspired creator chases a different kind of Porsche perfection.
---
First, a massive credit to Daniel Arsham for turning portions of my Volvo 740 Turbo project's Pinterest inspiration board into reality. I've always wanted denim seats in my own car, and have been saving old jeans intending to complete my own sashiko stitching and boro-inspired seat design. That's still in the cards—at least now there's a reference for how to do it well.
Arsham's gorgeous new project car, 'Bonsai,' is a 1955 Porsche 356 Speedster refined by the concept of Wabi Sabi. Restored not to become a perfect show car but a living 70-year-old object makes me feel more for this roadster than Carrera, Sally ever could.
Relying on the tried-and-true method of applying linseed oil to protect the raw metal finish (a rat rodder's secret sauce) and make it look every bit as old as it is, the Bonsai's mechanical elements were slightly styled and fully restored.
Tatami trunk mat? Weathered bronze rear badge? Check and check—the more you see, the more you end up finding…
see also :: @danielarsham studio on Instagram + Boro (Wikipedia)
---
It's never not entertaining to watch the ol' trope of a very large or very small vehicle placed in an unfamiliar environment, and I've even tried (long ago) to do this type of content. Mad respect to the magic we remember—like Jeremy Clarkson's Peel P50 review inside the BBC offices.

Matt Watson and production values at carwow are great but much more down to earth than Top Gear. In my opinion, it makes this test even more entertaining because—gags aside—it's not like carwow has a country house filled with lawyers in case a parked car gets clipped.
Plus, it takes real skill to maintain an on-camera persona and not engage with passersby to explain that it is, in fact, your job as a YouTuber to sprinkle a dash of inconvenience into their day. For views? For science. Wait 'til you see how much a fill-up costs…
"Why do they call it 'gas'?! It's a liquid!!" • Matt Watson, carwow
---
Yesterday, in anticipation of its EX90 all-electric flagship SUV coming soon, Volvo announced a suite of driver assistance technologies. After years of investment in LIDAR technology, AI-assisted self-driving software, and pondering the question: "What if we could make cars more dangerous?" we now have the analog safety champion stepping firmly into the digital space.
Volvo is trying to sell cars, obviously. But the more I hear about these systems, the more I wonder if they aren't from a flawed dream of a self-driving future. Think about it: as safe as an EX90's occupants will be, these systems will not only take years to filter through other vehicles within the Volvo Cars / Geely portfolio—but do d**k all for progressing society toward more equitable transportation systems.
Unlike the safety belt, which Volvo engineer Nils Bohlin designed and released without a patent—to save more lives—these software systems are walled prisons of personal data stores, sensor data, GPS traces, and much more.
It's no use if your car (and data centre employees 1,000 km away) knows you're drowsy or medically struggling…but can't alert others. Is it even ecologically sound to develop a heavyweight self-driving car, where the material costs are nothing compared with the immaterial—terabytes of data that have to be powered, stored, and archived.
In this timeline, we'll evolve to survive car crashes only to live underground alongside our self-driving data stores. Read my deep dive feature on Software-Defined Vehicles (SDV) for more: Rage Against The Connected Machine.
+
+
---
It started with Nilay Patel (Editor In Chief of The Verge) opening up about a recent dealership experience:
"The Ford dealer that sold me my truck is happily offering me $1k more than I paid to trade it in… if I pay $35k over MSRP for a Lightning. Are people this bad at math lol" • @reckless
The photo above, purportedly taken at a Mercedes-Benz dealer in Surrey, BC, Canada, came in as a reply from @sdw, along with the most cryptic of captions: "Lots of interesting dealer stuff going around".
Those of us with a high tolerance for pain know these contracts and behaviors are not new, but they tend to reek of a transactional desperation that seems incompatible with every other way of doing business. When I was younger and naïve, I believed the more you had to spend the easier (and more enjoyable) it was to purchase your dream car.
It took probably two weeks of writing about cars in my early '20s to learn, actually, no: a hardworking Honda Civic or Mitsubishi Mirage salesperson really does have to work 100x harder to match figures within cheaply photocopied purchase agreements found at a high-end stores.
Anyway, why would this contract exist? To start, exports.
The G is not only already sold like-for-like in different markets, but with a large number of them out in the world, choosing between a brand-new one and a nicer 1-year-old example from, say, Surrey, might be swayed by currency fluctuations as much as the SUV itself.
Then, middlemen, brokers, and so on get their piece, and an SUV originally spec'd for Canada ends up becoming a grey import somewhere else within a few years. Dealers and manufacturers obviously hate losing control over their stock of vehicles, especially when someone else has figured out how to cut in on profits the official channels can't profit from.
With an agreement as you see above, G customers stay locked in to a perpetual cycle of upgrades, the dealership stays free from manufacturer scrutiny, and sales projections (should) stay on an upward trajectory. Various added security deposits should be confirmation that, finally, they've made it.
It's not about the access to the hottest cars, exclusive events, or invites to ribbon-cuttings, motoring enthusiasm is really about these contractual obligations of love. The dealership values them highly.
True love is marrying your car dealer, and you can't put a price on that.
---
When Boomers and Zoomers talk about the good ol' days, they're referring, in part, to decades of on-track battles between diverse, production-based cars.
Arguably, vintage competition between cars like the Ford Galaxie 500, Ford-Lotus Cortina MK1, Alfa Romeo Giulia Sprint GTA, and Morris Mini Cooper S is even better today at venues like the Goodwood Revival.
Each is fully-prepared, restored, and tyre'd to modern standards, and I'd be cynical to claim these owner-drivers and hotshoe-drivers aren't driving flat-out. In the straights, the more powerful Galaxies shoot ahead visibly, and Minis get left behind. In the corners, the smaller cars close up as it glued to the tarmac.
In the middle? The Alfas, BMWs, and Ford Cortinas. The full race has everything, from cameras onboard in time for the commentator's curse, huge oversteer moments, Minis colliding with Barry R, steward's decisions, and multiple David vs. Goliath battles. We can never stop the relentless march of time, but I'm struggling to see how this 2022 race isn't as good (if not better) than much of the in-period racing I've watched.
see also :: Goodwood's most powerful race | 2022 Whitsun Trophy highlights | Goodwood Revival 2022 • Goodwood Road & Racing
Keep reading with a 7-day free trial
Subscribe to may I drive your car? to keep reading this post and get 7 days of free access to the full post archives.