lunchbox 86
No hints but there's a new red car coming to race near you in 2023…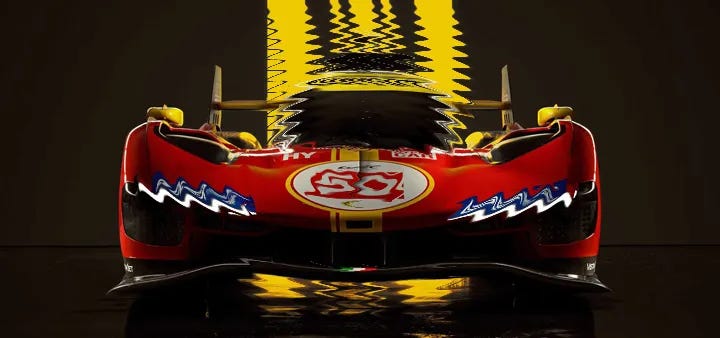 People are calling it a new "Golden Age" of endurance racing, and I disagree. It hasn't started yet.
To me, a Golden Age would imply rules, budgets, and the racing itself has been at a high level consistently for years—not simply where the rules change, manufacturers bring new cars hoping to take advantage of said rules, and after spending millions on mediocre results they're gone again within 24 months.
Kudos to Ferrari and other manufacturers—especially tiny independents like Glickenhaus—for choosing to compete in the upper echelons at Le Mans come 2023.
More changes and teams mean that victory will only get tougher. Good luck to all.
---
Look! New red car! Wow! Vroom vroom! 🏎💨🏁
Anyway…red is not my colour. I'm more a sucker for camouflaged cars and testing footage, and I attest the video from Monza (linked below) is your best opportunity yet to see and hear the new Ferrari 499P (built to Le Mans Hyper Car regulations) at full try.
Besides recommending you watch it during testing, there's not much else to say until Ferrari's first prototype endurance racing car turns laps in anger.
I'm old enough to know that just because something has a Ferrari badge on it and Ferrari makes a big deal of how "everything" in the car is Ferrari…well…it doesn't mean it's going to win…
Want to see it moving in full livery? Here is the car during its on-track debut at Imola, in Italy.
see also :: Hypercar • Ferrari :: NEW FERRARI 499P LMH: ON-TRACK REVEAL IMOLA (YouTube) :: Ferrari 499P, the Hypercar to return to WEC top class • Ferrari (YouTube) :: The Ferrari 499P is a Le Mans Racer 50 Years in the Making • Road & Track
---
Mhmmm, I really am linking to a video about the 2008 Tesla Roadster. Thing is, as I was listening to Marques' impressions, something he mentioned really stuck out to me. Like…why is it that I can't stop seeing a future in which cars eventually go back to buttons and a more analog philosophy?
Check out the whole video linked below, but at around six minutes in he details the Roadster's small EV information display (pictured above), and makes a comment you'll do well to remember:
"…I think one of the things about a lot of cars that are crazy high-tech now is they've got all these huge screens everywhere. [But] low-key, this lack of huge screens makes it feel a little bit more timeless."
---
---
Keep reading with a 7-day free trial
Subscribe to may I drive your car? to keep reading this post and get 7 days of free access to the full post archives.