lunchbox 92
The "C" word, according to Daniel Riccardo, real mountain drifting in 2022, and a new blue SUV.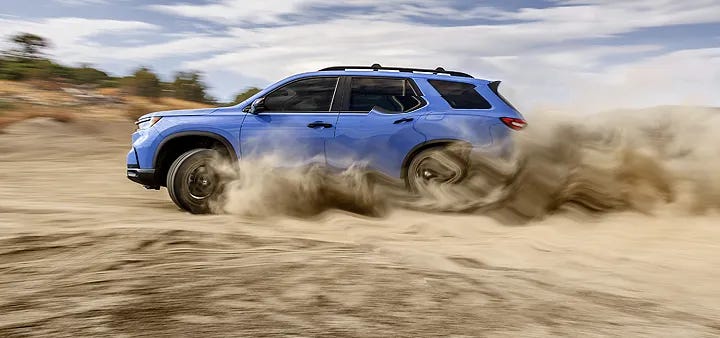 Before we get to the good stuff, a new mall crawler from the big H.
Honda is doubling down on a seemingly old-school (but much loved) powertrain for its mid-sized SUV. Hybrid? Electric? Nah…
---
In our world of ever-larger and over-stuffed SUVs, it wasn't a surprise to me that this latest generation of Honda Pilot has grown. What surprised me were the words "all-new" next to 3.5-litre dual overhead cam V6 engine.
No hybrid, no EV—just a V6 like it's 2003 and you're ready to flaunt a George W. bumper sticker in the left lane. Honda calls the 2023 Pilot a "king of the carpool lane", shit you not.
They rendered the top-of-the-line Pilot Elite trim above escaping from flash floods, looks like.
This blue TrailSport version is for everyone who has outgrown a Subaru Outback but can't stomach being seen in a Jeep of some sort. I understand that the "rugged" thing drives sales (and can be genuinely useful), but why is it that Honda's 4-wheel off-road efforts tend to seem so inauthentic—when two-wheel Hondas are some of the most authentic off-road machines on the planet?
Probably because engineers aren't trying to cram a large sunroof, three rows of seats, Android Auto, Apple CarPlay, "Body Stabilizing" front seats, and 137* other things onto a CRF dirt bike.
I don't know how Honda can get there**, but I see a clear version of the Pilot that's even more tuned and stripped-out for off-road usage, albeit in an expedition sense.
*rough guess
**Yeah I'm well aware Honda Racing / HPD has completed several off-road racing programs—but they are all factory initiatives that do little to nothing for grassroots and amateur competitors who want to use their Honda SUVs and trucks off-road. $0.02.
---
Four and a half minutes into this effspot video—once he's had time to visit the GT-R world meeting and have a few meals—effspot ends up in the "middle of nowhere" and stumbles on an impromptu sound van meetup(!!!) before getting to a drift spot straight out of Initial D.
When the participants feel comfortable enough to take over an entire tunnel (complete with spare tires) and everything outside of a flashlight beam is pitch black, you know it's about to get serious.
This is what amateur mountain tandem drifting is like in Japan, in 2022.
---
Keep reading with a 7-day free trial
Subscribe to may I drive your car? to keep reading this post and get 7 days of free access to the full post archives.