Discover more from may I drive your car?
A contemporary car blog & newsletter.
Playing 'What if' with the electric car ruins formerly known as SAAB
Here's why (in a perfect world) the NEVS Emily GT will be rebadged as a MINI
This week, two bits of media swirled around in my head long enough in order to bring you this take.
The first was a video (in Swedish with English subtitles) of the Editor-in-Chief of auto motor & sport, Alrik Söderlind, getting a behind-the-scenes tour and track test of the defunct NEVS Emily GT project…with many of its personnel and most of its facilities coming from Saab.
The Saab.
may I drive your car? is a reader-supported publication. To receive new posts and support my work, consider becoming a free or paid subscriber.
What struck me from the test was both how neutral the car seemed, and the novel self-correcting tuning of its in-hub motors. The NEVS Emily GT is a prototype, but reportedly a near-production example with most (if not all) of its major systems already baked into the cake.
Conceptually and dynamically, it's like a nicer Tesla Model 3 or Polestar 2, with much more of a focus on driving dynamics than the upcoming Volkswagen ID.7 sedan or an equivalent modern EV sedan from China.
The second piece of media I consumed was an article at the Autopian, "MINI Deserves Better Than This", which boils down to what we all know (but don't want to say within earshot of BMW Welt Special Forces): MINI is rapidly being left behind in all of the segments it competes in.
An upcoming electric MINI will help, but again, there are only so many people willing to spend extra for less car—especially when we're talking EVs.
You already get a lot of spam, feed your inbox something healthy instead:
---
Look, we all know that the BMW Group is too proud to just waltz in, handshake the Swedes, and pocket the most advanced electric car to come out of Trollhättan.
This is a shame, because while it could still be acquired by a buyer (say a Chinese automaker, or with more investment a Fisker Automotive, Rivian, Rimac, etc.), the bones of this sedan project seem to deserve a more committed, established partner that won't be relying on emergency cash transfusions every 8-12 months.
My pitch is simple; do for MINI what the Legacy did for Subaru and Cayenne did for Porsche: as a wedge into more lucrative markets. It's clear that BMW needs some help in developing MINI without relying so much on BMW engines, powertrains, and technology.
Even as a thought experiment, the product upsides seem to stretch way beyond a mutual love of seeing BRAND NAME in allcaps.
---
MINI has already spent the last several years competing in the Dakar Rally and other long-distance events.
To me, a NEVS Emily GT—with its four in-wheel electric motors, no less—represents just the Hail Mary bundle of tech that could take MINI from kitsch to consideration.
As Patrick George writes in The Autopian,
"They say the Emily GT (it's unclear if the final product would carry that name or not) would be all-electric, put down 480 horsepower with motors at each wheel, and boast a range of 1,000 km—a whopping 621 miles. Now, that's likely overly optimistic and on Europe's range calculation cycle, but the point is that Emily's meant to be a long-distance runner and a very capable corner carver. The Emily GT was even benchmarked against the Porsche Panamera and Taycan sedans."
Much of that projected capability comes from large (up to 175 kWh) battery packs; badged as a MINI, the sedan would need only about 250 miles of range to deliver a step up from the upcoming MINI Electric, and ~350 miles, reliably, to be in with a shot.
Autocar writes that the NEVS project had already considered multiple battery sizes and charging options.
"The Emily GT is claimed to be capable of driving more than 1000km (621 miles) between charges, thanks to a huge 175kWh battery. Battery capacities of 140kWh and 105kWh were also planned, as was 11kW wireless charging via a pad connected to a fixed hub."
Autocar also goes into a little more detail on those special in-wheel electric motors: "In-wheel motors making 121 bhp are mounted at each corner […] Each motor sandwiches a drive unit between the alloy wheel and the aluminium brake disc, reportedly giving finer control of torque vectoring."
---
Know what would be awesome for packaging into a small hatchback? In-wheel electric motors.
Know what would be great for motivating a lifted, Outback-like family wagon? In-wheel electric motors. If not for the personnel, factory, or rest of the project's IP, BMW would do well to scoop up the in-wheel motor technology as a (much lower cost alternative) to doing it all in-house.
If it was up to me, I'd set the MINI engineers onto the carcasses of NEVS Emily GT project like hyenas, tasking them with quickly creating a few drivable prototypes (NEVS tech inside MINI models) to evaluate the fundamentally different approach of hanging the powertrain, in effect, at each corner of the car.
Pull it off, and electric MINIs would have potentially class-defining design—just like the original Austins, Rovers, and Coopers.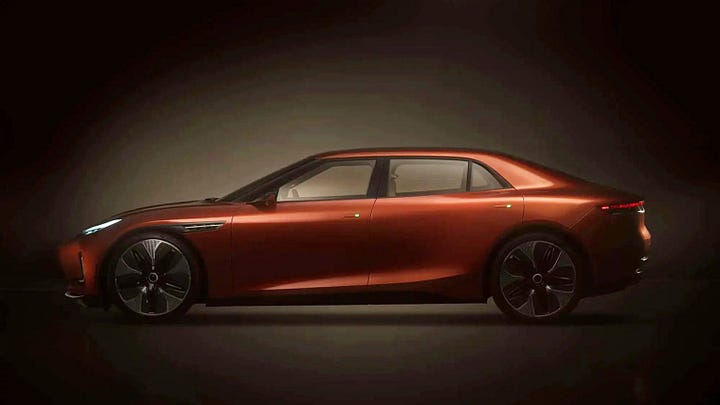 At the same time, task a team with dressing up the Emily GT in MINI bumpers, wheels, and badges. Run the MINI prototypes and Emily GT—sorry, MINI MonteCarlo—through a few customer clinics. Get a CUV version on the drawing board, plus a far-out overlanding sedan concept and WRC-look widebody hillclimb car…and follow the growing fanbase.
There's a tertiary benefit here, with its roots in the racism we all know exists: xenophobic buyers will gravitate toward any (Swedish-made) "European" product simply because it hasn't originated in China.
---
What do you think—could another automaker make better use of the Emily GT's technology?
We all know BMW is never going to adopt NEVS and feed its assets into MINI—but in the 0.01% chance it happens, let's simply agree to not shout "Told you so!" Deal?
may I drive your car? is a reader-supported publication. To receive new posts and support my work, consider becoming a free or paid subscriber.