Discover more from may I drive your car?
A contemporary car blog & newsletter.
Project Volvo 2090 pt.I & II
After 20 years of ownership, it's finally time to explore the untapped potential of a 1990 Volvo 740 Turbo. Here's why.
It's with great anticipation that I share my 1990 Volvo 740 Turbo project plans here publicly for the first time.
Good news? Stage 0 is now complete: it's been to the mechanics and there's likely a large bill waiting for me when I pick the car up in a few weeks. Because I have no garage and the Volvo is 1,000 km away from me at the moment, Stage 0 was simply getting it out of storage and having my trusted mechanic go over the car and repair whatever is needed to get it safely back on the road.
As of right now, it runs, drives, and stops—it's just waiting for me to pick it up and go through the likely expensive process of getting it back to my home and having the province do an additional (required) mechanical inspection from a gov't-appointed shop. Ugh.
So…what am I planning? Read on…
It's a bit crass, but I'm putting it right up top: I could use a lot of help in paying for this. Any contribution to this project will get:
I've set up a dedicated (secure) donation link within my payments provider, Stripe, as well as with PayPal. If you would like to contribute time, parts, or with another payments system, please get in touch. :)
Donate to this project today!
---
Three project goals
"Age like a Volvo" – I want to be able to enjoy the car often on road & track for the next 30+ years with little additional cost beyond preventative maintenance and planned upgrades.

"Minimally modern" – Technology only added to simplify, improve efficiency, improve performance & enhance the experience of driving this car; strip interior as much as possible and minimize weight everywhere.

"Sleeper + concept car" – Sophisticated engineering updates and details hidden behind seemingly simple exterior / interior. Focused exterior modifications on improving aerodynamic efficiency, minimal branding; 2-seat interior + GT-style rear luggage shelf.
---
Love Volvos and seeing long-term projects come to fruition? More updates, a downloadable project planner, and videos are coming soon, so consider becoming a subscriber ;)
---
Note: This introduction to the story also appeared at speedster.news
last August
, yes, it really has taken this long to get the car to a place I feel comfortable talking about!
Project 2090 Part I
I was feverish; I couldn't wait to drive. By the time I turned 16, I already had part of my graduated license sewn up, all golds in Gran Turismo license tests, and was a dedicated subscriber to both Road & Track and CAR.
I was ready to grow up and get on with life.
See, the local Young Drivers outpost in Sarnia, Ontario, Canada, had honoured my interpretation of the rules: the initial classroom portion of the lesson plan could take place within six months of my 16th birthday.
One of the few perks of being a January baby was that it meant I was the only 15 year old in the previous fall session.
This moved the in-car lessons forward so I could then be eligible for a full drive-by-myself license (G2) in just eight months.
Dad dutifully taxied me to the license office on that very snowy morning in 2000, and after acing the written test had earned my learner's permit—a G1. I drove the family 1998 Volvo S70 T5 home, gingerly taking a few extra victory laps around the block.
(I wouldn't be lying if I said my temporary permit then lived in my trusty velcro Ghostbusters wallet.)
Previously, my parents had been in a fairly serious accident, which prompted teenaged Michael to lobby hard for what I figured was the hands-down best car available: a Volvo S70.
My mom nixed the part of my plan involving a manual transmission, but the Volvo fit into the budget, had a turbo, was related to a BTCC winner, and its safety record was unassailable.
For what it's worth, everyone in the family loved that car, aside from my sister, who hated how its charcoal interior smelled like a late-'90s electronics store had been covered in leather and balloons. My words, not hers.
Anyway, once I had my G2 license, I really needed a job to finally gtfo of town and figure out a car to buy. Months of borrowing the family van around extra-curricular activities was wearing thin. My mom, a teacher, and younger sister, a star with a schedule of her own, also needed it.
Same here: I was taking limited shifts at a local car dealer, plus researching creative ways to reduce the front tire circumference of that poor teal Mazda MPV LX any chance I could. (Fact: its first set of front tires lasted barely a year.)
Despite not really being responsible enough, my parents decided it was best if I was in the driver's seat of my own mistakes, and offered to split the cost of a car by 50%.
However, I had a tough choice to make. Do I lease or finance a car in the given budget and worry about its buyout later? Or pay cash for 50% of a decent used car that wasn't too "sporty"?
At that time, $8,000 Cdn. was enough to take home a Mazda Protegé5 or Volkswagen Golf (on payments), a used BMW 3-something, a bunch of cars everyone else had, and what I eventually chose: this 1990 Volvo 740 Turbo.
In the years since I've driven thousands of other vehicles and have owned—in no order—a Honda Insight, smart fortwo (451), Fiat 500 Abarth, Porsche 914 2.0-litre, Citroën 2CV, Volvo 240, and Chevrolet Spark EV, but this Volvo has become an anchor on my life that has become impossible to part with.
As best I can explain, this story is all about why this box finally deserves to get back on the road.
Turns out that my first car may be the perfect forever car.
"And IPD, the American outlet who've long specialized in Volvo parts? Sorry for all the abandoned carts."
Project 2090 Part II
I've always wanted to heavily modify this car, long before I'd worked out how.
Even when my total living at home costs were gas, insurance, and paying my parents back, each pay cheque brought me closer to parts. 
All I had to do as a late teen was become the driving expert I thought I was.
"If you don't crash it within two weeks, you'll be OK," I remember the dealer owner saying to me when I picked up my rear-wheel-drive, 160 horsepower-ish turbocharged ripper…disguised as the box a sensible Swedish sedan would arrive in. 
Two weeks and a day or two later, I ended up lift off oversteering it 180° onto the shoulder of a two-lane highway late at night on a damp road. No harm done. Missed a reflector by inches.
---
---
As a committed truth-teller, the incident broke my brain.
I was OK, the car was OK…but I'd made a mistake. If a cop had been within view, they'd have seen a panicked teen understeering into a turn after I'd braked probably 10 ft later than I had dared before. Nobody was with me. Was this OK? Do I just…drive home?
The rules didn't catch up with me that night. Whew.
Between hopping out of the car to check for damage and driving back at or below the speed limit, at least I could process what had happened. By the time I doubled down on steering, the car had scrubbed enough speed to miraculously pitch and wail, all tires protesting, into the lightly banked ramp and sail beautifully through a long pendulum across a few lanes and back onto the inside shoulder. 
Next time, I told myself, I'd be sure to brake in a straighter line and be pointed out of the turn before mercilessly kicking the gas pedal, forcing the automatic to downshift into a lower gear for better acceleration.
Orrrrrrrr when I very accidentally drove it off a loading dock at a walking pace.
If you want to know what happened, let me know in the comments—it was mostly a non-event: my Volvo shrugged off 5 ft of gravity like it was a speed bump. Two tow trucks, a bent exhaust, and a busted marker light later and I was back in business.
Photos? Thank goodness it happened before cell phone cameras were a common thing.
Over time, pay cheque by pay cheque, I did start to add parts.
A rare Volvo R-Sport cowl induction plate (part no. 1188252-9), 3-inch muffler and exhaust to the downpipe, steel chassis braces above and below the engine, nicer tires, SAM Gr.A camshaft. Even built a cold air intake with heat shield, which I later removed to reinstall a K&N in the stock air box.
Long before YouTube tutorials, I guiltily compiled lists of items from sources around the internet. "Bad" influencers? The TurboBricks, BadBricks, and later Swedespeed communities; Matthew's Volvo Site, Prancing Moose and the somehow still online Anthony Hyde's Volvo Turbo World. It was Hyde's fastidiousness and detailed technical information that had my mind racing on ways to modify my Volvo—especially the thin page of Volvo factory-developed R-Sport tuning parts.
And IPD, the American outlet who've long specialized in Volvo parts? Sorry for all the abandoned carts.
Don't get the wrong idea, however: it's not like this is a typical sport or muscle car with a huge list of bolt-on aftermarket parts and swaths of knowledgeable shops in North America to help set the car up. It's a dorky Swedish box.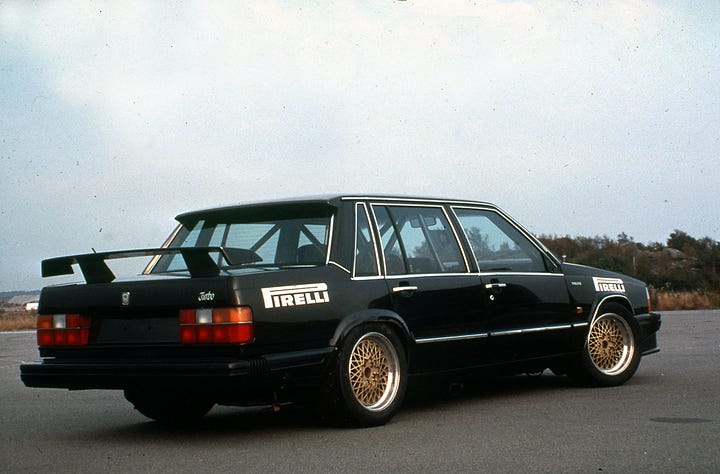 The 740 wasn't officially raced, after internal testing proved the similar 760 Turbo prototype race car, above, was slower at that time than the older 242 Turbo Group A. That didn't stop owners and tuning shops in around its home nation from discovering the car's potential. 
From 370Z transmission adapter plates to rear subframe bracing, there's now decent aftermarket support for people who could have shown you the "Volvette" video anytime between 2000 and today…
---
So what'll I do?
Before I get into specifics in Part III next week, you really need to first watch the gold standard of hooning videos, a clip that predates YouTube by more than a few years.
Your brain needs to calibrate itself to the idea of a Volvo that hustles:
What's next? Coming very soon in Part III: Detailed plans for the car, and all the work still needed to be done…
---
Donate to this project today!
---