If you need a large SUV, here is another one: Jeep Wagoneer Series II
The price of progress is a three-row SUV destined to be Jeep's modern-day halo product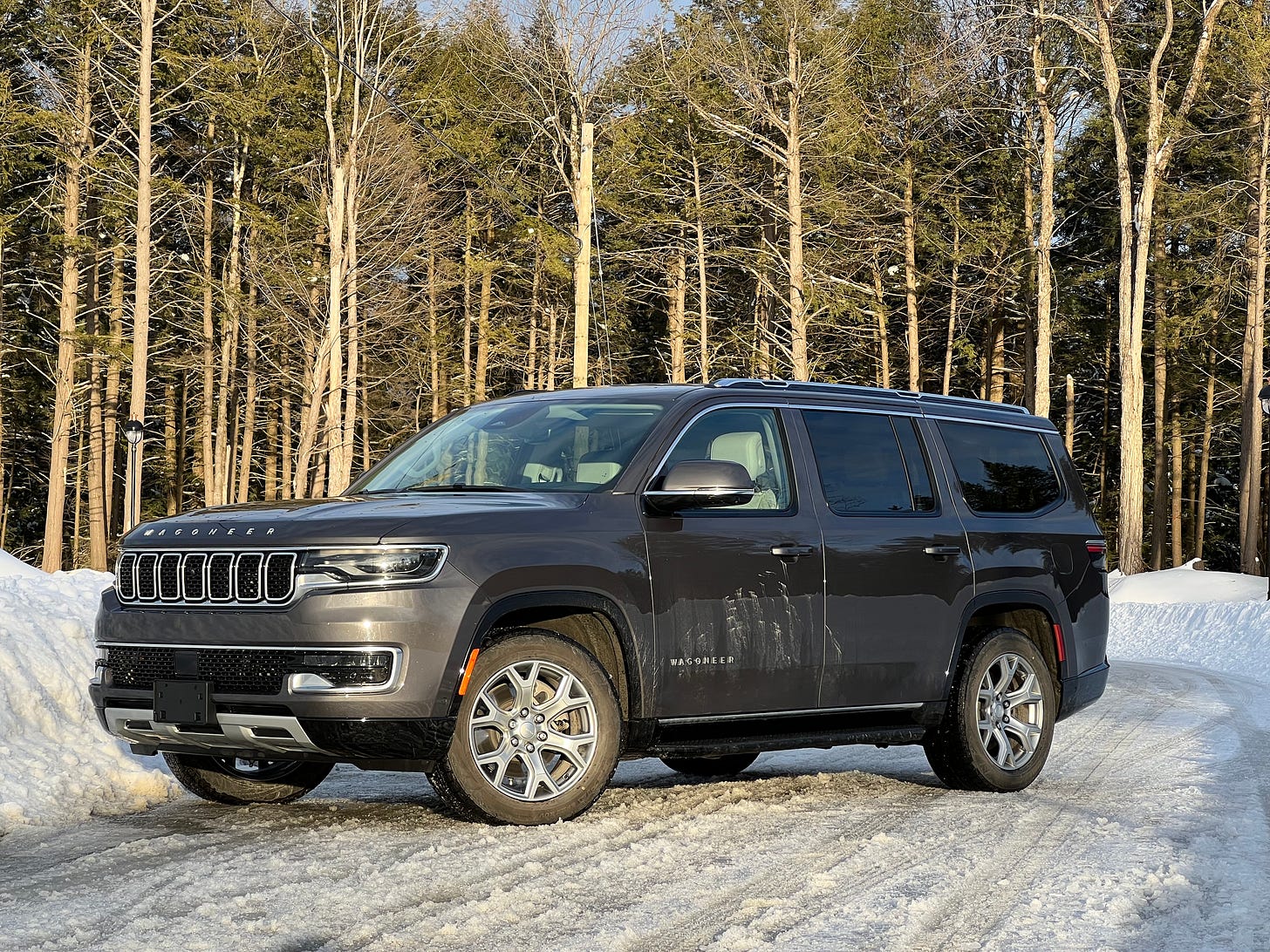 There are many things I can respect but don't necessarily agree with.
More than a decade ago, in June 2008, I was on a launch event in the U.S. for the Chrysler Aspen Hybrid. At the time, it made headlines for being among the first hybridized SUVs, using key technology developed between DaimlerChrysler, General Motors, and BMW. 
Other road testers1 were seeing less than 11 L/100 km, an astonishing figure at the time given the Aspen Hybrid also had a Hemi V8, could seat seven people, and could tow a reasonable but not outstanding 2,268 kg (6,000 lbs). Blame the recession, blame aversion to then-new hybrid technology, or the fact it drove like a dud—I wasn't getting positive vibes from the moment I plopped down on the leather driver's seat. Nobody bought them, and that's fine…it was terrible from the get-go.
Until I remembered that experience, I was having a tough time wrapping my head around the 2022 Jeep Wagoneer Series II.
My personal preference is of course for everyone to transition to micromobility options, but how does one then get the pontoon boat to the lake? Ferry four active kids to their commitments? Or deal with winter drives that are often hundreds of kilometres between major cities, measuring -15 °C outside, in comfort?
Here's where the Jeep comes in.
To be upfront, valid reasons to dislike the Wagoneer Series II include:
high fuel consumption relative to its segment despite being a mild hybrid (see also: Escalade, Suburban, Navigator, Yukon.)

unintuitive touchscreen controls

an overly shiny, cruise ship lobby kind of interior

front visibility from the wheel is challenging, even if you're above 6' like me

a nervous, not quite plush ride

it's noticeably large relative to other road users here in Canada
---
Update: an earlier version had the incorrect horsepower listed for the new turbocharged inline-6.
---
Compared with the Aspen Hybrid, though, it's no comparison. 
The Wagoneer I drove is larger, moves more people, has more power and torque, tows more, has a significantly nicer interior, radar cruise control, adjustable air suspension, and gets comparable fuel economy to ye olde first generation American hybrid SUVs…of which they made less than 1,000 of, anyway.
Chrysler and Jeep fall under the same corporate umbrella, and back when the Aspen came around, Jeep also had its own large body-on-frame SUV to flaunt, the Commander. Neither all that luxurious, reliable, nor happy off-road without modification, let's just say it's a vehicle you should recommend only to people you don't like.
Don't believe me? Former Chrysler CEO Sergio Marchionne (1952-2018) said this: "That vehicle was unfit for human consumption. We sold some. But I don't know why people bought them."
---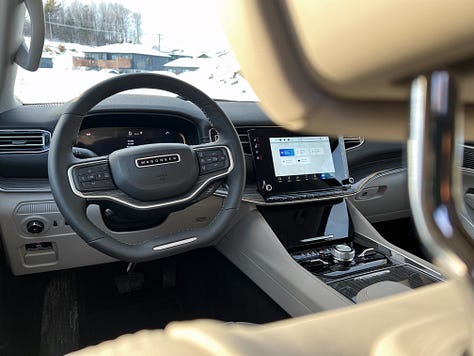 While I'm not going to suggest everyone go out and buy a new Wagoneer, I was wrong to start the week thinking it'd be a hopelessly inefficient barge.
Given the company's past, the 3-row SUV might actually be one of the most improved products in the Jeep portfolio. It might be nice to say they shoulda-oughta with the Wagoneer, but if anything, history tells us the Wagoneer is a solid evolution on product lessons learned. 
Large SUVs are a symptom of how North American leaders have prioritized Interstates and stroads over walkable neighborhoods and public transportation—not the cure. 
That our coping mechanisms (SUVs) have fewer and fewer side effects should be recognized, and as much as I felt out of touch with Wagoneer buyers, a week in their shoes proved that vehicles in this segment have undoubtedly become better products—especially Jeep's three-row offerings. I may not agree with overly large vehicles in general, but can respect how they've improved over the years.
---
see also…
---
Within the Wagoneer family, I've only driven this 5.7-litre Hemi V8. For the 2023 model year, it has been replaced on the Wagoneer by a more powerful 3.0L twin-turbocharged inline-6 with 420 horsepower and slightly improved fuel economy ratings. Early road tests and owners with the new engine report that mileage is similar to before, but this can vary.
I averaged 14.2 L/100 km (and emitted 142.54 kg of CO2) in very cold, snowy conditions with winter tires fitted; with nicer weather, this number should improve because it's rated for 13.8 L/100 km in combined driving conditions much more ideal than mine. It nevertheless means it cost me more over the week: $4.89 extra in fuel and 7 additional kg of CO2 into the air.
A more efficient 4xe plug-in hybrid variant is expected, but not yet revealed. (An advantage of the hybrid is some extra onboard power in case The Tyre Extinguishers protestors strike your neighbourhood—if you're worried, might want to order an electric air compressor just in case.)
Finally, its styling earned me second and third glances, usually people in Ram trucks and other Jeeps; its looks are unlike anything else. As an aspirational, halo SUV, the Wagoneer Series II I drove was actually on the low end of the price scale, with "fully-loaded" here in Canada at more than $130,000 for the extended-length Grand Wagoneer Series II Obsidian, with a few choice options added.
---
Keep reading with a 7-day free trial
Subscribe to may I drive your car? to keep reading this post and get 7 days of free access to the full post archives.