𝙕𝙡𝙂𝙕𝘼𝙂 𝟘𝟙𝟟: Seizing opportunity
⟿ Reclaiming concept cars, Sam's Garage Jeep gallery, and spotting derelict supercars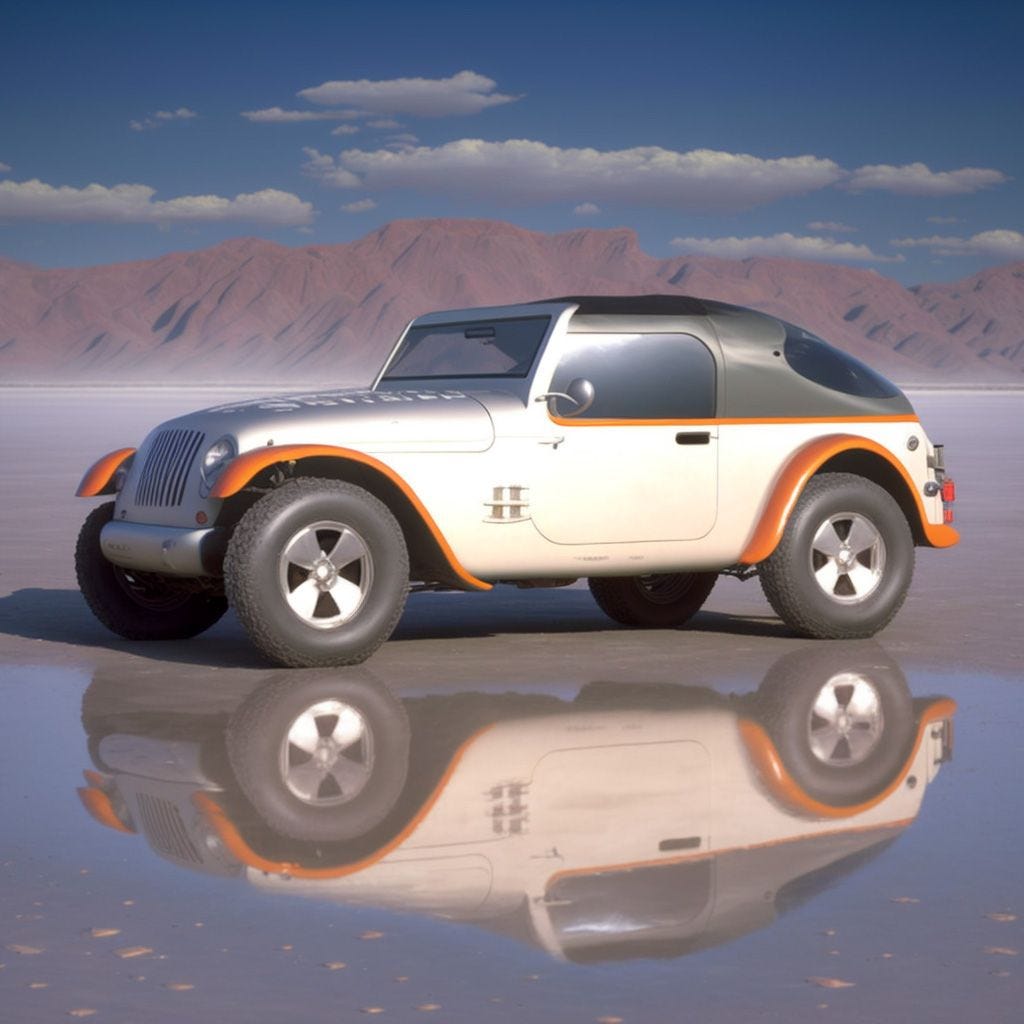 ⚑ Concept cars—who needs 'em, anyway?
I think we do. Not as beacons for future products, but as a way to practically, efficiently recycle the past at a lower cost than new.
cont'd below
Last week, I wrote about the Sam's Garage Jeep Wrangler(s). Well, after reaching out to the company—more to come—I was able to get many more photos of both models.
Gallery page? Gallery page! If you like this approach, it will enable me to have these emails display a little faster for all.
---
The other day, I tucked an Instagram photo of a Dauer 962 LM near the bottom of a ZIGZAG (that had been taken by a photographer hired to shoot the car).
Now, thanks to effspot we have a full video of the early supercar. We get to see it staged, pushed, loaded, and fawned over. Bonus is the video starts with an entire buttload of random enthusiast cars scattered around…from Impreza 555s to DeLoreans.
---
If the opening paragraph doesn't immediately hook you, I promise the whole story is well worth your click.
There must be a word for a great story that's also kind of shitty: the inspiring, hard work it takes to have more women competing in motorsports vs a thought I have often: "This is way tougher than it needs to be."
From going trackside at the shootout to learning about how racers try and build their careers one drive at a time, climbing the ladder in motorsports is not as simple as a Days of Thunder-style evaluation:
"It all started with a phone call. Former race car driver, and current driving coach and mentor, Lyn St. James called up Victoria Thomas, co-owner of KellyMoss Road and Race, to ask her what program would be best for an up-and-coming woman driver. In the last 10 years there has been a noticeable increase in young women yearning to race in the bigger series, but finding it difficult to get there. Thomas, one of the few female team owners in the Porsche Carrera Cup North America paddock — or in racing in general — looked around and asked herself, 'where are all the women?'"
---
MEMBERS ONLY
beyond this point
Keep reading with a 7-day free trial
Subscribe to may I drive your car? to keep reading this post and get 7 days of free access to the full post archives.