Discover more from may I drive your car?
A contemporary car blog & newsletter.
The Mazda3 Sport GT Turbo AWD is a hatchback for car lovers
Quirky looks, beautiful interior, and a refined drive put Mazda's best-equipped hatchback at the top of its niche.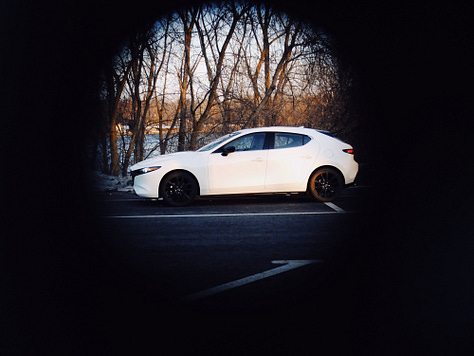 First, a small detour
through memory lane that'll help put the 2023 Mazda3 Sport GT Turbo AWD in today's context.
Like other carmakers from Japan, every Mazda comes standard with a lengthy back catalogue of past models, motorsport success, knockout designs, and quirky failures. In this car's case, it's more Eunos than Mazdaspeed—and much better for it.
I remember testing both generations of Mazdaspeed3, as well as the all-wheel-drive Mazdaspeed6. In its heyday (more than 16 years ago), the Mazdaspeed3 was smack dab in the middle of the "hot hatch" genre, with lots of power but no all-wheel-drive like Subaru or Mitsubishi rivals, not as refined as the Volkswagen GTI, and without the boy racer cred enjoyed by the Ford Focus ST.
The Mazdaspeed3 also drove like shit, to me feeling fragile, tinny, and with too much power for its chassis to deal with. Overall, I still liked it for dancing to its own beat.
When it was updated in 2010 to the smiley face version with the intent of moving it upmarket (this was the era of Audi A3 Sportback and BMW 1 Series Coupé), the Mazdaspeed3 got faster in a straight line…but lost its steering and shifter feel, the interior creaked a lot, and its first-gen interior tech was oddly integrated into an unattractive dual binnacle dash.
(For what it's worth, a few followers on Twitter said they liked this interior, and who am I to argue with opinions from Twitter?)
Mazda also did a Mazdaspeed6 sedan, which (to me) looked better, rode better, handled better in everyday driving, had AWD, was more comfortable…and was only sold for two years because hardly anyone bought it. Worse, it felt even more fragile than the Mazdaspeed3, with sad owner tales littered throughout enthusiast web forums. Worse still, Mazda was up against peak Subaru Legacy GT.
If there's any useful buyer's advice I can share, it's to not buy an older Mazdaspeed passenger car on a whim. 
---
MIDYC is a reader-supported publication. To receive new posts and support my work, consider becoming a free or paid subscriber.
Detour over, it's safe to say things have changed significantly for both Mazda and within the car market as a whole. Buyer preferences have changed, EVs are being adopted en masse, and compact hatchbacks like the one this car is based on have been mostly replaced by crossovers. 
---
Sporty small cars
and their prices have gone insane, chasing faking Nürburgring records, becoming the CEO's pet project, or turning into whatever it is the Subaru WRX is now. All started as basic compact cars.
Here in Canada, Mazda's traditionally-shaped hatchback segment is now down to the Honda Civic, Kia Forte, Subaru Impreza, and Toyota Corolla. If style ranks highly, the 2023 Mazda3 Sport may be up against the MINI 5-door; for a bit more coin, a local Volkswagen dealership will happily send shoppers home with a front wheel drive GTI.
My test car is something new entirely.
With a turbocharged engine, it was rapid in everyday driving. With all-wheel-drive, it was surefooted during wintery conditions. With a style of its own, both visibility and practicality were compromised. Without its beautiful interior and engaging drive, I wouldn't have been so enamored. 
Take the Mazda's digital gear indicator. Move the physical stick from right to left—from Drive to Manual mode—and the digital screen in the instrument cluster subtly swipes from right to left. Move it up or down a gear, and the digital numeral indicator swipes up or down, depending on the shift.
I was skeptical
of Mazda's intent to position its best-equipped Mazda3 Sport GT model upmarket, but I hadn't considered the lack of competition in the compact niche. As far as hatchbacks go, the base model Mercedes-Benz A 250 4MATIC here in Canada is just about $1,000 more expensive than a loaded Mazda3 Sport GT. This car is $37,945 here in Canada.
Even if the Mazda didn't trounce the Mercedes on performance, the German car's interior (similar to the one I experienced recently in the GLB) is too screen-heavy for my taste and felt less enjoyable to sit in than the Sport GT's. Brand cachet aside, Mazda's gauge layout, switchgear quality, and driver-centric philosophy has more in common with a late-model Audi or BMW than any entry-level luxury car available today.
---
What does that mean? This car has a standard heads-up ("Active Driving") display, crisp digital gauges with sharp-looking fonts, legible and easy-to-use secondary controls—often with their own indicator lights—and a rotary dial to control most vehicle functions.
Until voice commands use true natural language and gesture controls are foolproof, I'll prefer Mazda's approach every. single. time. 
Maybe I'm wrong to not want to take my eyes off the road. Maybe I'm silly for thinking heads-up displays should have been made compulsory before backup cameras (true story), or that a central knob is both faster and safer than operating a modern-day touchscreen. There's a small learning curve, sure, but is that a bad thing? 
Manufacturers with touchscreens and companies developing touchscreens all say the same thing: people love 'em! They're modern! Easy! They can even be improved over time! That just tells me all of the ingredients are there…but the cake isn't fully baked.
Meanwhile, Mazda's busy pairing things down to a sumptuous dessert made with the fewest number of ingredients.
---
---
Combined with the heads-up display
and a proper seating position, I became so comfortable in the car after a week that I kind of wanted to keep driving past the Mazda Canada office and see how much distance I could put between them and the reality I'd be hijacking an entire car. It's not just me—trusted YouTube reviewers savagegeese have a long-term Mazda3 Sport GT and are saying similar things about the car's overall comfort.
Once you're in an ideal seating position, you'll start to notice more natural lighting colours, how information is segmented (car information is kept on a separate screen from entertainment), and how all of its controls fall intuitively to hand. My favourite detail is how the smaller volume dial also moves left and right to select next/previous.
Mazda calls it a human-centric approach, which is good…because that's my species. Humans aren't perfect, and neither is this car. A frequent talking point is how, without a touchscreen, controls are accessed through a combination rotary dial and button.
One big advantage of the rotary dial is that most setting-type functions aren't locked out while you're driving. Want to tweak the audio controls or adjust the heads-up display brightness to compensate for driving conditions? Have at it. 
One big disadvantage of the dial is its learning curve, spent chasing indicators for currently-selected items around in both a clockwise and counterclockwise manner…then choosing the wrong thing, then backing out and trying again.
If you can deal with putting some effort into melding with Mazda's approach, the rewards are numerous.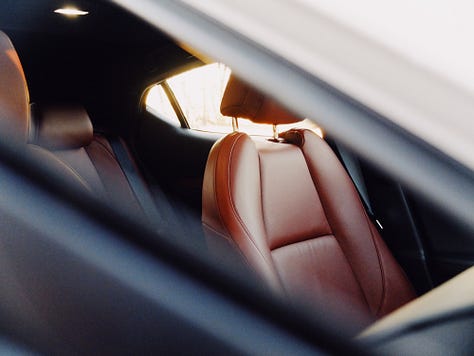 Safety is one benefit of this approach.
I felt using a dial was safer than pecking my arm toward a touchscreen and away from the steering wheel. Why? When your hand is at your side near the control dial and, say, you need to brake and take action to avoid a chunk of ice on the road, you're naturally moving your right hand forward into your line of sight, either to the gear lever or the steering wheel. 
It may be a shorter distance moving from centre screen to steering wheel, but your eyes have less incentive to stay up focused on the road. The driver's upper body also needs to move against any steering and braking forces…easy in theory, in practice more difficult than drivers can manage. (So difficult, in fact, that multiple personal injury lawyers in both the U.S. and UK have bought up keywords and commissioned blog-style articles about the dangers of touchscreens and driving…)
I mention all of this because Mazda didn't just take its rotary knob approach to the Mazda3—its entire lineup has adopted this dial-based interface—so over the coming weeks when my next test drives appear you'll get a sense for how well it worked in different vehicles.
…the biggest enemy of its human-centric interior and Kodo exterior styling philosophies is actually the world at large. Fender benders, spilled lattes, curbed rims, dog hair, potholes, scratched plastics, ice storms, parallel parking by feel, stone chips, road salt…in the age of climate change, it's an immense privilege to slowly destroy something so nice. 
Moving contrary
to where the rest of the auto industry is headed (and doubling down the point of developing a new generation of interior buttons and switches) is something I can respect. It's why we have custom gaming mats, companies that specialize in mechanical keyboards, and entire resurgent industries selling classic but updated personal items like fountain pens, everyday carry knives, bathing suits, reusable shopping bags, and shaving razors. When details begin to matter to someone, they matter a lot.
Take the Mazda's digital gear indicator. Move the physical stick from right to left—from Drive to Manual mode—and the digital screen in the instrument cluster subtly swipes from right to left. Move it up or down a gear, and the digital numeral indicator swipes up or down, depending on the shift.
Will softer lighting, subtle digital experience cues, or a small indicator light for the automatic wipers on the right steering column stalk convince anyone to buy a Mazda? Probably not, but I bet they'll notice it missing in other cars when it's time to shop for their next vehicle.
Forget what Honda or Toyota are doing, I think if you're shopping for a Mazda and like the company's approach, the biggest enemy of its human-centric interior and Kodo exterior styling philosophies is actually the world at large. Fender benders, spilled lattes, curbed rims, dog hair, potholes, scratched plastics, ice storms, parallel parking by feel, stone chips, road salt…in the age of climate change, it's an immense privilege to slowly destroy something so nice. 
One day, I'll spot a base model Mazda3 attractively worn-in with Wabi-sabi, its long-term owner knowing that impermanence is the universe's only constant. The alternative is to not drive it, and that's sad in its own way. 
---
Under the weight of all of that
is a competent, effective chassis, suspension, and powertrain. It's rather nice to drive, even considering the traditional feel of a 6-speed automatic transmission paired with an independent MacPherson strut front suspension, coil springs, and stabilizer bar…and a rear torsion beam. Complicated, it is not.
Owing to the sub-zero temperatures and winter tires fitted, I'd be curious to experience both a lower trim of Mazda3 and a drive during summer months to determine if the ride and handling really are as fine as I felt.
Winter tires can be louder, but snow-covered roads can dampen sound to the point of thinking the car has gotten a little quieter—but it's simply the carpet-like effect of frozen snow. Here, we enjoyed significant snowfall and some of the coldest temperatures of the year. While I didn't PUSH THE MAZDA3 TO THE LIMIT, I felt comfortable enough to drive it through some sketchy conditions…and returned it without a scratch.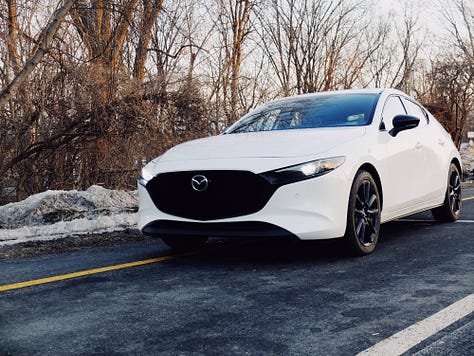 On paper, the Mazda3 Sport GT looks like an ambitious, misguided attempt to compete with other performance compact cars; in reality, it's a feature-packed compact hatchback for people who love to drive…and who appreciate each element that places them closer to driving bliss.
The Mazda3 Sport GT's quality haptics, the power bump to 250 horsepower (from 227) and 320 lb-ft of torque (from 310) when using 93 octane fuel vs 87, and the knob-based infotainment speaks to a post-performance car buyer who's happy to pay for the best experience every time they're behind the wheel, not only when circulating 'round a circuit.
A conclusion is easy: life is fleeting, fossil fueled vehicles are on their way out, and enthusiastic drivers are starting to realize that precious few mainstream vehicles available in 2023 put their needs first. Mazda is betting its future on this, and I now understand why.
---
The good
Operates as a cohesive product.

The interior, and its total lack of annoying beeps, tones, harsh lighting, and cheesy fonts. It's tough to put everything in its correct place, and even Mazda owners have found extra hidden features within the car's manuals—from easy-down windows via the remote (tap unlock four times, holding on the fourth press) to keeping the car at redline (by not engaging the final "kick-down" button when the accelerator pedal is to the floor.)

Like an Audi A3 Sportback or Mercedes-Benz A 250 4MATIC, but simultaneously more stylish and less "showy".
The weird
Kodo design seems to favour wheels finished in dark colours, often black (Mazda offers nothing else for this trim level), and it will be interesting to note any current or future owners who successfully fit attractive silver wheels in a way that enhances the car's minimal surfacing.
The bad
The dual action sliding centre armrest lid will be broken by a passenger at some point in the future.

I'd be curious if an Eco mode and more aggressive Auto stop/start could yield better fuel economy. I wasn't hooning it, but in winter weather conditions the best I could do was a decent 9.64 L/100 km. The window sticker says it's rated for 8.9 L/100 km combined. This means I spent an extra $6.37 on fuel and emitted an additional 11.6 kg of CO2.

Visibility, as in I hope you know how to set your side mirrors correctly (and use them). Blind spot monitoring can help, so know the subtle '))' indicators on either side of the Active Driving display are for your blind spots before it's too late.

Its adaptive cruise control was overcautious to the point of leaving too much space—which then leads to drivers cutting in. Because its detection zone was quite large, a late lane change could have the car slowing down mid-maneuver, then slowly accelerating back up to its set speed. Like other systems, smoothly operating adaptive cruise control is sometimes more involved than regular old cruise control.
View this car's specifications here :: Window sticker
---
Read this next