𝙕𝙡𝙂𝙕𝘼𝙂 𝟘𝟘𝟠: Trendy trailblaster
Dirtying Lamborghinis, naming Jeeps, and restoring the auto industry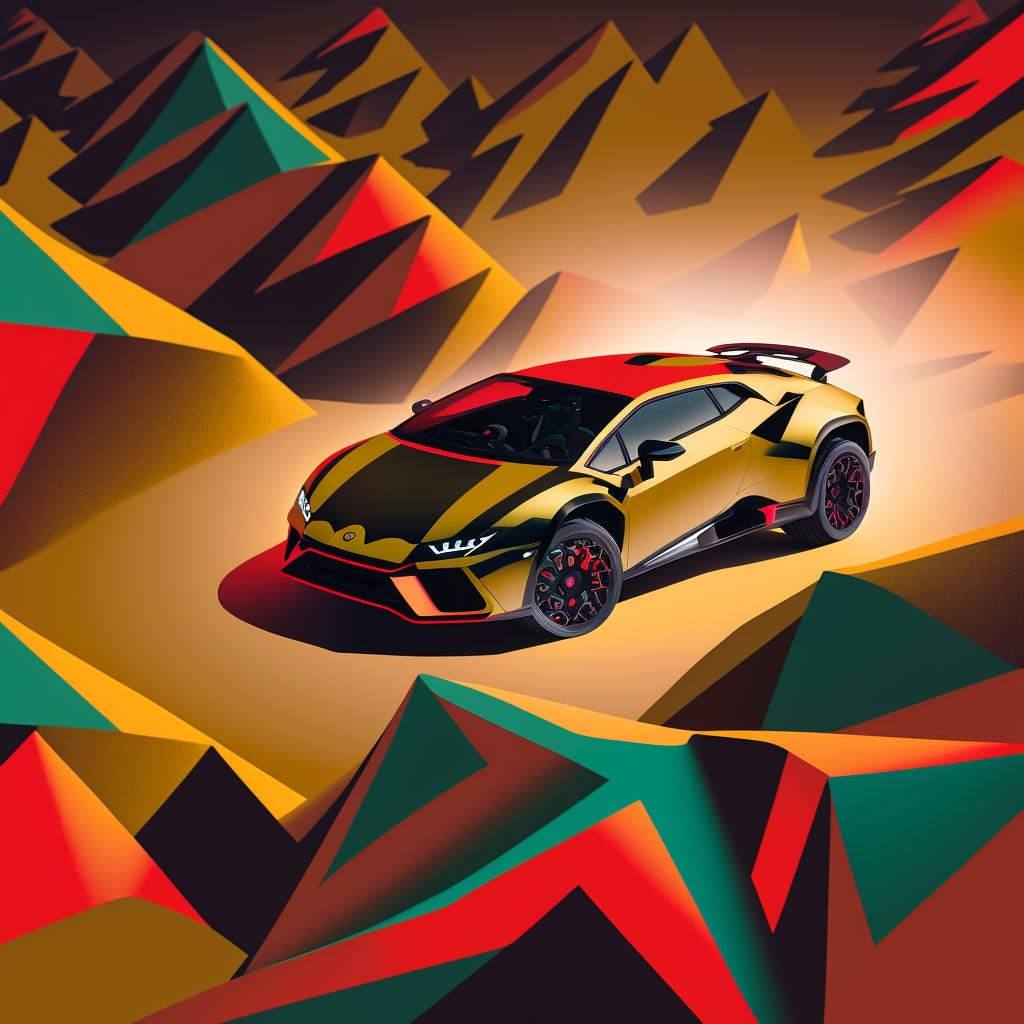 ⚑ Is it finally happening?
I've recently read articles on stopping traffic deaths from cars, reducing environmental impacts of our vehicles, and combed studies for and against electric vehicles.
That work is important, however, meaningful change has got to come from within. To that point, listen closely to how Mark at savagegeese lays out how the auto industry is overdue for an overhaul.
First, a dirt road diva.
cont'd below
The Lamborghini Huracán Sterrato is cool like a cup of gelato.
This Italian marque could have done a number of things for its last gasoline-powered model…and it chose not to. Lamborghini has done the special spyders, the limited specials, and track day hypercars. Even an SUV!
Not, however, a supercar-based dirt roader.
I like it! Not for its looks, power (602 horsepower), features (driving lights, roof rails, roof air intake), or capability (wider track, 44mm / 1.7-in of additional ground clearance), but because it confirms Lamborghini is back and being actively hostile to its customers.
A dangerous car this is not—the Sterrato is hostile because there's simply No. Way. it can hold up to the type of abuse found on actual dirt roads where this stallion would have enough room for galloping at full speed. Outside of a TaxTheRich100-style setup with private, groomed dirt paths…where's the Sterrato going to be used?
Ideally, the company will be producing 2x as many underbody panels, bumpers, rims, and suspension parts as it's making Sterratos… As much for the eccentric vineyard owners as the parents shopping for the perfect Sweet 16 gift.
With 1,499 slated for production, it's rare—however, Porsche is building 1,001 more 911 Dakar variants. Point to Lamborghini owner's investment portfolio.
Before Sterrato, there have been plenty of examples of mid-engined vehicles taking well to the dirt, notably in Group B rally and in European rallycross. A few rare (working) production, concept, and prototype "off-road" sports cars, like the Ford RS200, Gallardo-based ItalDesign Giugiaro Parcour, and Aixam Mega Track are also scattered to the winds.
Each of those is in no way as polished and perfected as the Sterrato. Another point to Lamborghini.
Back to gelato: it's cool for those first few minutes straight out of the freezer, ice crystals still crisp and glistening if you're able to look closely enough before devouring it. Then, all at once, it's eaten or melted. Gelato cannot exist in its most coveted form for long; either it's in the freezer, cone or cup—or is destroyed by being enjoyed as intended.
Sterrato, rhymes with gelato.
---
IF DIRTY DEEDS ARE YOUR THING :: The price of a Sterrato is roughly what it would take to buy your way into a decent team in several FIA-sanctioned off-road series around the world. Glamorous? haha…no.
---
This newsletter is not brought to you by the YouTube channel TaxTheRich100, which you may remember briefly rose to fame 10 years ago. The channel's final upload was this highly sonorous Ferrari F40 GT in a 2-minute short dubbed 'Farmkhama'…
---
🧰 YOUR STORY HERE. Contact page
MEMBERS ONLY
beyond this point
Keep reading with a 7-day free trial
Subscribe to may I drive your car? to keep reading this post and get 7 days of free access to the full post archives.