What if…Volvo was known for race cars, not safe cars?
From vintage racers to Dakar trucks and Le Mans prototypes—this is a history of Volvo race cars that never existed.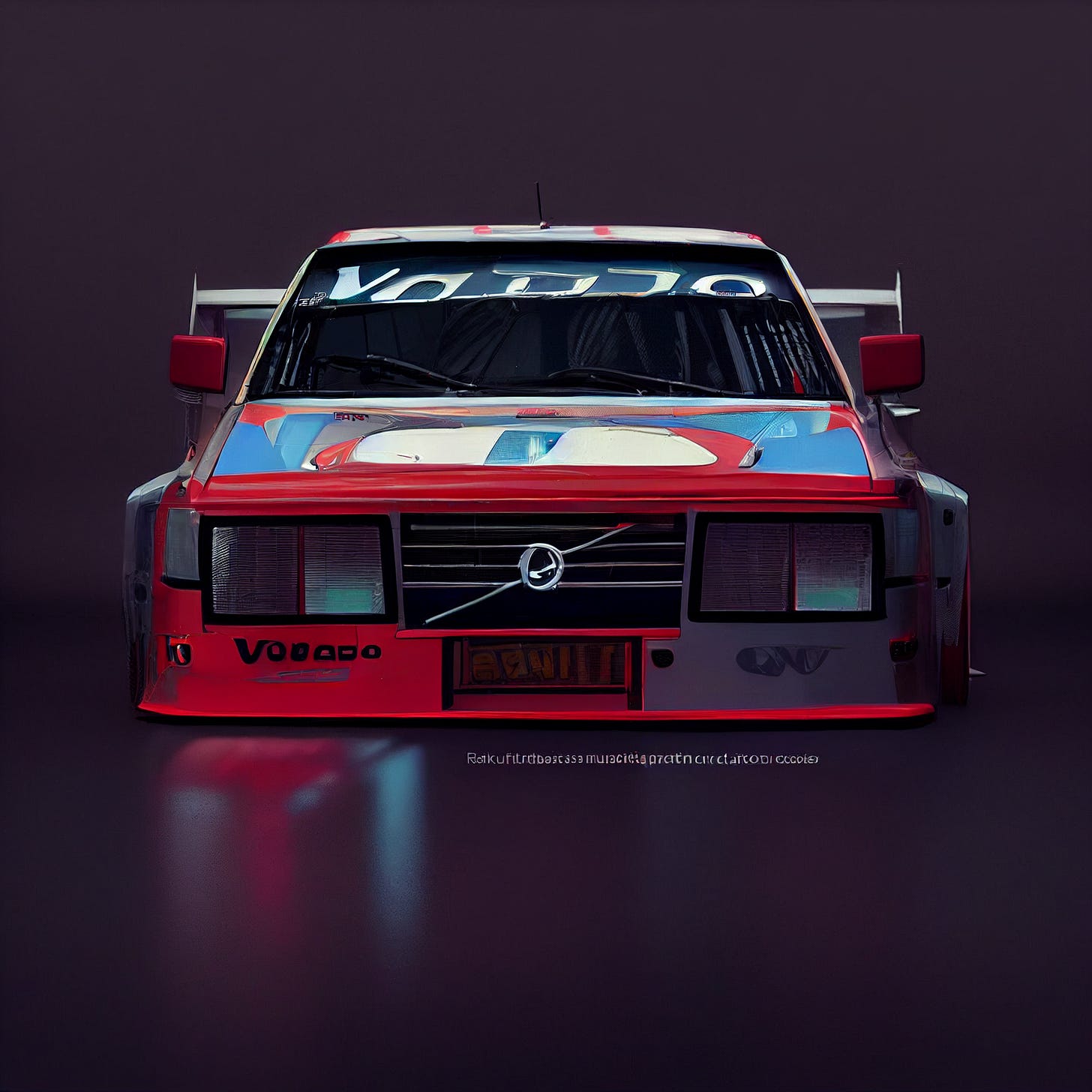 With nothing more than a few words for each prompt and a lot of time, I've started to compile a visual library, of Artificial Intelligence (AI)-generated Volvo race cars.
Vehicles that never existed, in other words.
If your imagination is able to spin up and you start doing double takes, job done. I am not chasing photo realism: I'm presenting AI-generated sketches in a style closer to what you'd find on video game box art, in books, or published by motorsport-focused artists.
Have suggestions of your own? Hitting a paywall? Become a free subscriber, then drop a comment and/or join the Discord. ;)
---
️☠ bandwidth warning ☠
images are numbered from top of page for reference, reuse & citation. please mention speedster.news, thx
---
:: vintage
Starting roughly at the beginning, I figured a logical place to start would be with the Volvo ÖV4, hoping it would end up looking like the 2011 Volvo Jakob hot rod concept car.
It did not, and I ended up directing some of the prompts into more of a rally-type design you will see below. These were not based on a P1800, but the AI seemed to come up with something more compelling. Are these Targa Florio competitors, Carrera Panamericana regulars, or just regional vintage race cars?
Just before sending this out, I improved the prompt and added a reference image for the unmistakable Volvo Jakob hot rod concept by Swedish manufacturer Caresto, as well as the AI-generated shapes above. Here's the result:
---
:: rallycross
While Volvo does have a limited history in the sport of rallycross, some renders were generated showing a vehicle either on dirt, with what looked like mud flaps, and / or production-based bodies.
I've always found there to be a specific look to rallycross cars, especially from the '80s well into the mid-2000s until rally-proportioned hatchbacks took over the scene.
---
:: off-road
Paris-Dakar and, later just the Dakar, have captivated racers from every corner of the world. But Volvo drivers? Some, but not so many.
In this alternate timeline, Volvo could have produced anything for Dakar, from a race legal large truck to a modern dune-hopping buggy powered by a hybrid powertrain.
Where these AI examples shine for me is in the middle, imagining a Mitsubishi Pajero or Mercedes-Benz G Wagen-sized machine (yes, I used a reference image of the Volvo C303 for these). A utilitarian, go-anywhere Volvo that just happens to also excel at racing over the world's toughest terrain.
Also: how clever would it have been for Volvo to adopt a second diagonal bar for dedicated, heavy-duty 4x4 (or 6x6, 8x8…) off-road machines?
---
:: touring cars
In all of motorsport, this is where Volvo has historically been most successful. Traditionally using production-based machines, touring car racing is visually different from other genres for its lack of ultra-wide bodykits and the mix of front and rear-drive layouts.
This means spectators can see hatchbacks, wagons, and sedans fighting shoulder to shoulder, all with cars that look close to what they'd be able to buy from the showroom floor.
Reality is much different, of course, but without touring cars in Group A, BTCC, and ETCC, Volvo's actual racing history—and its legions of motorsports-obsessed tuners—wouldn't be as rich today.
---
Keep reading with a 7-day free trial
Subscribe to may I drive your car? to keep reading this post and get 7 days of free access to the full post archives.